Amazon Prime Day started today! If you don't have Amazon Prime, you may register for a 30-Day Trial period. All Amazon Prime members also benefit from a 20% discount on pre-orders and newly released video games, and 2-Day Free Shipping on all orders.
XBox One
The most attractive offer for gamers is the XBox One 500GB Console offer for $279.
It includes a $50 Amazon Gift Card, 2 Controllers, and 2 Games (pick one of three combo-options). Good timing to get an XBox One if you plan to play Diablo III: Reaper of Souls Ultimate Edition or Overwatch on consoles.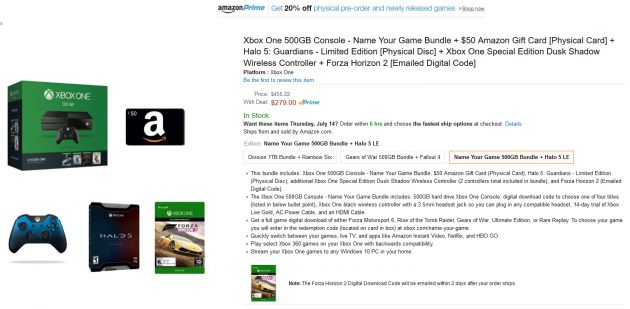 Amazon Fire Tablets
Some Amazon Fire Tablets have special discounts during Amazon Prime Day. Make sure to grab the WARCRAFT Blu-Ray/DVD or the Digital HD to watch on the Amazon Fire Tablet.
Kindle devices are also covered in the Amazon Prime Day to read your favorite Warcraft, StarCraft or Diablo eBook novels.
4K TV
Want to play games in 4K? Get the Samsung UN55KU6600 Curved 55-Inch 4K Ultra HD Smart LED (48% Off). Don't forget to register for the Amazon Prime 30-Day Free Trial.