Mechagon is a new island zone located west of Tiragarde Sound. About twice the size of the Timeless Isle in Pandaria.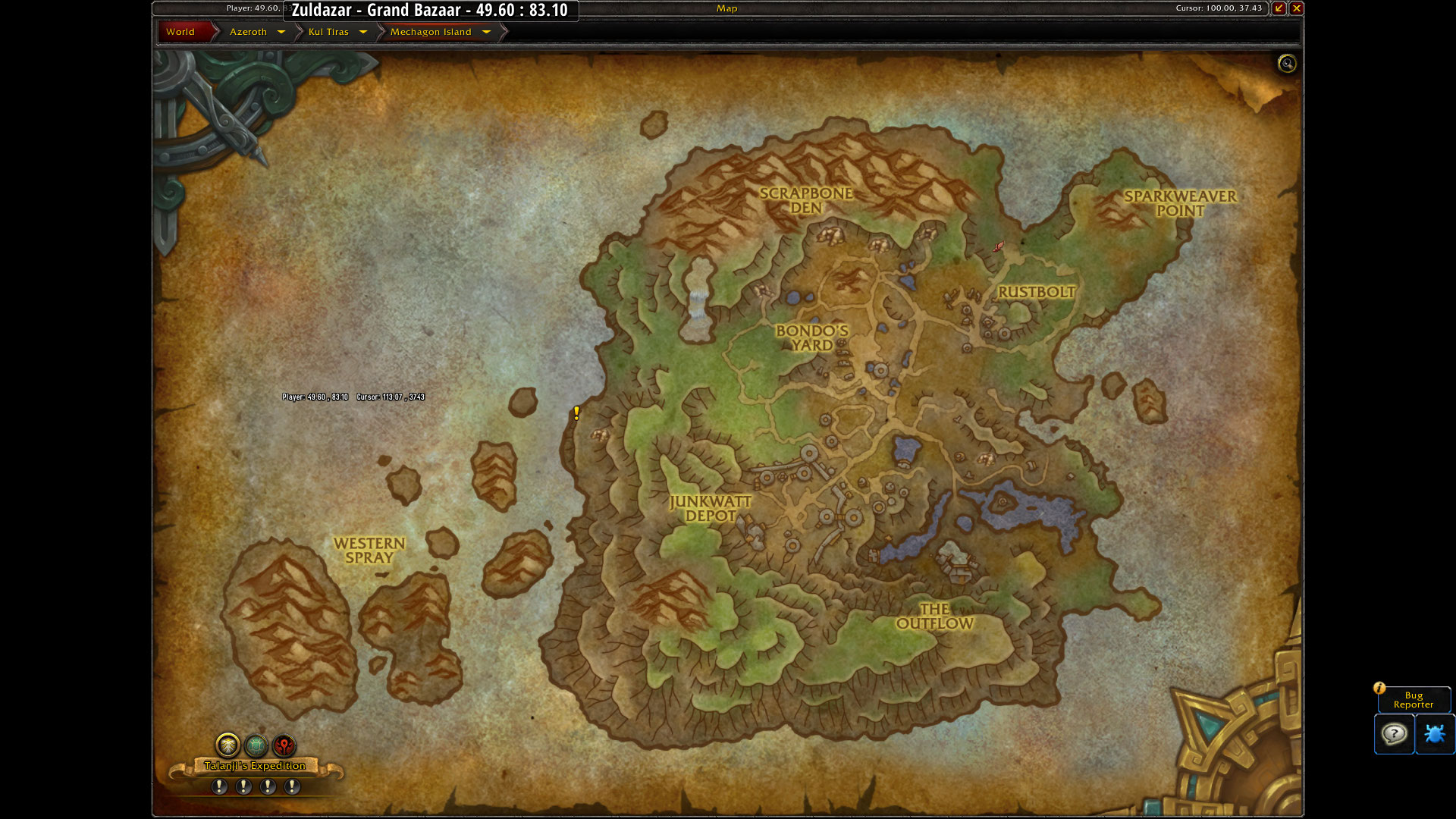 Below you can watch all the Patch 8.2 Mechagon Questline videos from the PTR.
Learn more about Mechagon in our transcript of the Patch 8.2 Content Preview livestream.
As Horde, players can find the starting quest for Mechagon outside Dazar'alor (Great Seal) by the terrace, in Zuldazar. Talk to Gazlowe, located not far from the flightmaster.
After unlocking access to Mechagon, you must earn Prince Erazmin's trust before being accepted in the Rustbolt Resistance faction.
RUSTBOLT
BONDO'S YARD
These quests are related to the Mechanocat Mount. The Paint Vials drop from various rare elites in Mechagon.
Junkwatt Depot
SCRAPBONE DEN
THE OUTFLOW
WESTERN SPRAY
TOOTHY SHALLOWS
Danielle Anglers is located on the west coast at 37.12 46.98. She gives you a blueprint to summon Deepwater Maw with a Blueprint: Hundred-Fathom Lure.
THE FLEETING FOREST
SPARKWEAVER POINT
WORLD QUESTS
PROFESSION DAILY QUESTS
As Alliance, players can find the starting quest for Mechagon next to the Tradeswind Market flightmaster, in Tiragarde Sound. Talk to Tinkmaster Overspark.
All quests on the Horde tab are the same that Alliance players will encounter. You can continue watching the continuation of the questline from "3. The Resistance Needs YOU!"