The Activision Blizzard Q2 2017 financial conference call took place today Aug 3 at 4:30pm EST. If you read the transcript after the break, it seems that World of Warcraft Patch 7.3 is scheduled internally for release after GamesCom 2017. Blizzard will feature the content there (unless Coddy was referring to something else).
Activision Blizzard had 407 million Monthly Active Users (MAUs)B in the quarter.

Blizzard had the biggest quarterly online player community in its history with a record 46 million MAUsB, up 38% year-over-year. The Overwatch community continued to grow more than a year after launch, setting another all-time MAUB record with the release of two seasonal events in the quarter. Hearthstone® MAUsB grew year-over-year and quarter-over-quarter to an all-time record, driven by its expansion, Journey to Un'Goro™.

Blizzard had Q2-record time spent. In April, Blizzard launched Uprising, an Overwatch seasonal event that included a player-versus-environment mode that drew record play time. Overwatch's Anniversary event in May and June also drove strong engagement with record participation in customization items. Time spent in World of Warcraft® grew year-over-year in the second quarter, and the Legion™ expansion continued to perform ahead of the prior expansion.

Blizzard announced the first seven team sales for the Overwatch League , the first major global professional esports league with city-based teams, and the league is set to begin its inaugural competitive season later this year.

Blizzard announced a live-streaming media rights partnership for esports and in-game content across a number of franchises, but excluding Overwatch League content.

Activision Blizzard delivered nearly $1 billion of in-game revenues in the quarter with record performance in the first half of 2017.

Blizzard's Overwatch, Hearthstone, World of Warcraft, and Diablo® III, which debuted new content during the quarter, drove strong in-game participation.
The event didn't have Blizzard CEO Mike Morhaime this time as a speaker, but he answered a question during the Q&A. The conference had the following speakers: Activision Blizzard CEO Robert Kotick, Collister "Coddy" Johnson, and Spencer Neumann. Read the most pertinent parts of the event in the transcript.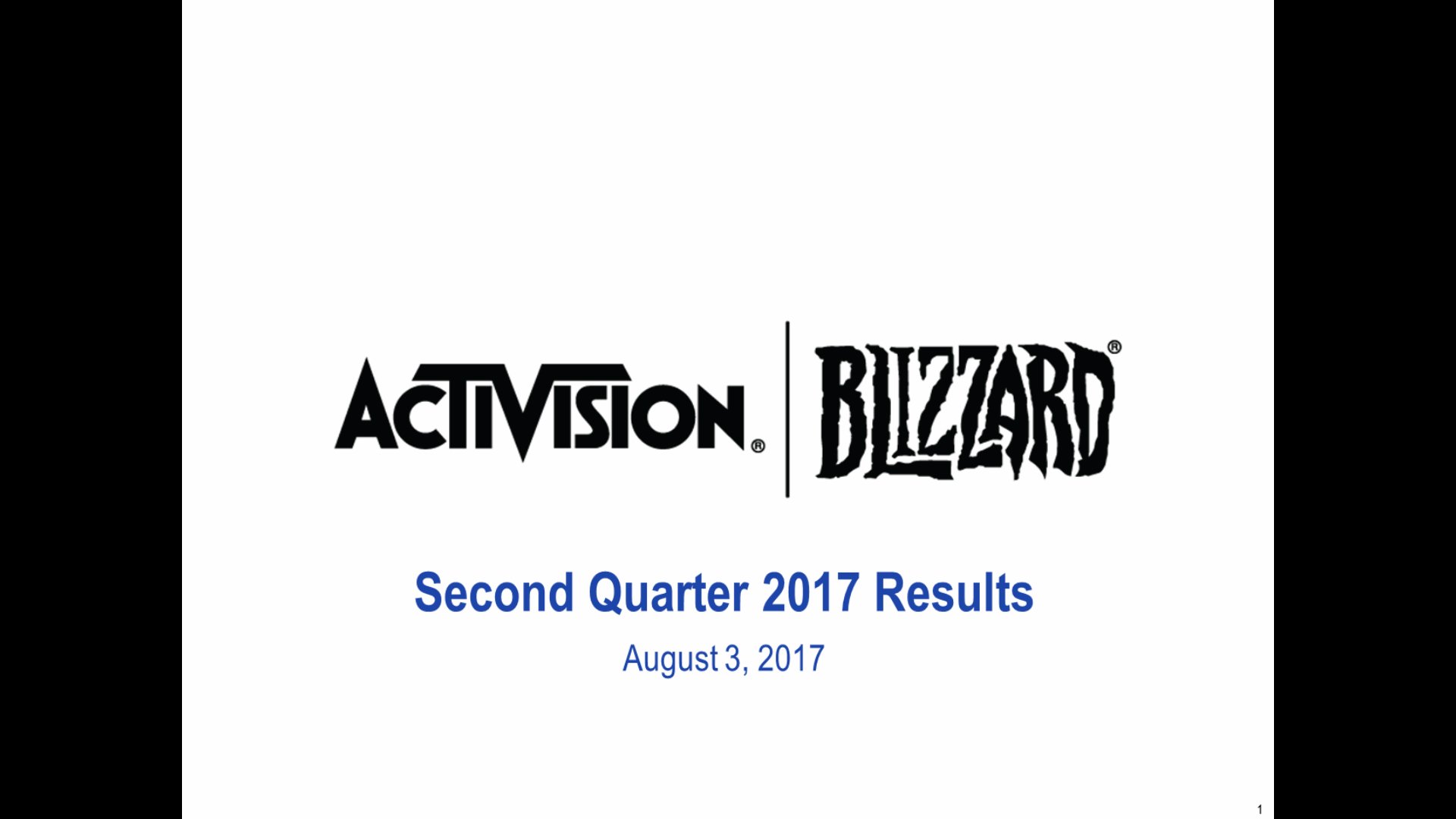 Transcript
Kotick: Q2 was another strong quarter. We exceeded our prior outlook and delivered record first-half revenues. The engagement of our communities remains strong, and we believe our momentum can continue through the rest of the year.
Our success continues to be the result of our focus on our players and our audiences. Investing in creative and commercial excellence is framed by the three pillars we have shared with you before:
1. Expand our reach.
2. Deepen engagement.
3. Provide more opportunity for player investment.
Our teams work tirelessly to deliver the most immersive and engaging experiences for our players. This content provides the connection between hundreds of millions of players around the world. We then enhance these connections with our franchises through initiatives like eSports, Television, and Film; and now consumer products. These additional touch points create more value for our shareholders by creating value and engagement for our audiences.
Here are some of the ways we created value for our audiences this quarter: We released new updates across many of our leading franchises this quarter, driving engagement, and delivering nearly half-a-billion of segment operating income — the most we have achieved in a single quarter without new full-game releases for any franchise.
We also announced the first team sales for the Overwatch League — the first major global city-based professional eSports league. We have the very best teams with the very best resources dedicated to celebrating and rewarding the world's best professional Overwatch players.
Overwatch (with more than 30 million players) has captured imaginations and driven strong global engagement. We have organized our league around major cities, taken a proven model for competition in traditional sports.
Our announced team owners in their locations: New England, New York, Los Angeles, Miami, Orlando, San Francisco, Shanghai, and Seoul; and the many more that we expect to announce represent the very best in eSports and traditional sports.
We continue to invest in improving our ability to execute and innovate across the company. This quarter, we made some exciting additions to our management team to equip our company with the leadership we need to capitalize on the biggest opportunities we see ahead.
Coddy Johnson rejoined the company as our new President and COO. Coddy proved himself as a transformational leader during the eight years he previously spent with us, including as Chief Operating and Financial Officer of Activision Publishing, and we are excited that he rejoined the company for this next growth phase of our business.
Later, you will hear from Spencer Neumann in his new role as CFO, bringing a wealth of experience from a long career at The Walt Disney Company (most recently as Chief Financial Officer and Executive Vice President of Global Guest Experience of the Parks and Resorts division).
We are also joined by Thomas Tippl (our Vice Chairman), and Dennis Durkin (our Chief Corporation Officer), and all of our business unit heads.
As always, our success is the result of the dedication of our players, fans, employees and partners. We cannot thank enough for their enthusiasm and support. Coddy will now review the highlights of our operations for this quarter.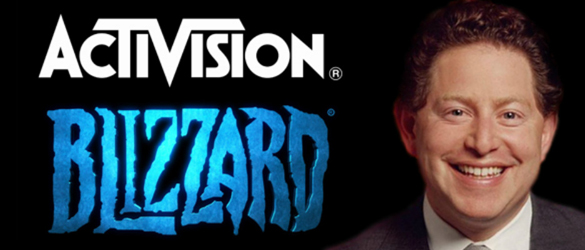 Johnson: It is great to be back at Activision Blizzard at such an exciting time of growth and opportunity for the company. As Bobby mentioned, we have incredible communities of players and fans.
The joy of our work what we do each day is to support our teams and building out some of the world's best creative environments and strongest commercial capabilities on behalf of those communities that they can play, connect, and engage as deeply as possible. When we get that right, we have the ability to serve our hundreds of millions of audience members with an ongoing stream of content, features, events, and products that they love.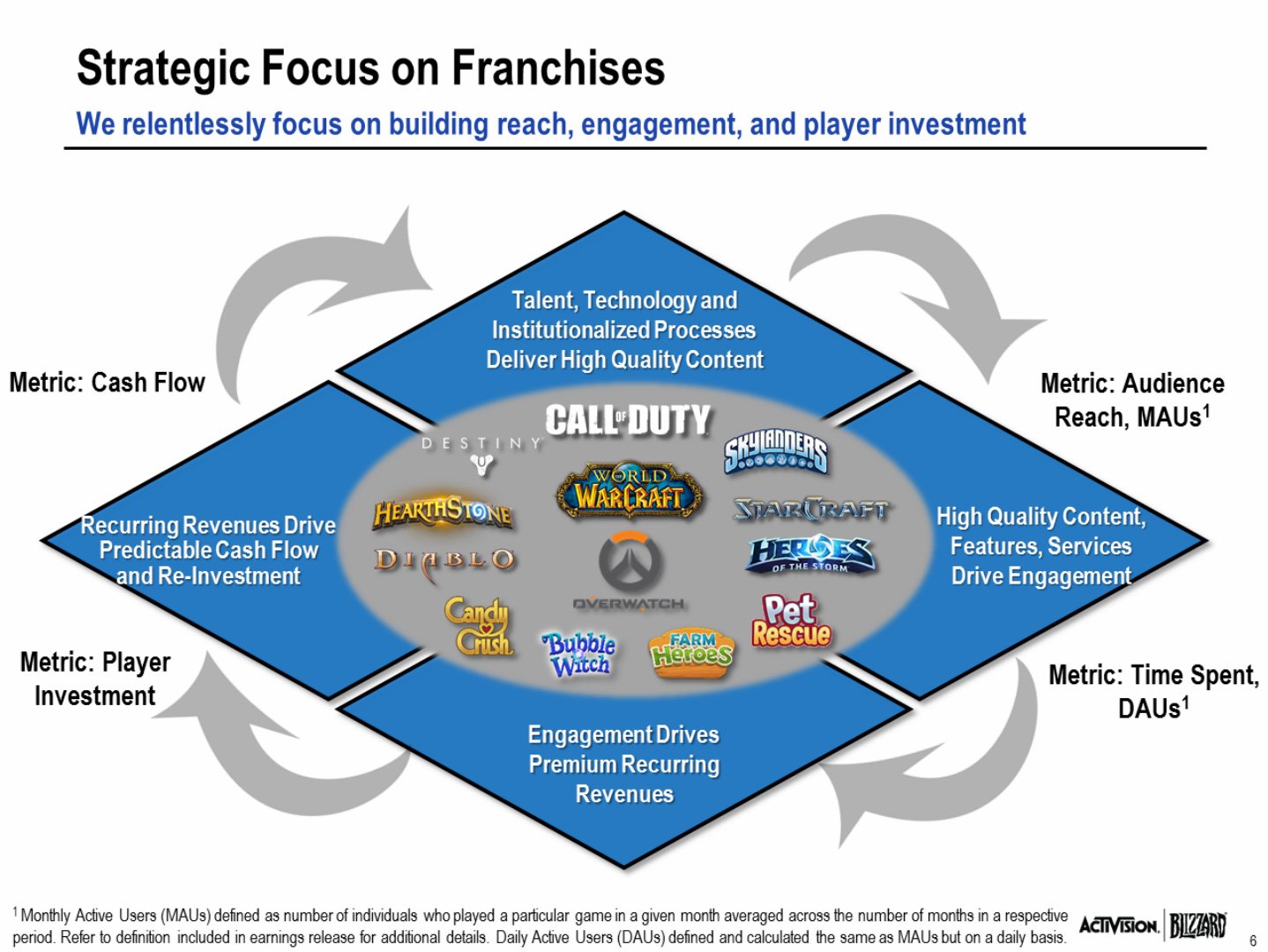 The business strategy underlying that work is based on the three pillars you heard from Bobby: We invest in creative and commercial excellence in order to expand reach, deepen engagement, and provide more opportunity for player investment — which then allows for reinvestment in creative, and commercial excellence; and for the growth cycle to continue.
We saw this strategy work especially well this quarter with our teams providing more regular content, and feature updates across our franchises in our library — leading to our biggest first half of the year in company history with record revenues driven by digital growth.
In Q2, our revenues exceeded our outlook by more than $200 million and earnings per share surpassed our expectations by 17 cents. Given this sizable over-performance, and confidence in our plans, we are raising our outlook for the year.
Let's start with audience reach, which was 407 million monthly active users this quarter. Blizzard did not have any new full game releases this quarter, yet a strong stream of content updates across Blizzard franchises drove an all-time MAU record of 46 million, up 38% from last year; and up 12% from the last quarter. Blizzard's community has now more than doubled in MAUs since early 2015, underscoring the ability to grow audience reach across the portfolio of platforms, regions, genres, and business models.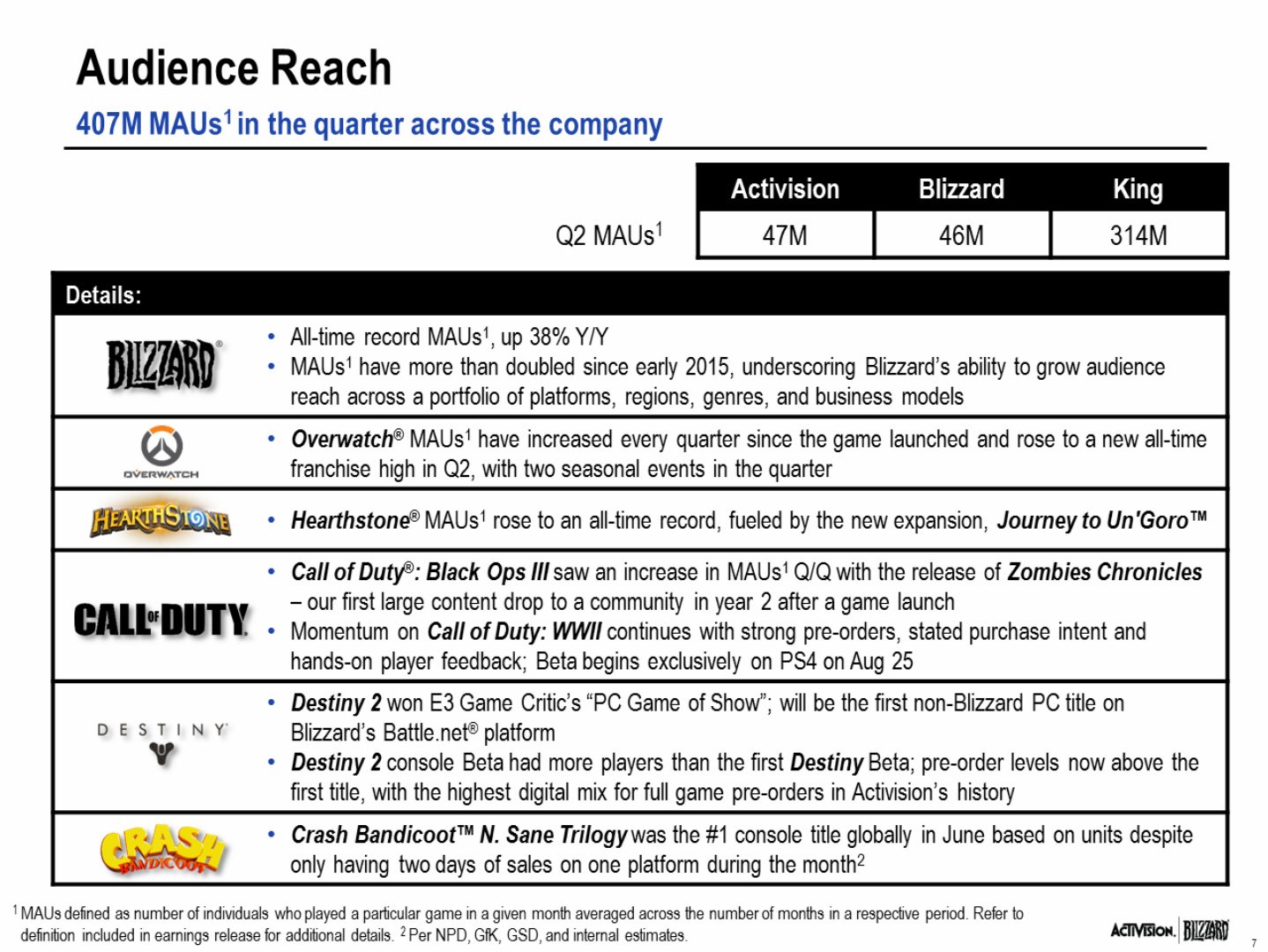 Notably, the Overwatch community continues to grow its MAUs up each and every quarter since launch; and in Q2, set another all-time MAU record with the release of two seasonal events; and Hearthstone MAUs increased to an all-time record for the franchise, fueled by the new expansion: Journey to Un'Goro.
Activision (along with partner Bungie) showcased the upcoming launch of Destiny 2 at multiple events this Summer to great enthusiasm. We are excited that Destiny 2's PC version earned E3 Game Critics' PC Game of Show; and even more excited that it will be on Blizzard's Battle.net — making it the first non-Blizzard game ever on the platform. Publishing on an owned platform will provide an enhanced player experience, better insights, and better economics.
With the PC beta still to come, the Destiny 2 console beta had more players than the first Destiny beta; and pre-order levels are now above the first Destiny at this same point in time pre-launch. Destiny 2 full-game pre-orders also have the highest digital mix in Activision's history.
Turning now to our second strategic pillar: Engagement. Blizzard's focus on compelling in-game content led to all-time record DAUs, and Q2 record play time. In Overwatch, April's Uprising Player-vs-Environment game mode was well-received with record play time; and more recently, the May Anniversary Event drove strong engagement, and record participation in customization items.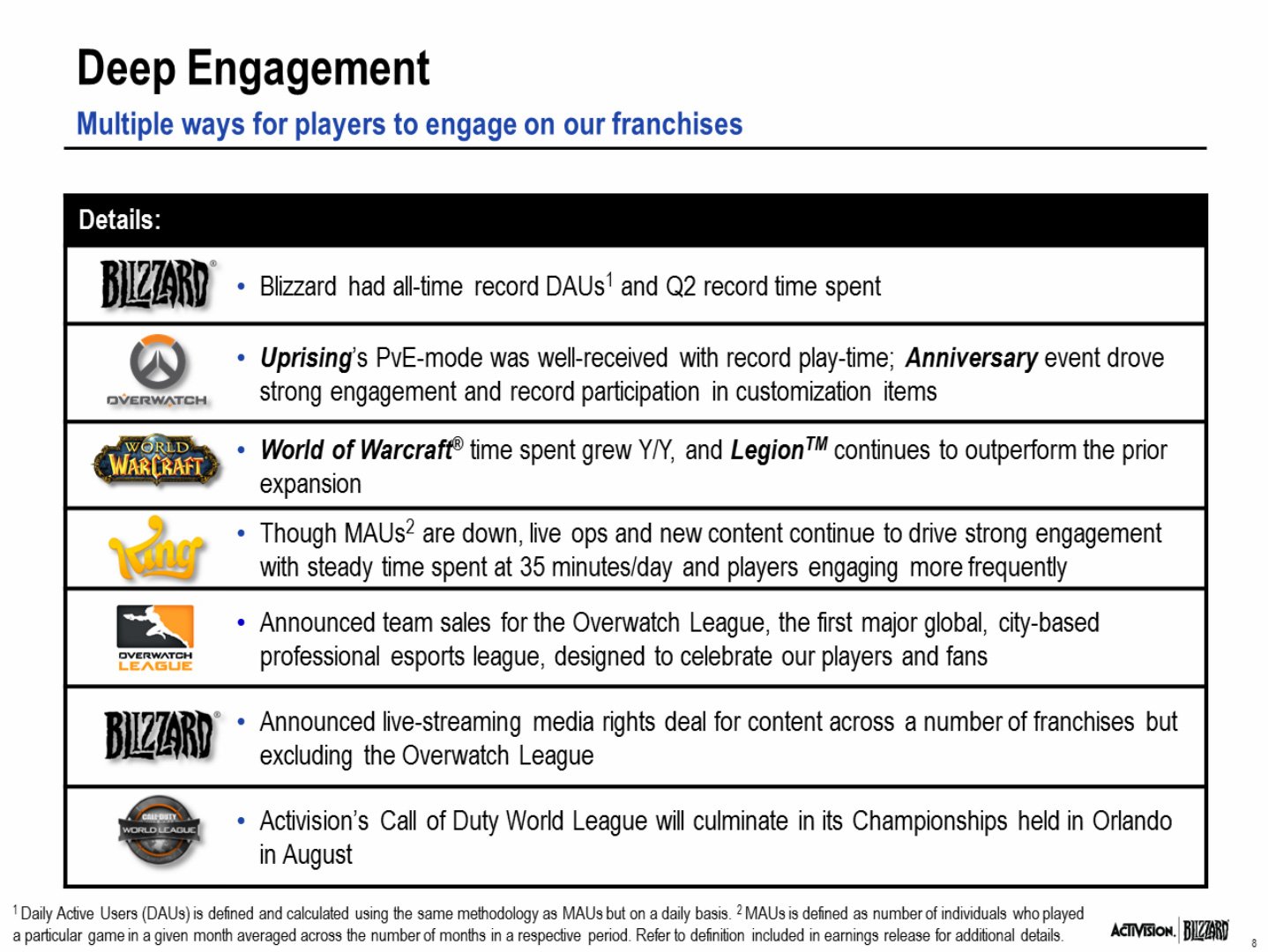 Hearthstone: Journey to Un'Goro was one of the best received expansions to date with record DAUs; and World of Warcraft continues to benefit from more regular content updates that Blizzard adds in between major expansions. Time spent in the game is up year-over-year.
The Legion expansion continues to outperform the last expansion, and Blizzard plans to release (this quarter) another large content drop with more details to be revealed at Gamescom.
Our groundbreaking initiative in eSports drive engagement, and celebrate our players and their achievements in new ways. We made strong progress this quarter on the Overwatch League (as Bobby already mentioned). That progress was a meaningful milestone toward establishing a league-based professional competition as a standalone business. We now have a sustainable structure, in which to invest for the long term, with the very best partners from traditional sports and from eSports.
Blizzard also recently announced a live-streaming media rights partnership, which showed the value of our broadcast content. Just as importantly, though, this partnership carved out a number of future opportunities for mediate rights sales including those related to the Overwatch League.
Blizzard also had a strong quarter for player investment. Blizzard experienced strong participation with in-game content for Overwatch, and Hearthstone; and also for Diablo, as the Necromancer class (originally debuted in Diablo II) was introduced to Diablo III, and embraced by the player community.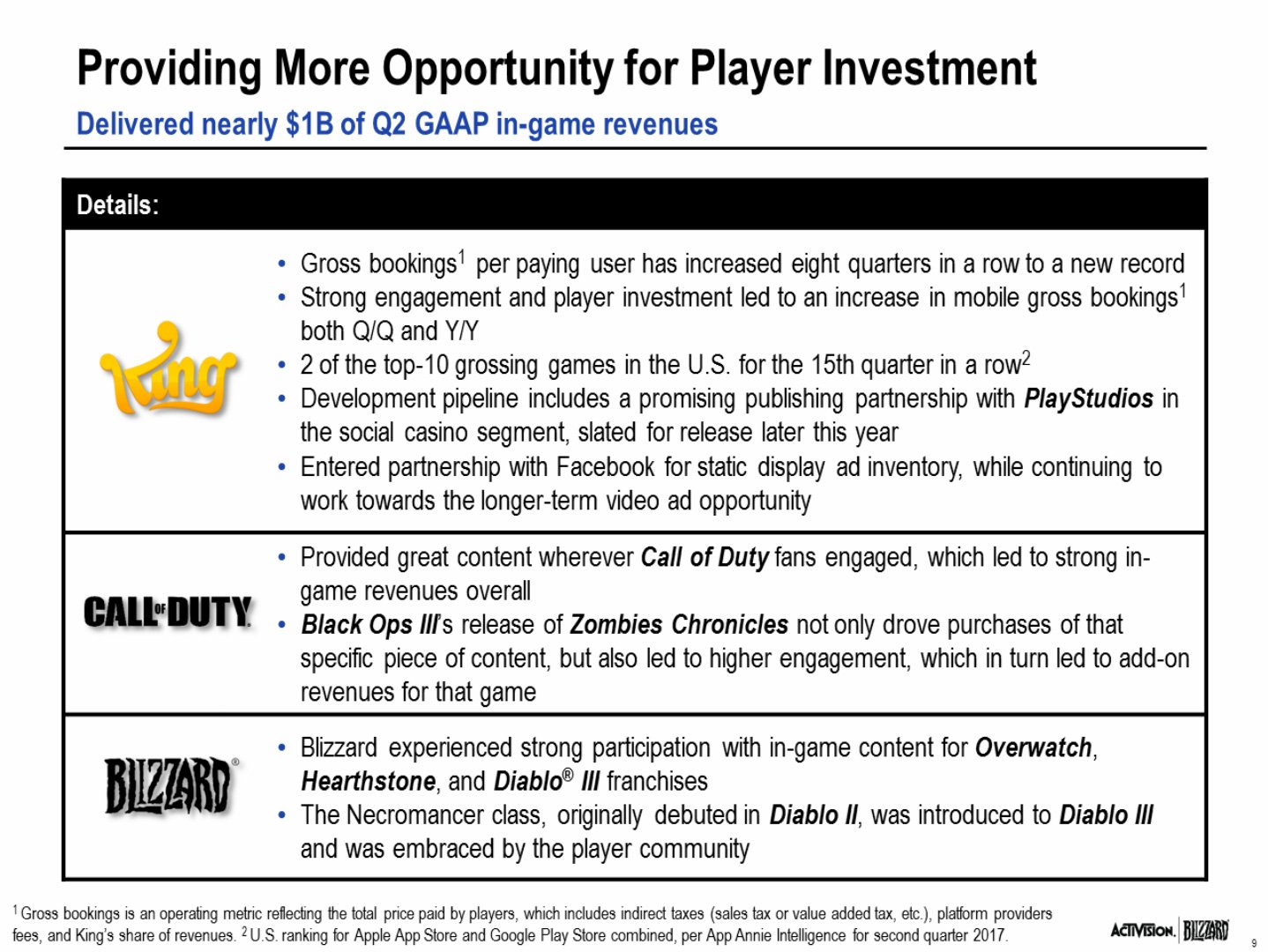 Stepping back, the success of our ongoing stream of content, features, events and products to our communities — coupled with additional opportunities from our vast library, highlights a really strong model, both for our fans and their enjoyment, and for the company as a high-margin business.
We have one of the largest catalogs of owned intellectual properties including game titles that go back to the early 1990s, and we have hundreds of millions of players in 196 countries, one of the largest digitally connected audiences in the world.
This makes it an incredible time to be a part of Activision Blizzard. Our momentum, driven by our inspired team's enabling year-round engagement for our players, drives both near-term performance and future growth opportunities like eSports, ads, mobile, and consumer products.
Neumann: I am thrilled to be here with all of you today, and to be part of the Activision Blizzard team. I come here with a deep appreciation for the power of beloved global franchises that build enduring emotional connections with the community. That is the foundation of Activision Blizzard, and it is why I believe we have such a bright future.
Today, I will review our better-than-expected Q2 results, which capped off a record first half. I will also review our outlook for Q3, and our raised outlook for the full year. To review the quarter, I would like to start with our segment results.
As a reminder, our segment results, unlike our consolidated results, are still presented excluding the impact of deferrals as they always have been.
Each of our segments contributed to our over-performance this quarter. We outperformed our outlook due to the combined power of our franchise breadth, a steady stream of content serving our uniquely engaged community, and our talented teams.
At the aggregate level, we delivered combined segment operating income of $476 million which (as Bobby indicated) represents a record for a quarter without a new full game franchise release.
Blizzard's $225 million of operating income was the largest segment earnings contributor in the quarter, led by the strength of the Overwatch, World of Warcraft, and Hearthstone franchises. Operating income was down year-over-year as expected given the comp to last year's significant Q2 Overwatch release.
Now let's turn to our slate and outlook for Q3. Our Q3 slate continues our strategy of delivering a steady stream of content, and services to our community — including Blizzard's Hearthstone expansion: Knights of the Frozen Throne. In addition, Blizzard is launching a remastered version of the original StarCraft on August 14. This will offer new and veteran players the same classic StarCraft gameplay with 4K graphics, modern conveniences like cloud saves, and connectivity to Blizzard's updated Battle.net ecosystem for an enhanced social and competitive experience.
And of course, Activision has two major releases in the back half of the year. We will launch Destiny 2 on console on September 6 with the PC launch to follow on October 24.
Before I turn to our 2017 outlook, I'd like to provide some detail on the impact of the Overwatch League. With the recently announced sale of seven teams, we do expect some revenue upside to Q4, but it will be modest given the recognition of team sale proceeds over multiple years.
Further, from an operating income perspective, the revenue recognition of team sales will be partially offset by the investment required to launch the league including inaugural season marketing.
As we look ahead to the first season, we see a number of important upcoming milestones — including standing up league operations, supporting team's development of player rosters, attracting sponsors, elevating the viewer experience, and securing media distribution. We are investing in this league for the long term.
Over time, we expect to recognize additional revenues related to both: more team sales, and multiple league revenue streams. We see this as a substantial long-term value driver for the business.
Now, turning to our raised 2017 full-year outlook, which passes through business over-performance from Q2, and now includes the Overwatch League's modest revenue contribution, and roughly breakeven EPS contribution. On a GAAP basis, we expect revenues of $6.4 billion including GAAP deferrals of $175 million, product cost of 22%, and operating expenses of 60%. Our GAAP interest expense is expected to be $174 million, and our GAAP tax rate is expected to be 16%.
We expect 767 million fully diluted shares both for GAAP and non-GAAP redefined; and GAAP EPS is expected to be $1.05.
For 2017 (on a non-GAAP basis), as redefined, we expect product cost of 22% and operating expenses of 45%. We expect non-GAAP interest expense of $156 million, a tax rate of 24%; and non-GAAP EPS of $1.94 — including a GAAP deferral of 6 cents. And if you would like to calculate non-GAAP metrics as we use to report them, you would start with our non-GAAP, as redefined, EPS guidance of $1.94, you add the impact of deferrals or 6 cents.
In closing, I just want to echo Bobby and Coddy's sentiment. This is such an exciting time in Activision Blizzard. By delivering engaging content, features and services to our community, including in-game content and remastered IP from our unparalleled library, we can increasingly generate digital, recurring, high-margin revenue opportunities.
Our core games business has never been stronger, and it is also powering future growth vectors like eSports, advertising, consumer products, TV and film, and mobile. We believe we have tremendous opportunities ahead of us, and as always, we remain focused on rigorous prioritization, operational excellence, fiscal discipline, and long-term shareholder value.
Q&A
Now that you've announced the first group of team sales for the Overwatch League, I was hoping you could expand on the longer term opportunities and perhaps more specifically a timeframe around some of the key milestones that we should be looking for in the coming quarters.
Kotick: There is great momentum that we are seeing in the league, and when you think about what we have planned in terms of the next round of team announcements, that will continue the momentum. That, to me, was the biggest milestone, was getting that great blend of endemic teams of professional sports owners; and if you think about whether it is in tech or in eSports, or in professional sports, we are assembling the very best owners for all of these sports.
We have announced the first seven, and I think what you are going to see is that (probably the most important milestones are), as we get towards the latter part of the year, and we start to kick off competition, when you see what we are doing in terms of the broadcast rights and sponsorship opportunities; but from every perspective, I think we have organized the league in the best way that will allow us to celebrate our players and our fans; and if you think about over 30 million players today, this is a very large audience.
Even if your spectators were only coming from your player population, that is a very, very large audience to be able to have advertisers, sponsors, and partners for it. So I'd say we are off to a really great start; and you will hear more about future team sales over the balance of the year; but we couldn't be happy with the progress that we have made so far, and it is really exciting.
Can you talk about early learnings from the Destiny 2 beta? How are you feeling as far as pre-orders at this point? Particularly, for the package that includes first year DLC?
Eric Hirshberg: So the beta went great, and there is a lot of excitement about Destiny 2 overall, and a lot of positive signs pretty much anywhere you look.
First of all, we have a tremendous amount of confidence in the game at its closing. We think it is going to be a great game; and we received almost universally positive feedback from both the press and the fans after people got their hands on the beta; and I think it is also worth noting that Destiny won 45 awards at E3, and we think it is continuing to close strong.
We also have very strong pre-orders, and Coddy mentioned this broadly, but the specifics are the number one position on Nielsen's unaided awareness, and next choice purchase intent; and while no one of those data points is ever predictive in a vacuum, we found that when you have all three of those trending positively, it is usually a very good thing; and then there are also several firsts at Destiny 2 — the way we are going to market that are designed to bring the franchise to a broader audience starting with the fact that we have got a great PC game.
Of those 45 awards, one of them is the official Best of Show for PC at E3. We have actually added a number of languages and localizations to make the game more appealing and accessible to more audiences around the world; and of course, I think our watershed partnership with Blizzard is going to bring Destiny to the most passionate PC fans anywhere in the world. So puts it on the best possible stage.
And finally, maybe most importantly with a game like this, Destiny is so engaging that the follow-on content is almost as important, if not as important, at the main game; and as I mentioned on earlier calls, we have completely changed our approach to tapping that by widening our stable of AAA developers so that we can keep up with the demand. It is a high-class problem, but we haven't been able to do that in the past — keep up the demand for more content; and I think that fans agree with the importance of that, which is evidenced by the fact that such an overwhelmingly high percentage of the pre-orders thus far are from one of our elevated SKUs (which include the Season Pass and the follow-on content).
So, lots of good signs. The beta being just one of them, and we are really excited, and have confidence we have a great game.
Could you maybe talk a little more about the structure of the Overwatch economics? How you're sharing revenue with the team owners? So, what were some of the key points that encouraged your partners that they could make money off this over the long term?
Neumann: We were really deliberate in structuring this business to attract the best owners and players in order to position the Overwatch League for long-term success; and that starts with optimizing alignment between the league (which we own) with the teams and our players. So at the league level, we are establishing a pool of shared league-wide revenues composed of media rights and consumer products, league-level sponsorship, and a portion of league-related digital in-game merchandise; and then we will net those league costs like marketing and production, and league operations against those revenue streams, and share the resulting amount 50-50 between the league and the teams; and then (at the team level), we have got these fantastic entrepreneurial owners, and we wanted to be sure we developed the structure that enabled those owners to not only fund player and team operations, but also create real incremental value at the local level.
So in addition to their league participation, the teams have their own local revenue streams (including the more traditional areas like ticket sales and concessions and local sponsorships), and local merch sales; but they will also have more unique opportunities such as the ability to host certain non-professional Overwatch matches.
And then lastly, when we think about the players, we established minimum salaries, benefits and bonuses for players so that we are providing a security and stability required to attract the best talent on the planet. So I guess (if we step back), we position the league and the team owners to invest alongside one another to build value at both the league and the local level, leveraging the capabilities and infrastructure that we each bring to bear for the benefit of our players, and our fans. So we have got plenty of work to do here, and we are getting ready for the launch later this year; and we look forward to sharing more progress soon.
Could you talk at a high level how Blizzard is allocating its time and resources right now? What percent of man-hours are spent on new IP versus existing IP? And I guess I'd be curious to hear you talk about how you think about Blizzard's new IP pipeline the next three to five years.
Morhaime: First and foremost, I'd just say that the bulk of our focus continues to be supporting our existing players and releasing high-quality content for our existing games. This quarter is a great example of that approach. We delivered a consistent flow of updates, and new content across all of our games; and that has driven record engagement even without a new game launch. We are also really excited about the future.
In addition to supporting all of our live games, we are committed to incubating new initiatives, and we are also thinking about different platforms, especially mobile.
In terms of new IP, our pipeline is in a better position than ever before in our history. Last year, Allen Adham (who co-founded Blizzard with me and Frank Pearce) returned to the company to take on the task of coordinating our efforts in this regard; and this includes some great ideas that we had already started to explore. So we now have multiple dedicated incubation teams that are being led by some of our most experienced game designers at Blizzard.
I should say that creating new Blizzard-quality games on any platform will take time; and as we have shown in the past, we are not going to release any games that we don't feel live up to our expectations, or those of our players.
When we do bring new experiences to current or new platforms for new and existing IPs, there are going to be ideas that our teams are passionate about, and that we think there is a large audience for.