Activision Blizzard announced the next Financial Results conference call will take place on May 6th at 1:30pm PST / 4:30pm EST.
As usual, Blizzard Entertainment CEO Mike Morhaime is expected to present his report about Blizzard games' progress and overall performance for the first quarter of 2014.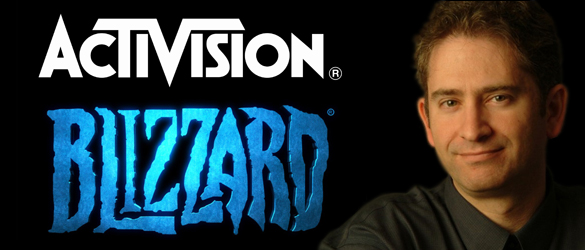 Speculation Mode-On
Before starting, I wish to point out that most of the time these conference calls do not share any new details and sometimes no official announcements about upcoming games.
However, there have been precedents in past conference calls where Mike Morhaime has announced BlizzCon that year, at one point he offered an ETA range for the StarCraft II beta testing (which started 2 weeks after the conference call), and other interesting news bits might happen during his speech at the Activision Blizzard financial results conference call. Thus, nothing can be ruled out about upcoming Blizzard games/expansions, but don't hold your breath.
Things I can think of at the tip of my mind that "might" be discussed:
1. BlizzCon 2014 – May 6 could be a day when Blizzard Entertainment might announce BlizzCon 2014 and an approximate ETA for ticket sales. When asked, Duncan Jones said a Warcraft movie preview might be ready by BlizzCon 2014. Read the BlizzCon 2013 Warcraft Movie Presentation Panel transcript.
Cons: Usually BlizzCon is announced at the beginning of the year (February) with tickets going on sale around April. At least six months notice before the event. Thus chances are slim for a BlizzCon announcement.
2. Overwatch – Blizzard Entertainment registered a new trademark titled "Overwatch" on April 1. Blizzard revealed all of the April's Fools news shortly after April 1, but none of them mentioned Overwatch as one of them. It was not mentioned at PAX East 2014 either.
Cons: There is a very slim chance this could be announced at Activision Blizzard or through a press release shortly after the conference call. I wouldn't hold my breath on that, however. Something like this could easily be a new Battle.net feature for the new Free-to-Play games to prevent cheating or a system to monitor and prevent the upload of custom maps with questionable content. If Overwatch was a new FPS game, it would rather be announced at BlizzCon or even at GamesCom. Diablo III: Reaper of Souls was unveiled at GamesCom 2013 for example. Check out the press release and the GamesCom 2013 section with all the news and Blizzplanet GamesCom interviews.
3. World of Warcraft: Warlord of Draenor – The closed beta approximate ETA or maybe Alpha press access might be revealed at the conference call. There is precedent this has happened in previous ones.
Cons: While there is precedent of it happening before at previous conference calls, there have been conference calls where nothing new has been announced other than the latest progress on current games or statistics of game sales and subscriptionship. Don't hold your breath.
4. Hearthstone: Curse of Naxxramas – The new content patch was unveiled at PAX East 2014. All we know is that it is slated for Summer 2014. It is possible Mike Morhaime might mention this to shareholders during the conference call, or even further details not shared at PAX East.
Cons: By the time the conference call begins, it would be less than a month since the PAX East event. In addition, in United States the Summer begins around the last weekend of May and ends the first weekend of September. Usually, a game is done when it is ready. Thus, an ETA or a specific date isn't likely to happen.
5. Heroes of the Storm – A report for the shareholders about Heroes of the Storm and its progress has to definitely be guaranteed.
Cons: A report on the bundles or any monetary aspect of the free-to-play game is slightly possible, but not guaranteed. The game is too early in Technical Alpha for any of that info to be even internally discussed. A closed beta ETA range? Possible, but improbable. The technical alpha is there for a reason, and anything can happen before a beta date can be ironed out.
Press Release
Activision Blizzard to Release First Quarter 2014 Financial Results on May 6, 2014
SANTA MONICA, Calif. –(BUSINESS WIRE)– Activision Blizzard, Inc. (Nasdaq:ATVI) intends to release its first quarter 2014 results after the close of the market on Tuesday, May 6, 2014 . In conjunction with this release, Activision Blizzard will host a conference call that will be broadcast over the Internet.
Tuesday, May 6, 2014
1:30 p.m. Pacific Time ( 4:30 p.m. Eastern Time )
To listen to the call, please log onto:
http://investor.activision.com/events.cfm
Or dial:
U.S. and Canada : 888-312-9863
International: 719-457-2666
Passcode: 6972116
Anyone planning to dial in to the call should RSVP to Pam Beaver at:
E-mail: PBeaver@activision.com
A presentation corresponding with the conference call will be available in Adobe Acrobat format at http://investor.activision.com/events.cfm. A replay of the call will also be available approximately three hours after the call's conclusion and archived for one year in the Investor Relations section at www.activisionblizzard.com.
Precedents