Lugìa: A few moments ago, Blizzard published another Artcraft about the revamp of the character models, and this time it is about the female Draenei (not a April Fool this time!), enjoy that space-goat !
Medievaldragon: I wish to point out to our visitors that this ArtCraft is only a sneak peek. The developer assigned to the development of the female draenei model hasn't finished. Once the model is finished, it will be sent to the animators where the model will be tweaked for some time to add facial and body animations. Blizzard might have something more juicy to show at a later time.

Hello again! I'm Senior Art Director Chris Robinson, and today we wanted to give you a super quick look at our current progress with the new female Draenei.
After the April Fools' joke we wanted to ensure you weren't waiting too long to see where we're at with her actual character model update. Keep in mind that she's still in-progress, and doesn't have any animation to pose her body or face.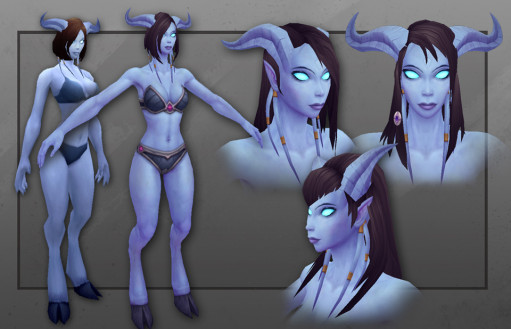 Animation is a big factor for the female Draenei specifically, so it's important to keep it in mind when comparing the two. The original female Draenei has some fairly extreme posing that happens when she's animated. If you were to see the static model of the original without any posing you'd see that it looks very similar to the new one. With her pose applied her shoulders stretch backward, her pelvis rotates forward, and her chin lowers—causing her head to angle downwards. The curvature in her lower back, and why the head shape looks slightly different, are also due to the new model not having the same posing applied yet. She also looks a lot taller! Ultimately all of those things will be addressed when we animate the new model, they just don't take place until she's rigged and sent on to the animation team.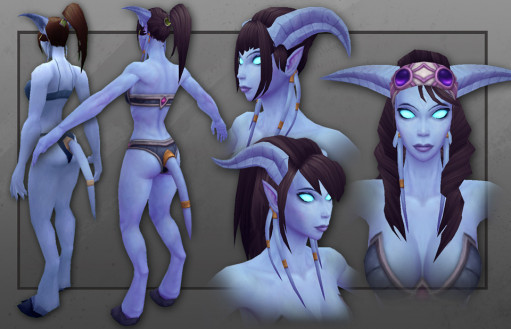 We hope you enjoyed this super quick look at where we're at right now, and we'll continuing sharing more in-progress art as we go forward. The next article in the Artcraft series we're planning is a look at the creation of the Spires of Arak, a new zone coming in Warlords of Draenor. Thanks for stopping by!
Senior Character Artist Joe Keller did the majority of the work on this revamp, with direction from our Lead Character Artist Tyson Murphy (@tysmurph), and myself (@artofcgrobinson).