Blizzard Entertainment is no longer using WETA's services to develop the 20th anniversary Crown reward given to Blizzard employees — according to Jewelry Prop Shop, the new partner.
The partner revealed there are plans for a 25th Anniversary Reward weighing around 30 pounds. More details will be revealed in the future.
It seems official since the crown is sitting on my desk, after 3.5 months of negotiation, I am happy to announce, Jewelry Prop Shop is taking over the production of the Blizzard Entertainment 20 yr service crown from WETA Workshop.
The design will remain exactly the same but we have been asked to add a bit of "jewelers magic" to it and make it look more like a piece of jewelry made by High Elves than a helm forged in Mordor by Orcs. In conjunction with the Helm we have begun working on the top secret 25 yr service award for Blizzard employees which we can't talk about, except to say it has to weigh less than 30lbs, and it is really really cool.
We have picked American Fine Art Foundry to do the casting and finishing,. Made by Adriane …for the leather on the helms interior and Colored Stones International for the gem in the center.
We are very excited for this opportunity to work with Blizzard Entertainment and the talented team of crafts people we have assembled on these two and several other projects this year. – source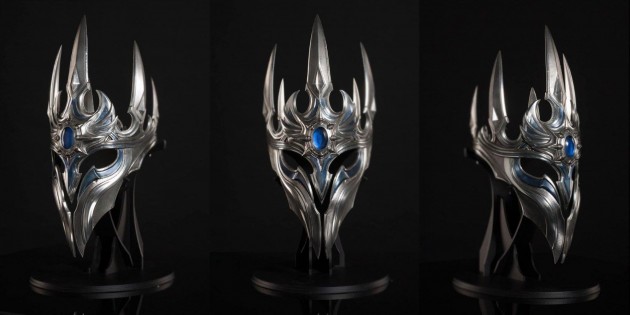 Thanks for the tip, Doolie Little