English | Español
Blizzard Entertainment is looking for a Lead Producer for a yet to be announced video game. The job opening description mentions this game is in development by a small team like that of Hearthstone.
On Twitter, Mike Booth posted he is looking for a Lead Producer for his team. I am not certain yet if this is not the same position, but it might be. Mike Booth joined Blizzard Entertainment on May 2013 as game director of this small team.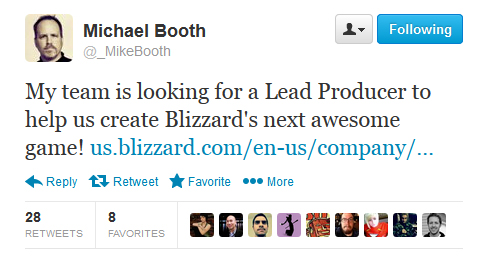 It is really hard to figure out what type of game a game developer with his calibre is working on based on his past work. He could be working on a different genre.
With Dustin Browder, when I first heard he worked at Blizzard, I looked at his past work and speculated he was working on StarCraft II. Some time later, StarCraft II was announced.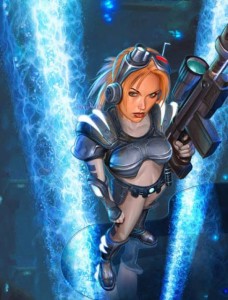 Michael Booth hails from Turtle Rock Studios as CEO — and if that studio doesn't ring a bell to you, let me hit the gong hard for you. Turtle Rock Studios worked with Valve in the Counter-Strike series and Left 4 Dead. Michael Booth shares credit as one of the four Counter-Strike programmers, and he was the Project Lead for Left 4 Dead.
I ain't saying this particular unannounced Blizzard game will have zombies, nor that this is a First-Person Shooter… but I really wish it was if this guy is on the steering wheel. Now if that didn't get you excited, then I shouldn't mention what genre StarCraft: Ghost is. Pew pew pew!
The same small team is looking for a 3D Weapons Artist and the description for the job requests that the candidate should have experience working with a diverse range of equipment, vehicles, and mechanical characters.
What's Blizzard cooking? When will we hear about it? Those are fair questions for which we might not have an answer in quite some time.
In the meantime, spread the word. If you got the talent or know a family or friend with the talent or a friend of a friend … let them know this job opening is available.
Lead Producer| Blizzard
Blizzard's newest game team is looking for someone to join its ranks as lead producer. With Hearthstone, Blizzard has revived its tradition of creating small and nimble game teams and we are following in those footsteps. As part of our team, you will join in the leadership of a small but mighty band of developers and exert your talents to help craft our processes, organization, goals and execution.
We can't tell you exactly what the game is yet, but trust us, it's awesome.
Ideally, you have passion for and experience in wrangling both small scrappy teams and large multi-discipline juggernauts. You enjoy getting your hands dirty in day-to-day game production as well as thinking strategically in solving high level challenges. Maybe you even enjoy personally jumping into databases or modeling packages from time to time. You speak the languages of art, engineering, game design and business – some fluently, the others enough to be dangerous effective. In short, you understand the science and appreciate the art of making amazing games, and have made it all come together in the shipping of world-class products.
Responsibilities
Project manages all aspects of the game.
Provide leadership, guidance and execution to ensure both quality and timeliness of objectives and milestones.
Champion the game to all external departments to build transparency, knowledge and passion for the project.
Communicate with executive leadership on status, risks, and needs of the project.
Do whatever it takes for the game to be great, the team to be healthy, and the execution to be flawless.

Requirements

A minimum of 3 years' experience as a senior / lead producer
Experience shipping at least one top quality online title in a senior or lead producer role
Experience with the ongoing operation of a game after launch
Development experience as an engineer, artist, or designer a plus
Able to communicate effectively with engineering, art, design, and business personnel
Unrelenting self-motivation and initiative
A deep, abiding, and possibly somewhat untoward passion for games

Required Application Materials

Resume
Cover Letter which should include:

Why you are interested in working at Blizzard
What games you are currently playing

**Only submittals with Cover Letters will be considered.

Blizzard Entertainment, Inc. and its affiliated companies is an equal opportunity and affirmative action employer. – source