The Thunder Forge
Wrathion: Everything is prepared, (name), and I have selected you to be my champion.
Next, we must infiltrate the legendary Thunder Forge of Lei Shen himself! You and your faction will need to advance forward until the Thunder Forge is exposed, if it isn't already.
Once you have infiltrated the forge, meet me there. Be ready for a fight!
Objectives
Progress through the Isle of Thunder until you unlock the Thunder Forge. Meet Wrathion outside the Thunder Forge and complete his task.
Progression
Wrathion: Champion, return now to the Isle of the Thunder King. I will meet you at the forge, where together we will create an instrument of legendary power.
Prince Anduin: To what end? What are you two working towards?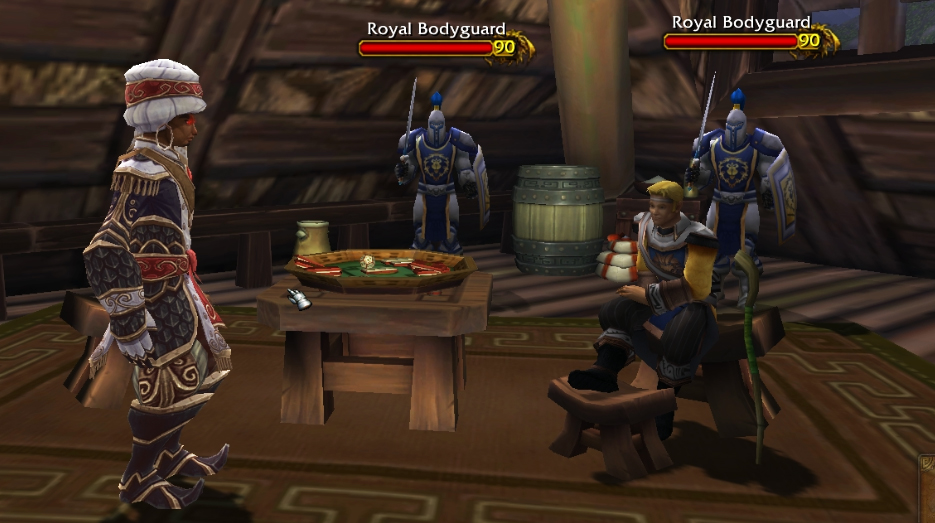 Wrathion: … world peace!
Prince Anduin: Using a mogu weapon forge whose powers you barely understand?
Wrathion: My dear prince, you and I share the same goals. We only differ in our level of commitment.
Come, hero! Let us shape a new Azeroth together!
Prince Anduin: Champion, I know that our people are at war, but if you blindly trust this black dragon in the pursuit of power, are you any better than your warchief?
Please – just be careful.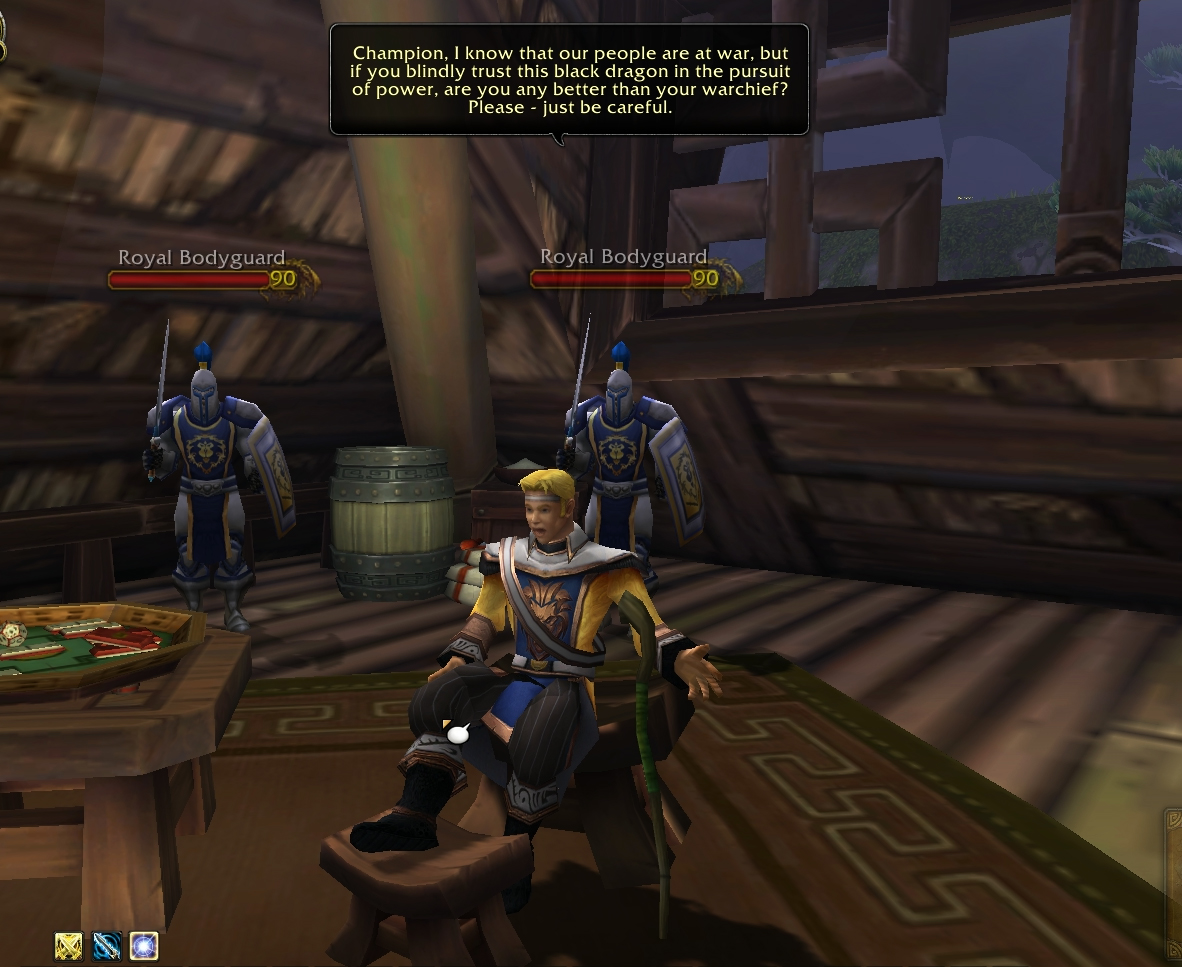 Window Dialogue
(Anduin's bodyguards edge closer the moment you address the prince.)
Prince Anduin: It's okay. I'd just like to have a chat with my friend. We're far from any battlefronts here. Can some part of the world still be safe for civilized conversation?
Come, sit down! Join us!
(What happened to your leg? Are you wounded?)
Prince Anduin: Oh, this?
(Anduin indicates his crutch.)
Garrosh Hellscream tried to use an ancient mogu artifact to summon and control sha energy. I found a way to stop him, but probably shouldn't have confronted him on my own. He thought I was dead when he left me buried under the wreckage of his failed plan. I swear he shattered every bone in my body.
The pandaren mistweavers got me back on my feet again, but it may be some time before I can walk without assistance.
(What do you make of Wrathion?)
Prince Anduin: Wrathion claims to be the last living black dragon. Do you think that's true? Weren't there others still in Outland somewhere?
Regardless, I find him fascinating. He's not like any other dragon I've ever met. He is honesst, almost painfully so. I can't decide if he thinks mortal lives are absolutely precious or completely expendable.
Sunwalker Dezco: Greetings, (class)! Chieftain Baine Bloodhoof was distressed to learn of Garrosh's savage attack on the human prince. Our causes for grievance agaisnt the Alliance are many, but none are the responsibility of this little one.
The prince and I met at the Temple of the White Tiger. On my honor I have pledged that I will do what I can to keep him safe.
(Despite his words and the warmth the prince directs his way, the tauren paladin suffers distrustful glances from the royal bodyguards in the corner of the room.)
Royal Bodyguard: (The bodyguard glowers at you, his fist tightly clenching his sword.) The Prince wants to have a quiet chat, (class). If you start any trouble, we'll respond in kind.
Completion
Wrathion: YOu made it! Excellent. Now we can begin.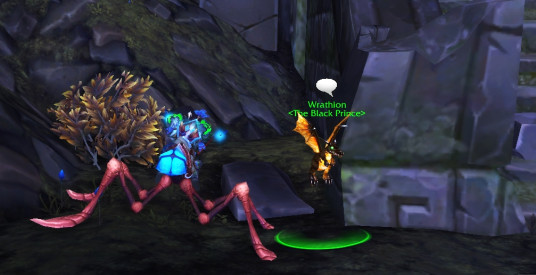 (I am ready!)
Continues in the Solo Scenario: The Thunder Forge.
Scenario: The Thunder Forge

Wrathion: Good to see you again adventurer. Are you ready to begin?
(Let's go!)

Wrathion: The trillium you brought me must be refined for our purposes. This foundry should be sufficient. Help me manipulate the molds.

Wrathion: The Shado-Pan are here! They may be of use to us. We should help.
Shado-Pan Defender: Thank you for your help, adventurer. We will assist you as best we can in fending off the mogu.
Wrathion: This foundry should be sufficient. We will empower the metal with an electrical charge. Be ready to fight if we draw too much attention.
Wrathion: Excellent! The materials are prepared. Follow me.
How interesting! This forge is built atop of ancient Titan machinery. Lei Shen, you clever, clever tyrant, you!
Now if I were a dwarf I would just start randomly pushing buttons. But you and I are here for a purpose.
Look at that. How easy it must have been for Lei Shen to build an empire, for he wielded the power to create worlds.
The mogu were using only a fraction of the resources available to them. Few among them possessed the cunning of the Thunder King.
Are you ready for me to start up the Thunder Forge? Things could get a bit hairy.
(Start it up!)

Wrathion: What's this – "Anomaly detected." Anomaly?
Look at that. This old Titan technology is acting like a magnet for the sha.
You're an expert at destroying sha by now. Clean up this mess!
Wrathion: Perhaps if I overcharge the forge, it will destabilize this sha nuisance? Let's try it.

Wrathion: There. Problem solved.
Oh – I may have spoken too soon. The sha grows in strength! Destroy it!
You aren't harboring any bad thoughts, are you?
I've overcharged the anvils. They will be VERY effective against the sha, but each one can only be used once more!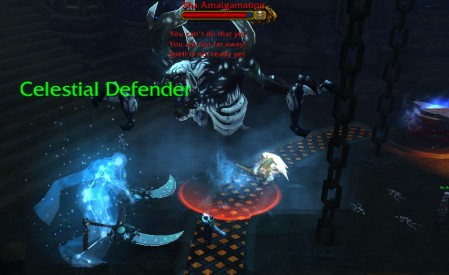 Wrathion: The lance is finished. Quickly, hurl it at the sha!
(Complete Wrathion's Task: 1/1)
Wrathion: There! Our work is complete – we have forged a masterpiece!
We are done here, but the weapon is not yet tempered.
Behold! The Lightning Lance! A conduit that can channel and control the very same power that the Thunder King used to found an empire.
It is dormant … but you're about to change that. If you're worthy.
Videos
These two videos contain the quest titled "The Thunder Forge" which contains dialogues and voice over. I split this into two videos of about 10 minutes each. The quest leads you to talk to Wrathion at the stairs near the Thunder Forge. Talking with Wrathion triggers the queue for the "The Thunder Forge" Scenario.
Note: I'm a clicker, and a Holy Paladin. Don't know squat about Retribution rotations, so please focus on the content not on my lack of skills. I also play while laying on my bed with no mousepad.