The front cover of the World of Warcraft: Paragons has been revealed. It is the same artwork of the 15th Anniversary of Warcraft which debuted during the Battlecry Mossaic community effort.
This eBook compiles several World of Warcraft short stories formerly seen at the official World of Warcraft website, but features a never-read-before story written by Blizzard publishing lead Micky Neilson … Blood of the Highborne.
This story delves into the origins of the Blood Knights, and some behind-the-scene events which fill the gaps of some missing details in the Burning Crusade expansion.
The World of Warcraft: Paragons
will be published as an eBook on March 31, 2014. Follow the link to pre-order.
No Kindle is needed to read it online. If you have an Amazon account follow the links below. Install the app (software). Use your Amazon login/pass. The app will sync with your Amazon account. Then click the World of Warcraft: Paragons
link. Now you can purchase it and choose where to read it: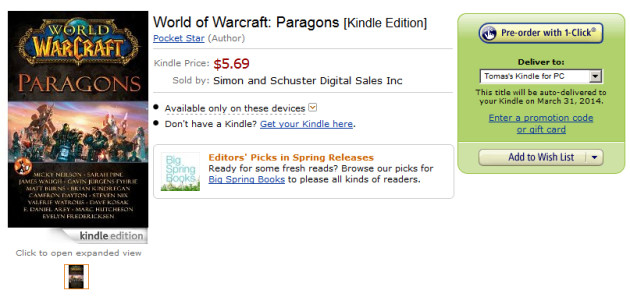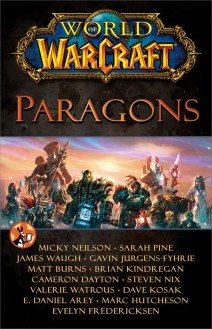 Though their soldiers form a unified front on the battlefield, both the Alliance and the Horde include diverse races and nations within their ranks. Each of those nations has at its helm a leader of heroism and legend. Their actions and decisions shape Azeroth and forge its destiny. They inspire loyalty and loathing, fervor and fear, sometimes all from their own people.
What do these heroes do when faced with conflict and strife? How do they handle the tremendous responsibility of guiding their armies and citizens on the front line and at home? In this anthology of sixteen short stories, each champion finds his or her own answers to these questions. Read their tales and learn what makes them who they are today—learn what makes them paragons.
Publisher: Pocket Star
Length: 304 pages
ISBN: 9781476778037
Release Date: March 2014
Price: $5.99