This is a partial and heavily-edited transcript of the key topics related to the Blizzard Entertainment statements shared during the Activision Blizzard Q1 2018, excluding the other non-Blizzard franchises.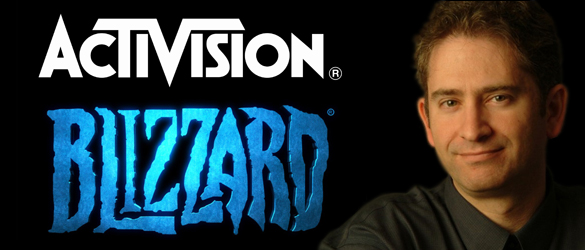 Collister Johnson: Blizzard continues to engage audiences across platforms with 38 million monthly active users this quarter. World of Warcraft is releasing more content, more regularly than ever before — leading to higher engagement sequentially, over-performance vs the prior expansion at this point in time, and strong community participation with in-game purchases. The next expansion, Battle for Azeroth, launches worldwide on August 14; and it is already off to a great start, with preorders ahead of plan.
Hearthstone continued to reach and engage its large global audience last quarter, first with a novel promotion under the Year of the Mammoth, which offered new and existing players a chance to expand their decks and gameplay at a great value. Blizzard also recently released a new player vs environment mode: Monster Hunts, on the back of the most recent expansion; and engagement has been great so far.
Overwatch continues to grow its community and engagement remains strong, with the most recent seasonal event: Retribution, having the highest participation rate to date. Now Overwatch's performance is driven by a commitment to the player community; and with its ongoing stream of seasonal events, maps, and heroes, Overwatch was recently recognized as the world's best evolving game.
To that end, Overwatch has now added new and innovative links between the game and the spectating experience for Overwatch League — which brings me to our second pillar: deepening engagement. eSports is, as you know, a priority for the company. It is where we celebrate player achievement and community passion, and provide awesome spectating experiences for a rapidly growing number of eSports fans, nowhere more so than Overwatch League, which continues to reach millions each week.
We are seeing increased engagement for the franchise overall, with the hours combined spent playing and watching Overwatch growing quarter-over-quarter; and as Bobby said, this is even before the playoffs and Grand Finals later this summer. Overwatch League and its partners also introduced new engagement programs like token drops, cheermotes, and the new Twitch league pass, which deliver even better viewing experiences and new revenue opportunities; and given all this progress, there is very strong demand for Overwatch League expansion teams.
The league will therefore be highly selective in this approach, adding just a handful of teams in key strategic markets by end of year. More broadly, building out the Overwatch League allowed the company to develop a unique set of capabilities and infrastructure, and we plan to begin applying them to other franchises in the near future.
In summary, our franchises are as strong as ever. We are investing and building internal capabilities for the future with mobile, eSports, advertising, and other forms of content; and all the while, delivering record results.
Spencer Neumann: Blizzard grew segment revenue to a new Q1 record, driven by in-game content across their portfolio of franchises, strong World of Warcraft pre-sales, and the launch of the Overwatch League.
Margins decreased year-over-year, as Blizzard continues to invest in key growth initiatives: including the Overwatch League, MLG Network, Battle.net, and mobile incubation efforts. We expect these strategic investments to pay off in the coming years.
Before I turn to the specifics of our upcoming slate and outlook, I would like to provide some context: Based on the strength of our Q1 beat, and our confidence in our franchises and pipeline, we are raising our full-year outlook modestly. As I said on our last call, we expect revenues and operating income for 2018 to be more back-end loaded than 2017 — given the timing of our content slate relative to the prior year.
For example, in Q2 of last year, we had the Diablo Necromancer update. While we don't have that launch in Q2 this year, we do have an amazing full-year lineup as well as a continuous stream of content, features, and services throughout Q2, and the year (as I will discuss in a moment).
In addition, the back-half of this year features another major release for the year with Blizzard's World of Warcraft expansion.
Earlier this month, Blizzard released a new Hearthstone expansion and Overwatch seasonal event. Blizzard also plans to release more content and features across its portfolio, including a second-anniversary event for Overwatch.
So for Q2 on a GAAP basis, we expect net revenues of $1.5 billion, including the net recognition of deferrals of $205 million. Product cost, and game operations and distribution expenses of 22%; and operating expenses, including software amortization of 57%. We expect GAAP net interest expense of $68 million, a GAAP tax rate of 23%, GAAP and non-GAAP share count of 771 million; and GAAP EPS of $0.26.
For Q2 on a non-GAAP basis, we expect product costs and game operations and distribution expenses of 22%; operating expenses (including software amortization) of 48%. We expect non-GAAP net interest expense of $30 million, a tax rate of 20%, and non-GAAP EPS of $0.46 — including the net recognition of deferrals of $0.15.
Now turning to the 2018 full-year outlook, our strong Q3-Q4 release slate includes Blizzard's World of Warcraft expansion: Battle for Azeroth, as well as the continued ramp of growth initiatives such as advertising.
Q1 over-performance benefited in part from timing, and we still have a lot to deliver in the year. Still, as I just mentioned, we feel great about the remainder of the year, and we are modestly raising our full-year outlook.
On a GAAP basis, we expect full-year revenues of $7.3 billion, including deferrals of $120 million; product costs and game operations and distribution expenses of 22%; and operating expenses (including software amortization) of 53%.
Our GAAP net interest expense is expected to be $135 million, and our GAAP tax rate is expected to be 18%. We expect 775 million fully diluted shares both for GAAP and non-GAAP; and GAAP EPS is expected to be $1.79.
For 2017 (on a non-GAAP basis), we expect product costs, and game operations and distribution expenses of 22%; and operating expenses (including software amortization) of 44%. We expect non-GAAP net interest expense of $94 million, a tax rate of 20%, and non-GAAP EPS of $2.46 (including deferrals of $0.05).
In summary, our results this quarter once again illustrate the power of our franchises. We expect them to continue to consistently deliver into the future, while we invest prudently in exciting new businesses; and as always, we will focus on fiscal discipline, and operational excellence across the company.
Q&A
Christopher Merwin (Goldman Sachs): I was wondering if you could talk about how Overwatch League viewership has been trending relative your expectations so far. I think in the prepared remarks, you mentioned that you started a second round of team sales already. So maybe you could comment about how that is going, and how we should be thinking about the value of the new teams you might sell.
Mike Morhaime: I wanted to say we are extremely happy with both the launch and how the inaugural season for Overwatch League has been going so far. The league is definitely outperforming our expectations, starting with viewership. Viewership has been very strong and consistent each week. We have had millions of fans tuning in, and our average viewer spends about over an hour of watching each day. Our broadcast partners like Twitch and MLG and our partners in China have been great.
We have also been introducing some exciting new engagement programs that are unique to esports. We have partnered with some great sponsors as well like HP, Intel, Toyota, T-Mobile, and Sour Patch Kids, and these sponsors now have access to a highly engaged and hard-to-reach audience. We have been adding to our eSports team.
We have recently added professionals with strong sports marketing and broadcast expertise. And so we think that overall this has been a great success. We think it is good for the whole ecosystem.
It is good for our owners who have partnered with us on this exciting new venture. It is great for the players, who have increased stability as well as a great venue to showcase their talent. And it is great for the Overwatch franchise, which has benefited from increased total engagement.
With respect to team sales, we are currently in process. We have been meeting with potential new owners in new geographies. Demand has been really strong globally. We don't have an update on exact timing, but we do expect to add new teams to the league this year; and so looking ahead, we are heading towards the end of our inaugural season. We will be holding our playoffs, Grand Finals, and an All-Star game this summer; and so we have got a lot of great stuff planned. We are very excited.
Bob Kotick: You said most of what I was going to say and probably better than I could have said it; but the only thing that I was going to point out is that for our almost 40 million players… what I think the league has really done is it has reinforced that the thing that they spend hours and hours a day playing is something that they feel like is now being validated in a way that it never has before in a video game; and so, all of our players in almost 190 countries around the world feel like this is truly a recognition of the sense of belonging that they get playing the game, and the sense of accomplishment they feel playing the game; and I think more than anything, that's been an enormous benefit as a result of the creation of the league.
Colin Sebastian (Robert W. Baird): My question is related to World of Warcraft, including higher engagement that you are seeing with the title; and in particular, I'm wondering what we should expect then in terms of WoW usage and engagement leading up to and following the launch of Battle for Azeroth this summer.
Mike Morhaime: Before I go into the expansion, I just want to quickly thank the World of Warcraft team for their amazing work in delivering great content for that community. Over the last couple of years, they have really shifted their pipelines and invested in not only the expansions, but also creating ongoing and an increasingly steady stream of content in between expansions — which is really important to keep people engaged all the way from one expansion to the next.
Battle for Azeroth is our next expansion; and at Blizzard, we are really excited about this expansion. It is coming along great; and it looks like our players are also very excited about it. As Coddy mentioned, our presales are ahead of plan. As always, this expansion features some exciting new features.
I am just going to mention a couple of them that we are particularly excited about: Island Expeditions, where players will explore unchartered islands that include randomly generated elements, we have built AI that will give players a different experience every time they visit an island, and that is to create a highly dynamic experience; and Warfronts — where players will join large groups and get the feeling of being part of a massive battle with different objectives.
Warfront is a throwback to Warcraft's real-time strategy roots, and we think that players, veterans, and new players will really enjoy it. We designed these new features with our players in mind. We think they should get increased engagement, as well as more replayable content. So that is really important with a game as massive as World of Warcraft.
This is some really exciting stuff that we are adding. We just entered wider beta testing. Player feedback has been excellent so far. So when the expansion launches in August, we are looking forward to millions more joining us in World of Warcraft.