Activision Blizzard held today its Q2 Financial Results conference call. For the first time, Blizzard Entertainment CEO Mike Morhaime did not report the progress across all video games. His report was read by Thomas Tippl (Chief-Operating-Officer) instead. Morhaime, however, participated in the Q&A session at the end of the conference.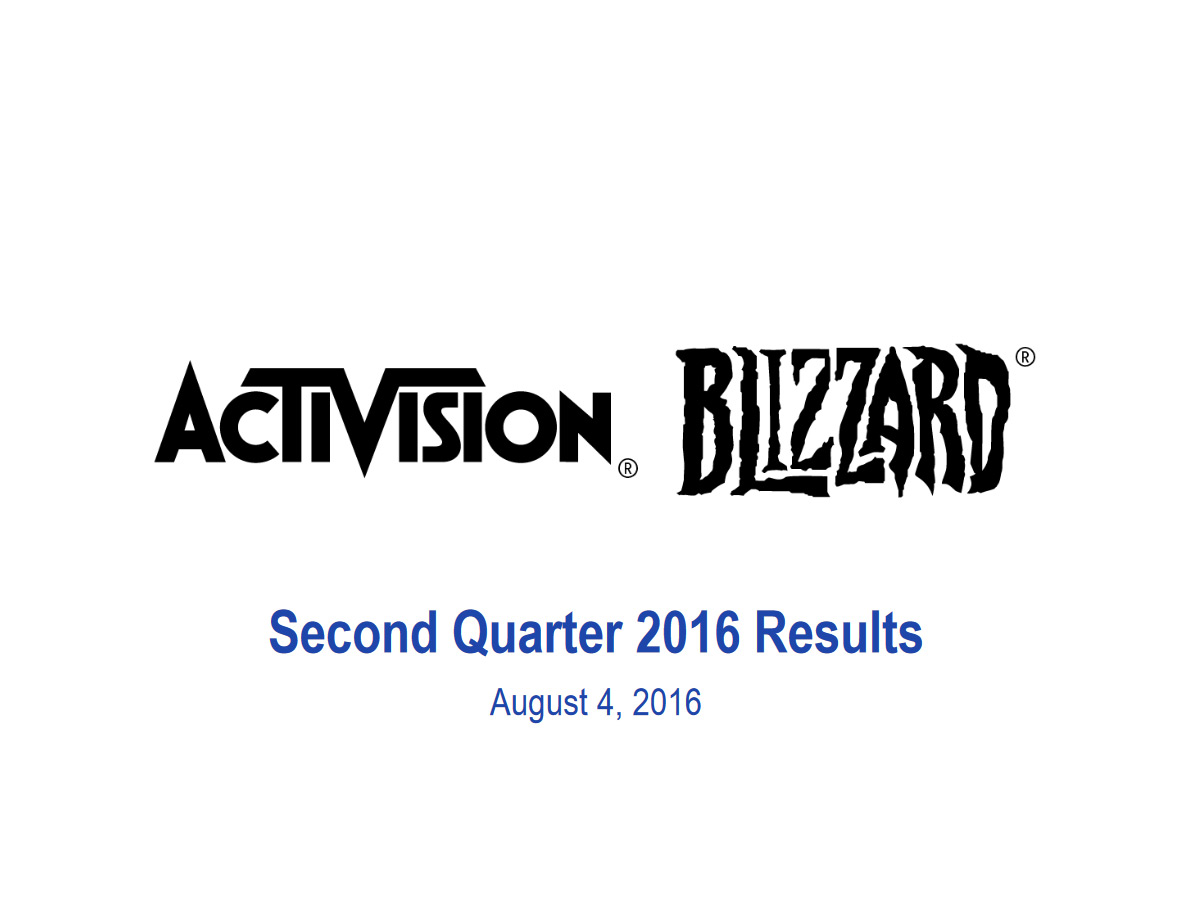 Special highlights of the conference:
Remain focused on key priorities: building audiences globally, growing engagement by investing in new content, celebrating our players through initiatives like esports, and continuing to be a great place to work.
WORLD OF WARCRAFT
The Warcraft film is one of the highest grossing Hollywood releases ever in China and the biggest game-based movie release worldwide
World of Warcraft has gotten strong momentum in China following the release of the Warcraft film
World of Warcraft Legion will launch on August 30. Pre-purchases tracking in-line with last expansion (Warlords of Draenor).
OVERWATCH
Overwatch global launch was a resounding success. Over 15M Overwatch players to date have played about 500M hours
Added new hero, competitive play mode, & Summer Games content with new soccer-like mode
Overwatch achieved the 15M milestone more quickly than any game in Blizzard's history
Player-base split roughly evenly between East and West
Overwatch was launched simultaneously across multiple platforms and regions, including China and Korea
Overwatch broke Diablo III's record as fastest-selling PC game in China
Overwatch holds the #1 position in Korean Internet Game Rooms with over 30% share of play-time
HEARTHSTONE
Record quarterly time spent with the launch of Whispers of the Old Gods
Deep engagement drove double digit revenue increase year-over-year in the quarter
One Night in Karazhan, the next adventure is expected to launch next week
BLIZZCON
10th BlizzCon this November 4-5, to include Overwatch World Cup
Transcript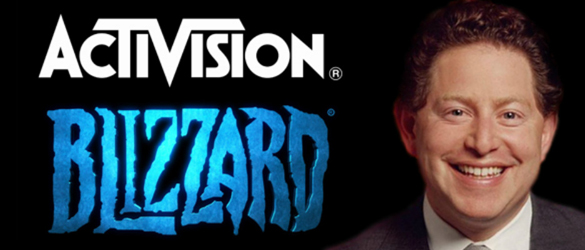 Kotick: We delivered a record second quarter performance with revenues up to more than 100%, and an EPS up more than 300% year-over-year on a non-GAAP basis, as previously defined. As a result, we are raising our full-year guidance. Our continued success comes from the efforts of our over 10,000 employees. Their passion, dedication, and focus are the reasons we are able to entertain hundreds of millions of players around the world, and deliver value to our stakeholders.
This quarter was a record quarter in large measure, because of the unique capability we have as a company to create new franchises. The truly extraordinary team at Blizzard launched Overwatch to incredible audience success. Overwatch already has over 15 million players who have spent about 0.5 billion hours playing the game and it has achieved success throughout the world including in China and Korea, where Overwatch is now the number one game in terms of share of playtime.
We remain focused on the priorities that we have outlined to you before: building our audiences around the world, growing engagement by continuously investing in new content for our audiences, celebrating our players through initiatives like competitive gaming, and making certain we continue to be a great place to work.
Tippl: Our creative and commercial teams across our five operating divisions delivered a very strong first half of 2016 with broad-based record results. To expand on what Bobby mentioned, our results are driven by focus and execution against our three strategic pillars: first… expanding our audiences. Second… deepening engagement; and third… providing opportunities for more player investment.
Let's start with audience reach — which was nearly 0.5 billion monthly active players in what is typically a seasonally softer quarter. In Q2, Blizzard had its highest MAUs in history (up 13% year-over-year), and 29% quarter-over-quarter (driven by increases in players from Overwatch, World of Warcraft and Hearthstone).
It is important to take a step back, and review Blizzard's continued growth over the past few years. Blizzard has doubled its number of franchises, expanding into new genres, business models and platforms; and as a result, they have doubled the size of the audience over a relatively short period of time.
This performance is due to the strength of the team at Blizzard, and their strategic focus on building epic entertainment experiences that capture the imaginations of tens of millions of people globally.
Overwatch has had incredible momentum, and has now reached over 15 million players globally, achieving this milestone more quickly than any game in Blizzard's history. In China, Overwatch broke Diablo III's record as the fastest selling PC game in the market's history. Additionally, Overwatch has claimed the #1 position in Korean IGRs with over 30% share of playtime. This global success has led to roughly even player split between the East and West.
World of Warcraft momentum continues to build ahead of the August launch of Legion. MAUs have seen double-digit growth (both quarter-over-quarter, and year-over-year); and Legion pre-purchases are tracking in line with the last expansion in 2014.
In particular, we have had strong momentum in China following the launch of the Warcraft movie, which is now one of the highest grossing Hollywood releases ever in China, and the biggest game-based movie release worldwide.
That leads me to our second strategic pillar. Once again, our compelling game-worlds broke not only large communities, but also deep engagement with nearly 10 billion hours of playtime during the second quarter.
Blizzard franchises continued to display the best of gameplay that they are known for. As Bobby mentioned, players spent about 500 million hours playing Overwatch. Since launch, Blizzard added a competitive play-mode to the game in June, and a new hero in mid-July; and just introduced this week: Summer Games content, which includes an exciting new soccer-like game mode.
Both the new hero, and Summer Games also added loot boxes that players can earn or purchase. In just the first day, we saw record engagement with the new Summer Games mode, and its customization items. Blizzard is pleased with the strong adoption across all these releases and plans to continue adding new content and improving existing features to deliver a great ongoing experience to Overwatch players.
Hearthstone had its highest MAUs and highest quarterly time spent in the game's history this quarter on the back of the launch of the Whispers of the Old Gods expansion. This deep engagement drove a double-digit revenue increase year-over-year. Just last weekend at ChinaJoy, Blizzard announced its fourth adventure set for release on August 11. One Night in Karazhan continues Hearthstone's tradition of bringing a charming, and accessible approach to some of the most popular Warcraft settings. As with our other adventures, players will be able to experience a single-player storyline, and earn cards with their player versus player decks.
The strong engagement around our franchises also serves our initiatives outside of our games. Our esports and film-and-TV initiatives are not only a driver of audience expansion, but drive deeper engagement which will lead to longer franchise lives with greater profitability.
First, on esports. Last year, BlizzCon had its highest livestream viewership ever with over 10 million people around the world tuning in, higher than the viewership for this year's NBA and MLB All-Star games.
This November, Blizzard will be hosting its tenth BlizzCon. One of the biggest attractions there will be the culmination of the Road to BlizzCon tournaments with global champions across a number of franchises being crowned, including the champion for the just-announced Overwatch World Cup.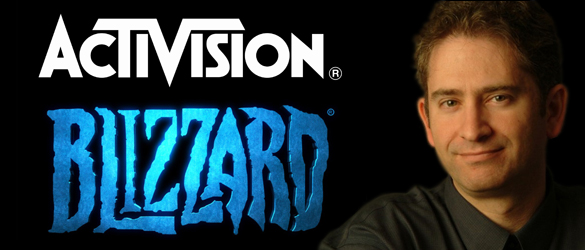 Mike J. Olson: I was wondering if you could provide some color on the monetization around Overwatch. The title seems to be a strong example of the change in the industry model from just kind of selling units to generating an ongoing digital ARPU from full-game downloads to cosmetic add-on content to other future DLCs.
Morhaime: First, we are very pleased with Overwatch's launch results. I want to take this opportunity to thank all of our 15 million players around the world who have joined Overwatch so far.
We really appreciate all their support, and their incredible enthusiasm for the game. We have seen great momentum with the game across all the different engagement models, including digital and box sales, Korean Internet Game Rooms (which are time-based), and cosmetic content (which can be earned or purchased).
As Thomas mentioned, altogether, the game has generated about $0.5 billion life-to-date, excluding deferrals. But more importantly, in the past two months since launch, we have already provided some great content to the Overwatch community (including a competitive play mode, a new hero, the recently launched Summer Games content — which drove record engagement yesterday, as well as customization items). So, we are very excited about creating even more content for players moving forward.
I also want to point out that while we had a great start with the game release, we really view this as just the beginning. We think we have created a strong character-driven universe with big opportunities beyond just the game.
We think Overwatch has strong potential as an eSport. The recently announced Overwatch World Cup (which will take place at BlizzCon this year) is a good first taste of that; but we will be talking more about our Overwatch eSports plans later in the year.
We also look forward to telling more stories about the characters in the world of Overwatch through other media. You have seen some of this through the animated shorts and comics; but there is still more to come.
Drew Crum: I wonder if you would be willing to expand on your comment concerning pre-purchase activity for Legion. The impact you have seen from the movie release, has that been more short-lived, or more sustainable in terms of the subscription base?
Morhaime: We have seen very positive trends with the game over the past month. That is a result of the excitement building up to the Legion launch, and also as a result of the positive attention we have seen globally with the Warcraft movie. While we have good momentum everywhere, the uplift in China has been particularly strong.
So we have double-digit growth in engagement compared to a year ago, and last quarter; and while there's several weeks to go until the Legion launch, our pre-purchases have been tracking in line with the prior expansion. So we have good strong momentum heading into next week, where we are going to be releasing the Demon Hunter and then following that, the Expansion launch later in the month.