A conversation between @1990Sanji and World of WarCraft creative director Alex Afrasiabi has revealed a pretty shocking piece of information about how the alternate Draenor we've spent the past several months on works. Namely, the Burning Legion there is the same Legion we've been facing back on Azeroth and Outland. Even more shocking, the Archimonde and Mannoroth we'll be fighting in patch 6.2 are the same ones from WarCraft III! The implications behind this are staggering. Read on after the jump to see the full conversation and find out more.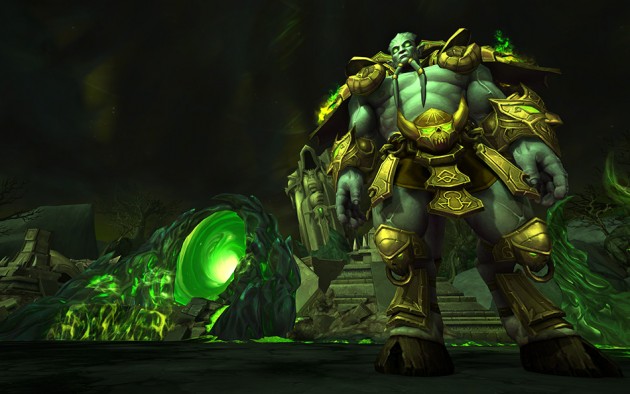 The full twitter conversation between @1990Sanji and Afrasiabi can seen below, and read on twitter here.
He also added some individual replies which give further clarification and raise further questions.
And a response refuting that this contradicts established lore.
As I said, the implications are wide reaching. Archimonde wasn't killed at the end of the Third War. Neither was Mannoroth. Defeating them in WoD won't kill them either (though there is speculation we might find a way to permanently take out Archimonde via the Twisting Nether this time). This means the Burning Legion is an even greater threat than we could ever have imagined. How many universes have they already destroyed? How does there being only one Legion and one of each demon shared across universes work?
From what these tweets have given us, I have a theory on how the Burning Legion works. The Legion, and demons in general, are essentially an army of Lutece twins from BioShock: Infinite. The Burning Legion exists in a plane connected to all universes and timelines, but part of none. Impossible to destroy and able to manifest in any reality they choose, the Legion attacks and re-attacks every universe. Each time they try different tactics, testing weaknesses, finding constants and variables across timelines. Eventually the day will come when in one universe they hit upon success. Then, armed with that knowledge, all realities will fall before them.
Now that's just a theory and the only official information we have are these seven tweets by Afrasiabi. It's also possible that come the start of the work week Dave Kosak could say there's been a miscommunication and none of this is accurate. Bits of information from the 6.2 PTR and pre-release information do corroborate Afrasiabi's statements, though. Archimonde is described as having traveled "across time and space" to face us in Hellfire Citadel while a dev commentary said he has "learned a number of nasty new tricks since (the Battle of Mount Hyjal)." There is also 6.2's new world-boss, the familiar Supreme Lord Kazzak. His dungeon journal states Kazzak "has emerged from the Twisting Nether once again," the Nether's existence independent of alternate universes being Afrasiabi's reasoning for why these are the same demons from the original timeline.
While waiting for confirmation, we can speculate and try to make sense of this new information. If correct and handled correctly, this would change everything we thought we knew about the Burning Legion and create many interesting possibilities for future lore. Other questions are again raised. Does Archimonde remember the Third War, or does living in all realities leave one's perception of time so different from ours that questions like that irrelevant? Are there good Archimondes out here, as Afrasiabi wondered? How does that work if there should be only one? Does becoming a demon make it so you exist in all realities as a singular entity, and you're separate before that? It would explain how there can be an alternate universe Velen but not an alternate universe Archimonde.
Hopefully we'll be given more information on the subject in the future. In the meantime, I'll leave you all with a quote from another eredar, Prince Malchezaar, said in The Burning Crusade. "All realities, all dimensions are open to me!"
Share your thoughts: