Blizzard Entertainment welcomes fans with excellent talent and experience to apply for a career to join their team.
Months ago, Universum revealed Blizzard Entertainment ranked #6 2013 America's Ideal Employer.
Check out the latest job openings, and hit the "Apply" link to reach the online application page. Alternatively, you can reach the Blizzard Careers recruiters directly on Twitter for questions.
There are dozens of job openings not listed here. Visit the official Blizzard Careers Page for openings in The Americas, Europe, and Asia.
Especial Tip from your Friendly-Neighborhood Blizzplanet: A good way to get a job is to befriend the recruiters and be in contact with them often — especially if the job opening you seek is not currently available. When a slot is available he/she might reach you out.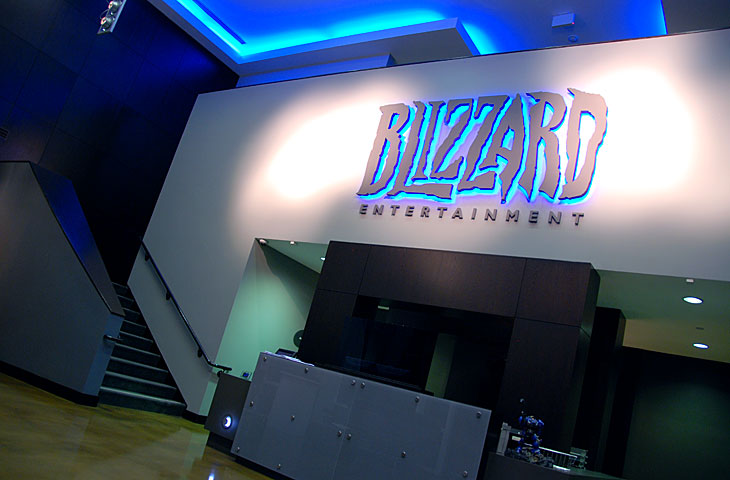 Senior Database Engineer
Blizzard Entertainment is seeking an experienced database engineer to create high-performance scalable database systems for our internal systems. Blizzard Entertainment offers a fun, creative, and technically challenging environment with excellent compensation and a full range of benefits. — Apply
Production Director, Audio
Blizzard Entertainment is looking for a highly organized individual with outstanding communication skills, proven experience in production, and a track record of shipping AAA titles to lead our efforts in creating epic audio for video games. — Apply
Lead Database Administrator (IT Network operations)
Blizzard Entertainment is seeking an experienced database administrator to join our Blizzard operations network services team in Irvine, California. We are a world class IT organization pushing the envelope of both proprietary and open-source technology. Our team is responsible for managing hundreds of databases across platforms including Oracle, MySQL, Apache Hadoop, Redis, and other emerging technologies. — Apply
System Engineer (Battle.net)
Blizzard Entertainment is looking for a devops engineer to join the Battle.net Web reliability group! Your mission will be to help build tools, investigate problems and improve infrastructure to enhance the team's ability to handle a large number of tasks and projects with minimal overhead and downtime. The engineer will possess a high degree of troubleshooting skills and creativity to solve uncommon issues, and will be expected to work in an environment that is extremely fast paced and interrupt driven. Due to the nature of the position and working with a multitude of teams to accomplish the tasks described, the engineer must possess excellent communication skills and will be expected to drive and facilitate large scale projects that will have significant positive impact on the team and ultimately, our gamers. — Apply
Senior Software Engineer (.NET – Support Systems)
Blizzard Entertainment is looking for a talented senior software engineer to collaborate with creative minds and big thinkers to build enterprise level business applications for Global Platform Services. Our ideal candidate has comprehensive knowledge of concepts, principles, practices and procedures in a professional software development environment. They also have experience working within agile project methodologies including Scrum. Great candidates should embrace Blizzard's unique culture by sharing their knowledge and experiences amongst their peers through collaboration. Most importantly they must have a passion for video games and be able to thrive in a time-critical, rapid development and results-oriented environment. — Apply
Producer, Transaction Design
[Begin mission debrief] Producers, welcome to the Koprulu Sector. There is an immediate opening for one of you to bring your years of experience, superior analytical talent, and strategically agile mind to elevate our StarCraft II | Blizzard All-Stars team. Reporting to the production director of Blizzard All-Stars, this role will call upon your entire battle-earned skillset. Your primary mission will be engaging with various team leads including developers, designers, as well as business intelligence analysts, to determine data sets that will gauge player engagement / behavior, live system performance, and provide actionable intelligence in support of game feature priorities and other key objectives. Your cutting edge research and deep analyses will ultimately inform and help shape content creation and game design. — Apply
Human Resources Manager
Blizzard Entertainment is looking for an experienced and innovative human resources manager to join our human resources (HR) team in Irvine, CA. This role will be a strategic talent partner to our customer service and IT teams. This position will report to the senior human resource director for global business operations. — Apply
Assistant Technical Designer (Blizzard All-Stars / StarCraft II)
The StarCraft II & Blizzard All-Stars team is looking for several talented assistant technical designers with a strong technical background to help us build heroes, units, and abilities for our SC2 Multiplayer / Campaign and Blizzard All-Stars. The ideal candidate must be able to collaborate with design, engineering, and art groups to efficiently and creatively configure data. Experience building levels, or scripting using any popular real-time strategy (RTS) game toolset is a major plus. — Apply
Network Administrator
Blizzard Entertainment is seeking a network administrator with experience in administrating customer-facing network infrastructure. Focus areas include administration of switches and routers, load balancing, access list and firewall management, application debugging, and supporting internally developed tools. The ideal candidate will have a solid understanding of TCP / IP and the OSI model, exhibit a high attention to detail, and adjust quickly to an ever-changing and evolving environment. If you have a pragmatic mind that can multitask and prioritize your workload in a fast-paced and interrupt-driven work environment, then read on. — Apply
Associate Level Designer (Blizzard All-Stars/StarCraft II)
The StarCraft II team is looking for a talented associate level designer with experience building levels using any popular real-time strategy (RTS) game toolset (StarCraft II editor, Warcraft III world editor, etc). Associate level designers must be able to create fun and interesting environments that look and play great. The ideal candidate has industry experience on a shipped product, or has created and published trigger maps in the fan/mod community. — Apply
Editorial Manager (Online Publishing)
Our online publishing division is looking for a groundbreaking editorial manager to set up shop and assist in coordinating and curating high quality content across all of their platforms. The position will initially focus on the StarCraft II World Championship Series, but the depth and scope of responsibility will quickly expand out on a Zerg-rush scale.
At Blizzard, we are truly passionate about the products we make, and our goal is to create content that we would enjoy ourselves as gamers. We're enthusiastic about our work and take on multiple roles in our quest to create the highest quality content possible. — Apply
Blizzard Academy Art Trainer (World of Warcraft)
Blizzard Entertainment is a wildly creative place to work with a rich and passionate art community. Blizzard Academy specializes in helping others to learn, grow and succeed in this dynamic environment.
As we prepare to launch our apprenticeship program, we are looking for a talented artist who is inspired by educating the next generation to fill the role of Art Trainer. Our ideal instructor is an experienced production artist who has also had the opportunity to teach professionally. The trainer will have cross-disciplinary experience with a focus in character modeling and texture painting. Is that you?
The art trainer will be responsible for designing the inaugural curriculum of our new apprenticeship program, is a key member of the program's launch team, and key driver of its success. They will support and grow the program on an ongoing basis for future sessions. They will work closely with leadership and production artists across teams at Blizzard to develop content and deliver training to meet our production needs. Subjects will include proprietary tools, workflows and processes, as well as specific instruction in the art styles of our games. — Apply
User Experience Designer
Are you the type of person who uses a product and immediately strives to figure out how you could design it better? Do you enjoy solving problems at a conceptual level, but also love figuring out the details when it comes time to make those conceptual ideas concrete? We're looking for a UX Designer to join our corporate applications UX team to do exactly that!
The UX designer will be working on internal applications that aid the company and our players with solutions that streamline efficiency, support game development, and foster Blizzard Entertainment's culture and core values in the workplace. The UX designer will collaborate with a variety of teams (customer service, game development, human resources, etc.) to design solutions that meet strategic business objectives while also creating a useful, intuitive, and epic experience for our users.
This role is best suited for someone who embodies the philosophy that UX design is centered around people, and that our goal is about getting things right for our users, not about just getting things done.
Through research, design, testing, and iteration, the UX designer will be involved in all phases of the user-centered design process. — Apply