In a surprising spin of long-term events, Christie Golden is now working full-time at Blizzard Entertainment as a Story developer. For those of you in the Star Wars, Star Trek, Halo, and Assassin's Creed fanbase wondering if she will now be Blizzard-exclusive, she responded: "We will see."
The last Blizzard novels she wrote were WARCRAFT: DUROTAN and WARCRAFT: THE OFFICIAL MOVIE NOVELIZATION.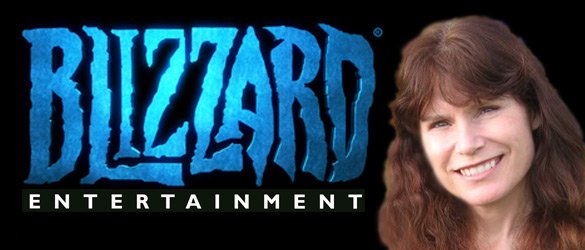 Ok, so, I'm told I can tell where my new job is, but not what I'm doing. I'm working for @Blizzard_Ent , and I couldn't be happier! 😀

— Christie Golden (@ChristieGolden) May 15, 2017
There is a catch with Christie joining Blizzard Entertainment. It seems to be a temporary job on an unknown project. We will see if this becomes a permanent job at some point. Christie plans to attend the Denver Comic Con.
On 4/29 I submitted application for a job lasting 6 mos. I leave this weekend or perhaps earlier to travel from VA to CA. Packing like mad!

— Christie Golden (@ChristieGolden) May 14, 2017
Congrats to @ChristieGolden for joining Blizzard Entertainment as a story developer #Warcraft #Overwatch #StarCraft https://t.co/3bgjdQ3prd pic.twitter.com/lSyjwmNrKI

— Blizzplanet (@Blizzplanetcom) May 17, 2017
UPDATES
A fan confronted me via Twitter how I know Christie is a story developer. Christie provided a couple of details that can be extrapolated and researched. She was hired on April 29. Therefore, the job listing was likely removed on or before that date. The job listing is not only posted in the Blizzard Careers page, it is also listed at Linkedin, at Glassdoor, and at other job search platforms.
In addition, you search for a timeline range of at least two months before April 29th (and that is stretching it long). Then you narrow it down to TEMP jobs, and mix in Christie's writing experience until you narrow it down to a few potential targets.
Christie not only has experience writing novels for various franchises. She has also ventured into manga scripting (Warcraft Legends Vol. 3), and movie novelizations (WARCRAFT: DUROTAN). She has written for Star Trek and Star Wars. She loves Warcraft. Who better for this temp opening?
There is a story-related temporary job listed by Blizzard Entertainment Career Team no longer listed in the Blizzard Careers webpage. This one can be found at Linkendin.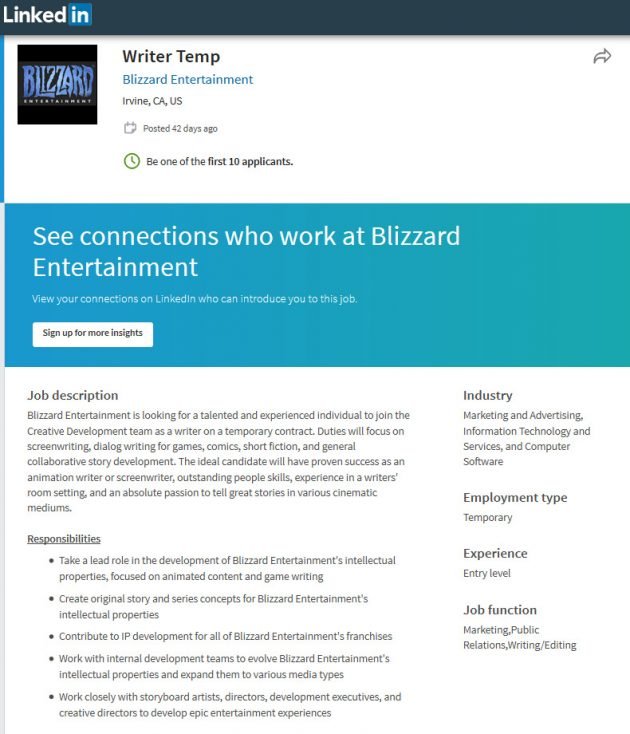 That one in particular was listed 24 days before Christie was hired on April 29, plus the page no longer exists in the Blizzard Careers website, plus the last page cache was taken on April 25 (as seen below). Is this the temp job? I can't commit 100% accuracy without Christie's confirmation, but the chances are high based on those parameters. Both pages below have the following string in the URL: oCb44fwF (which stands for the Job ID number in the listing).