Activision Blizzard announced better-than-expected and Record 2016 Q3 financial results with nearly 1 billion in revenue from in-game content.
AUDIENCE REACH
Blizzard had the biggest quarterly online player community in its history, with 42 million MAUsA, up 25% quarter-over-quarter and 50% year-over-year. This reflects the continued success of Overwatch® and the launch of World of Warcraft®: Legion™. Blizzard has more than doubled its MAUsA in just two years.
On August 30, 2016 , Blizzard launched World of Warcraft: Legion, which sold-through 3.3 million copies on day one, matching all-time records achieved by previous expansions, and ranking amongst the fastest-selling PC games ever. The new expansion grew franchise MAUsA by nearly 30% quarter-over-quarter.
Overwatch became Blizzard's fastest game ever to reach over 20 million players globally, with a roughly even player base split between east and west. Overwatch also held the number one position in share of play time in Korean Internet Game Rooms from launch all the way through the third-quarter.
Blizzard's Hearthstone®: Heroes of Warcraft™ had record quarterly MAUsA, which grew a double-digit percentage year-over-year.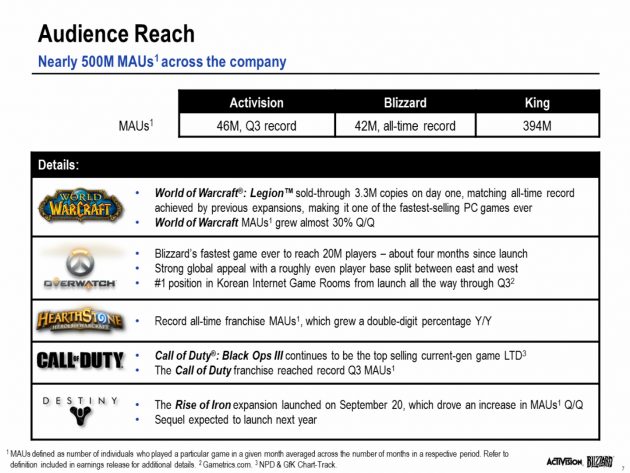 DEEP ENGAGEMENT
Blizzard had all-time engagement records with record weekly and daily active users, unique users and play time, driven by an expanding player base and strong engagement across a number of franchises.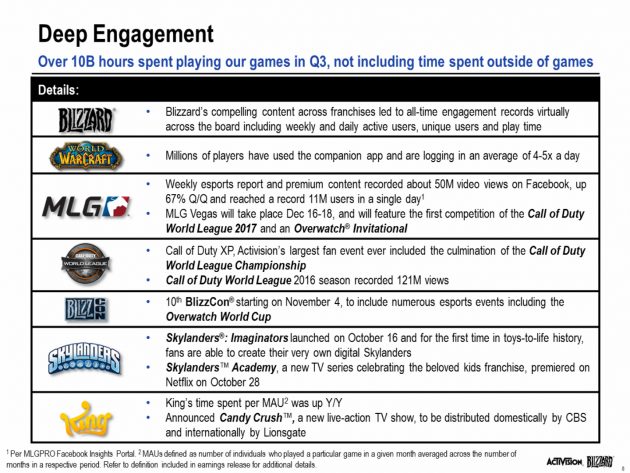 PLAYER INVESTMENT
Activision Blizzard GAAP revenues from in-game content reached records of nearly $1 billion this quarter.
Blizzard's World of Warcraft: Legion expansion drove record monthly participation in value-added services.
Summer Games content for Blizzard's Overwatch drove record engagement and participation in in-game customization items.
On August 11th, 2016, Blizzard launched One Night in Karazhan™, a new Adventure for Hearthstone: Heroes of Warcraft, which performed even better than its predecessor.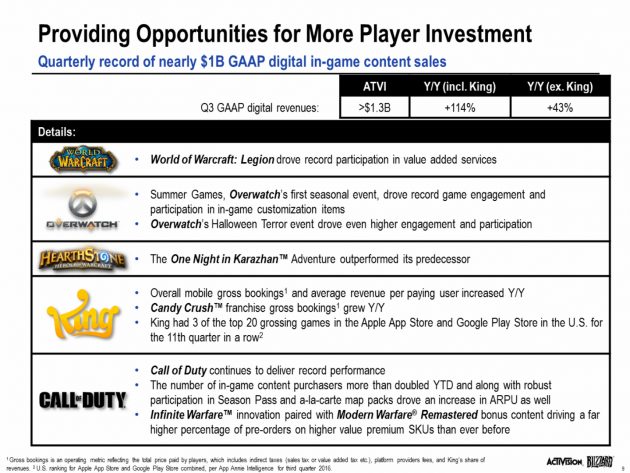 COMPANY OUTLOOK
On October 11, 2016 , Blizzard launched its Halloween Terror event for Overwatch. The event included Overwatch's first-ever player versus environment game mode and a variety of new Halloween-themed customization items. The event drove even higher engagement and participation than the Summer Games event.
Blizzard's tenth BlizzCon® will be returning to the Anaheim Convention Center this Friday, November 4 , and Saturday, November 5 . Thousands of tickets again sold out in a matter of minutes, but millions more will be able to join through live-streaming or virtual tickets. BlizzCon will feature a number of events including the finals of several Blizzard esports tournaments, with global champions across a number of franchises crowned.
From December 16 through December 18, 2016 , Major League Gaming will host its first MLG Vegas event, an esports and digital culture festival at the Mandalay Bay in Las Vegas . The 3 day event will feature the first competition of the Call of Duty World League 2017 and an Overwatch Invitational.