I won't go into too much of the details because you likely read them several times from different sources and streamers. I will share the core sources in case you haven't read any of it. Instead I will focus on what I think about the actions that need to be done in response to what has been done against women employees. It starts with investigation and should end with true accountability against the abusers, and support to these women.
My Thoughts on the Blizzard Frat Boy Scandal
I must first apologize for what I said a few days ago in the Diablo Immortal discord channel as I had not read the entire Bloomberg article. In a nutshell, I asked people to not condemn until a court judge rules the case based on evidence, because some of the allegations might turn out to be false.
Well, a few days later J. Allen Brack, Mike Morhaime and Chris Metzen shared their own responses, and it starts to paint a picture that the allegations might be true.
Mike Morhaime was former CEO and president of Blizzard Entertainment. He departed Blizzard a couple of years ago. Chris Metzen was the vicepresident of creative development at Blizzard and retired a few years ago as well.
I commend their disposition to share their responses with the community, instead of radio silence as some might do cowardly in the same situation. However, they were both at Blizzard when some of the allegations might have happened. They both apologized, but they need to do more than just words even if no longer at Blizzard.
What I suggest Morhaime and Metzen, and any other former executive do is have a meeting between themselves. They are in different companies nowadays, but they are old friends and humble. Set an amount of money or a plan to such. Set a fund to assist those who need to come forward in the lawsuit. Cover their lawyer expenses. Not enough, but it is a step into the right thing to do. You may come with more ideas what else to do to help beyond words, with actions.
To J. Allen Brack. It is the second time he uses the word accountability in two separate scandals.
There are two things Allen should do beyond apologies.
Set a fund specifically to hire third-party independent investigators. None who might be among the frat boys or bruh culture, or that might hold back investigation info to cover up for a friend.
Set that third party to interview all women in each team with guarantee of no retaliation. Same for men who might have seen or heard fellow men boast, or brag about inappropriate behavior, sexual or otherwise.
At the end of the investigation, the only acceptable accountability regardless of what position in the company the perpetrator has is to be fired immediately from Blizzard Entertainment. This won't fix the tarnished image Blizzard now has, but at least this is the right thing to do.
Next, all female employees, any minorities or LGBTQ who still work at Blizzard and were affected by discrimination in terms of promotion to a higher paid job should immediately be placed on queue for next promotion vacancies. Anything but this is unacceptable. It is the right thing to do. Words of apology matter, but actions to solve the problem matter more.
Write down new Human Resources rules against discrimination, sexual harassment, etc. Force all employees to attend a third-party training about it, and to remain in the company sign you agree to abide by the new rules.
Protect all women and men affected recently and in the future so that none is retaliated against for coming forward with a complain.
To wrap up, concerning the perpetrators who were not fired immediately and were allowed to continue their behavior. As a next step, I think it is proper as president of Blizzard Entertainment to step down, and take responsibility and accountability for what happened under your watch — especially when no accountability led to loss of life.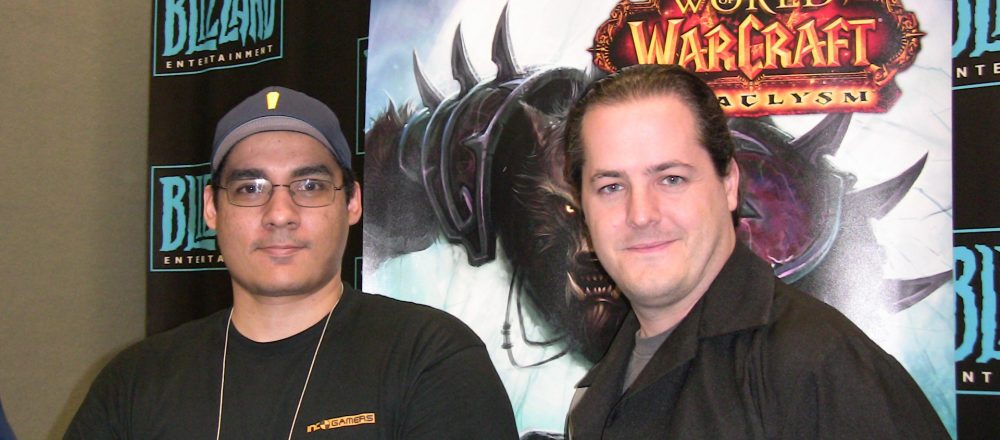 ---
UPDATES
WorldofWarcraftMods from Reddit Wow put together a list of all ex-employees who shared their thoughts on the lawsuit.
Many former Blizzard employees are talking about their experiences on Twitter. We've verified they are former employees by cross referencing them on Linkedin and included their job title(s) as well as how long they were at the company.
| Person | Job Titles | Time spent at the company | When they left | Link to their tweet |
| --- | --- | --- | --- | --- |
| skrutsick | Game Master, Senior Game Master, Producer | 13 years 7 months | April 2020 | Link |
| RainofTerra | Senior Systems Engineer | 4 years 1 month | January 2019 | Link — Response to Morhaime |
| cronym | Senior Site Reliability Engineer | 2 years 6 months | May 2019 | Link & proof she worked there |
| KaylaGlover | QA, StarCraft Esports, OWL | 6 years 2 months | January 2021 | Link |
| alaurei | Various positions as project manager | 6 years 10 months | April 2019 | Link |
| Kylethatkyle | Social Media Content Producer for Overwatch League | 1 year 2 months | November 2018 | Link |
| Callmequestifer | Game Master and Game Designer | 7 years 2 months | October 2020 | Link — another |
| Alex_frostwolf | PR Writer, Social Media Manager, Blizzcon Contest Manager | 5 years | 2018 | Link |
| Neleimour | Translator for the Spanish client, Associate Community Manager | 7 years 6 months | November 2020 | Link |
| Caden House | Game Master, Assistant Community Manager | 3 years 1 month | April 2019 | Link |
| cherthedev | Software Engineer | 1 year 1 month | August 2016 | Link — Followup reacting to Morhaime's statement — Another reply to Morhaime |
| onalark | Producer, Program Manager, Senior Program Manager, Senior Product Manager | 11 years 7 months | January 2021 | Link |
| Jehlers42 | Technical Writer for Customer Support & Service Technologies | 6 years 4 months | October 2020 | Link |
| RiotAshekandi | Community Manager | 3 years | October 2018 | Link |
| Dayntee | Associate Community Manager, Community Manager | 6 years 8 months | April 2020 | Link |
| ashliiful | EU Community Team | 4 years 2 months | November 2019 | Link |
| SHAYNUHCHANEL | Game Master | 2 years 1 month | July 2017 | Link |
| itsLashes | Community Manager | 3 years | 2019 | Link |
| RachelDayFX | QA Intern, Technical Artist, Senior FX Artist | 9 years 4 months | November 2019 | Link |
| pedrothedagger | Game Designer, Senior Game Designer | 7 years 1 month | February 2019 | Link |
| bkcrusco | Associate Software Engineer, Software Engineer | 3 years 6 months | October 2019 | Link |
| EmberFirehair | Game Designer | 3 years 9 months | July 2021 (last week) | Link |
| aludianaIRL | QA Analyst | 4 years 9 months | January 2016 | Link — second — Third |
| BDoodles | Associate Game Art Producer, Art Outsourcing / Art Producer | 4 years 9 months | May 2018 | Link |
| gamedevconnie | QA, CS, Receptionist, EA, Producer | 7 years 11 months | July 2011 | Link |
| aneri | User Interface Designer | 2 years 8 months | August 2008 | Link |
| EndersCourage | Quality Assurance Analyst, Legacy and Mobile Project Lead (QA), Diablo III Assistant Project Lead (QA), Producer, Program Manager, Lead Program Manager | 10 years 5 months | May 2017 | Link |
| oliviadgrace | Project Manager | 1 year 5 months | July 2016 | Link |
| cyaaato | Associate Software Engineer, Software Engineer (both Corporate Applications), Software Engineer (Hearthstone), Software Engineer (Unannounced Project) | 5 years 7 months | December 2020 | Link |
| hadidjahb | FX Artist (Hearthstone), Senior VFX Artist 1 (Hearthstone), Lead VFX Artist (Hearthstone), Senior VFX Artist (Unannounced Project) | 4 years 8 months | August 2020 | Link |
| rinnywee | Lead Game Master, Support Information Team Manager, Community Manager (Europe) | 9 years 5 months | April 2014 | Link |
| Danibat | N/A | 5 years 3 months | August 2014 | Link — second — Third — Fourth — Fifth — Sixth — Seventh — Eight |
| stinamc | N/A | 6 years | 2014 | Link — a long list |
Other incidents will be listed in bullet points below.
Statements by current employees are listed here.
MVP MissCheetah pointed out some thoughts and shared former-Diablo community manager Nevalistis' response.
---
---
WALKOUT PLANNED
A 1000 Blizzard Entertainment employees have signed a petition after Activision Blizzard executive Fran Townsend posted her abhorrent letter disputing the allegations and the California lawsuit.
To the Leaders of Activision Blizzard,

We, the undersigned, agree that the statements from Activision Blizzard, Inc. and their legal counsel regarding the DFEH lawsuit, as well as the subsequent internal statement from Frances Townsend, are abhorrent and insulting to all that we believe our company should stand for. To put it clearly and unequivocally, our values as employees are not accurately reflected in the words and actions of our leadership.

We believe these statements have damaged our ongoing quest for equality inside and outside of our industry. Categorizing the claims that have been made as "distorted, and in many cases false" creates a company atmosphere that disbelieves victims. It also casts doubt on our organizations' ability to hold abusers accountable for their actions and foster a safe environment for victims to come forward in the future. These statements make it clear that our leadership is not putting our values first. Immediate corrections are needed from the highest level of our organization.
Our company executives have claimed that actions will be taken to protect us, but in the face of legal action — and the troubling official responses that followed — we no longer trust that our leaders will place employee safety above their own interests. To claim this is a "truly meritless and irresponsible lawsuit," while seeing so many current and former employees speak out about their own experiences regarding harassment and abuse, is simply unacceptable.

We call for official statements that recognize the seriousness of these allegations and demonstrate compassion for victims of harassment and assault. We call on Frances Townsend to stand by her word to step down as Executive Sponsor of the ABK Employee Women's Network as a result of the damaging nature of her statement. We call on the executive leadership team to work with us on new and meaningful efforts that ensure employees — as well as our community — have a safe place to speak out and come forward.

We stand with all our friends, teammates, and colleagues, as well as the members of our dedicated community, who have experienced mistreatment or harassment of any kind. We will not be silenced, we will not stand aside, and we will not give up until the company we love is a workplace we can all feel proud to be a part of again. We will be the change.
Blizzard Employees will march on July 28 to stage a walkout from 10am – 2pm Pacific Time. Blizzard Employees who work at home or are unable to attend the in-person walkout event will instead stop working and join a chat room to tweet using the hashtag #ActiBlizzWalkout from 9am to 6pm Pacific Time.
Activision Blizzard Walkout – Employee Demands
1. An end to mandatory arbitration clauses in all employee contracts, current and future. Arbitration clauses protect abusers and limit the ability of victims to seek restitution.

2. The adoption of recruiting, interviewing, hiring, and promotion policies designed to improve representation among employees at all levels, agreed upon by employees in a company-wide Diversity, Equity & Inclusion organization. Current practices have led to women, in particular women of color and transgender women, nonbinary people, and other marginalized groups that are vulnerable to gender discrimination not being hired fairly for new roles when compared to men.

3. Publication of data on relative compensation (including equity grants and profit sharing), promotion rates, and salary ranges for employees of all genders and ethnicities at the company. Current practices have led to aforementioned groups not being paid or promoted fairly.

4. Empower a company-wide Diversity, Equity, & Inclusion task force to hire a third party to audit ABK's reporting structure, HR department, and executive staff. It is imperative to identify how current systems have failed to prevent employee harassment, and to propose new solutions to address these issues.
---
ACTIVISION HIRES INVESTIGATORS
Hours before the planned walkout, Activision Blizzard hired a law firm to investigate the sexual harassment allegations — according to The Wall Street Journal.
"Our initial responses to the issues we face together, and to your concerns, were, quite frankly, tone deaf," Chief Executive Officer Bobby Kotick said in a statement. "It is imperative that we acknowledge all perspectives and experiences and respect the feelings of those who have been mistreated in any way. I am sorry that we did not provide the right empathy and understanding."
---
HOW CAN FANS HELP?
An image has been circulating in the #ActiBlizzWalkout trending hashtag. You can help by login out of all Activision and Blizzard video games on July 18 in support of the developers' walkout event from 9am – 6pm US Pacific. Tweet or retweet using the hashtag #ActiBlizzWalkwout and a blue heart emoji; and optionally, donate to the entities mentioned in the image below.
---
BOB KOTICK LETTER TO ALL EMPLOYEES
A newsletter was sent by email to alert of a letter written by Bob Kotick addressed to all company employees.
SANTA MONICA, Calif.–(BUSINESS WIRE)–Jul. 27, 2021– Activision Blizzard, Inc. (Nasdaq: ATVI) CEO Bobby Kotick today sent the following letter
to all employees.


This has been a difficult and upsetting week.


I want to recognize and thank all those who have come forward in the past and in recent days. I so appreciate your courage. Every voice matters – and
we will do a better job of listening now, and in the future.


Our initial responses to the issues we face together, and to your concerns, were, quite frankly, tone deaf.


It is imperative that we acknowledge all perspectives and experiences and respect the feelings of those who have been mistreated in any way. I am
sorry that we did not provide the right empathy and understanding.


Many of you have told us that active outreach comes from caring so deeply for the Company. That so many people have reached out and shared
thoughts, suggestions, and highlighted opportunities for improvement is a powerful reflection of how you care for our communities of colleagues and
players – and for each other. Ensuring that we have a safe and welcoming work environment is my highest priority. The leadership team has heard you
loud and clear.


We are taking swift action to be the compassionate, caring company you came to work for and to ensure a safe environment. There is no place anywhere at our Company for discrimination, harassment, or unequal treatment of any kind.


We will do everything possible to make sure that together, we improve and build the kind of inclusive workplace that is essential to foster creativity and inspiration.


I have asked the law firm WilmerHale to conduct a review of our policies and procedures to ensure that we have and maintain best practices to promote a respectful and inclusive workplace. This work will begin immediately. The WilmerHale team will be led by Stephanie Avakian, who is a member of the management team at WilmerHale and was most recently the Director of the United States Securities and Exchange Commission's Division of Enforcement.


We encourage anyone with an experience you believe violates our policies or in any way made you uncomfortable in the workplace to use any of our
many existing channels for reporting or to reach out to Stephanie. She and her team at WilmerHale will be available to speak with you on a confidential basis and can be reached at ATVI@wilmerhale.com or 202-247-2725. Your outreach will be kept confidential. Of course, NO retaliation will be tolerated.


We are committed to long-lasting change. Effective immediately, we will be taking the following actions:

Employee Support. We will continue to investigate each and every claim and will not hesitate to take decisive action. To strengthen our capabilities in this area we are adding additional senior staff and other resources to both the Compliance team and the Employee Relations team.


1. Listening Sessions. We know many of you have inspired ideas on how to improve our culture. We will be creating safe spaces, moderated by third parties, for you to speak out and share areas for improvement.


2. Personnel Changes. We are immediately evaluating managers and leaders across the Company. Anyone found to have impeded the integrity of our processes for evaluating claims and imposing appropriate consequences will be terminated.


3. Hiring Practices. Earlier this year I sent an email requiring all hiring managers to ensure they have diverse candidate slates for all open positions. We will be adding compliance resources to ensure that our hiring managers are in fact adhering to this directive.


4. In-game Changes. We have heard the input from employee and player communities that some of our in-game content is inappropriate. We are removing that content.


5. Your well-being remains my priority and I will spare no company resource ensuring that our company has the most welcoming, comfortable, and safe culture possible.


You have my unwavering commitment that we will improve our company together, and we will be the most inspiring, inclusive entertainment company in the world.Yours sincerely,


Bobby
---
WALKOUT ORGANIZERS & EMPLOYEES RESPONSE TO BOB KOTICK'S MESSAGE
---
IN-PERSON #ACTIBLIZZWALKOUT PHOTOS
The largest cache of photos I have seen of the event can be found here.
https://twitter.com/Zippiner/status/1420433283670626306
https://twitter.com/Kevin_Hitt/status/1420431041584459777
---
The stock market for ATVI deeped slightly around the time the in-person walkout started.
COSBY SUITE RESPONSES
The origin of the Costy Suite article at Kotaku is straight from the California lawsuit. Two of the developers in the photo have come forward to respond: Josh Mosqueira and Greg Street.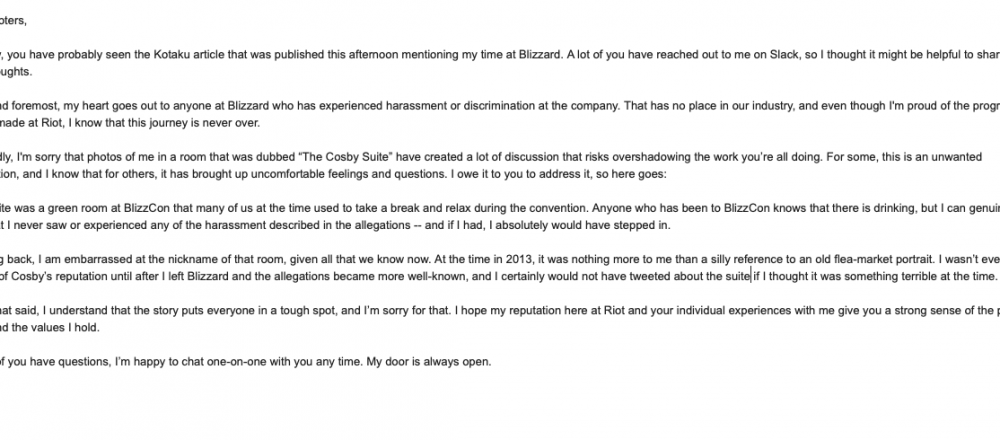 ---
AFTER #ACTIBLIZZWALKOUT ARTICLES