Spirit of the Storm Lord
Wrathion: Our next objective is to temper this weapon with the blood of a demigod, one imbued with the Thunder King's powers.
My agent tell me that the mogu named Shan Bu is creating just such a creature, intended to gurd the Thunder King's citadel.
Once your faction has fought your way to the front gates, attack Storm Lord Nalak and thrust this lance into his side. The creature will do everything in his power to stop you – stay alive long enough to siphon out the power of the Storm Lord!
Objectives
Progress through the isle of Thunder until you unlock the final courtyard. Obtain a Tempered Lightning Lance by thrusting the lance into Storm Lord Nalak and surviving long enough to siphon his power.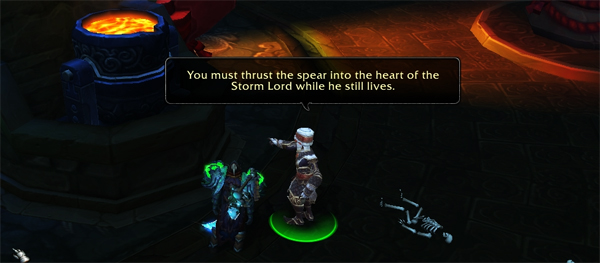 Progression
Wrathion: You must thrust the spear into the heart of the Storm Lord while he still lives.
Be careful! The moment it pierces his hide, you will be assaulted by his power.
It is important to throw the spear just before slaying the beast. Not a moment too soon! Not a moment too late!
I must make preparations back on the mainland. Return to me at the Veiled Stair when you have what I need.
Oh, and don't die.
Tips
You need a raid of about 25 people or more. Ask at Trade Chat at any city if anyone needs Nalak. Once you gather a few players, everyone go to the Isle of Thunder.
You will usually find other people waiting there. No need to merge groups, unless you need healers. You may also ask at the Chat room of OpenRaid.US.
Nalak is found at The Foot of Lei Shein. If you are a melee player, his hitbox is pretty big, so stand back as far as you can from him and be ready to run.
When Nalak channels Arc Nova, run away. You have about 3 seconds to get clear from the massive radius. Those affected by Arc Nova will be knockback several yards away, and suffer 350,000 damage on plate (about 80% of your health).
When Nalak is around 10% health, open your inventory. Click Nalak, then click the Lightning Lance.
A spectre in the shape of a Undead Shade will begin to chase you. Run away from it. If you have a sprint-like ability or a speed potion feel free to use it, if you think the mob is too close. It might insta-kill you on melee hit. Wait until you get a quest completed message.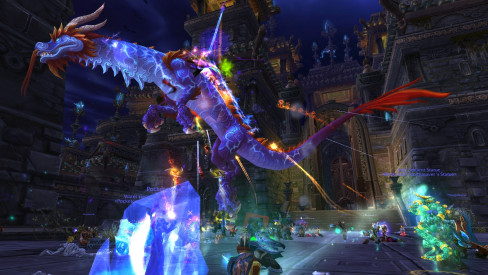 Completion
Wrathion: Tong, is that our friend?
Prince Anduin: I can't believe you're still alive.
Wrathion: What did I tell you? Few mortals possess such courage and tenacity.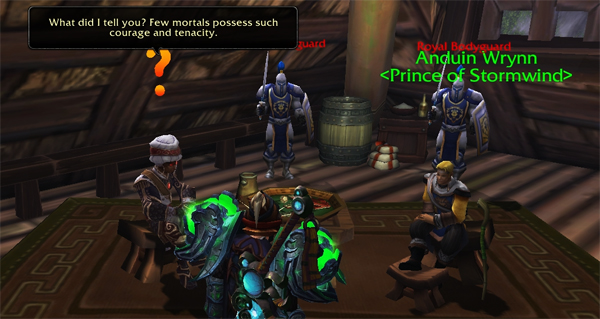 Come, have a drink. The prince here is showing me how to play one of the local games.
What of Storm Lord Nalak? And the lance? Details!
You've done it! The lance seethes with power and potential!
Oh my friend, you have earned a great reward…