A few months ago, when I got my review copy of World of Warcraft: War Crimes I stumbled upon the last page which showed SteelSeries was going to announce a new Warlords of Draenor-themed headphone.
Today, SteelSeries has officially announced the pre-orders are now open for the Siberia Elite World of Warcraft® Edition Headset for Warlords of Draenor™.
Now I have had two Siberia V2 WoW editions, and currently have a SteelSeries 5Hv2. Best sound I have had on headphones. In terms of design for prolonged periods of time, both Siberia V2 ended up cracking in pieces, and the 5Hv2 has been rock-solid so far.
When I saw the Siberia Elite edition with a steel arc instead of plastic — I felt SteelSeries finally nailed perfection — not only in the awesome sound, but on the long-lasting design department. It is a bit more expensive– yes. It is rare to see a steel arc headphone out there. I see something like this, and what comes to mind is: it is light-weight, and it is durable. No cracking parts.
What else can you ask for in a headphone other than awesome sound and smart design?
Press Release
CHICAGO – July 31, 2014 – SteelSeries,the global leader in premium gaming peripherals, in collaboration with Blizzard Entertainment, today announced the upcoming release of the Siberia Elite World of Warcraft® Edition Headset. Gamers will soon be able to experience epic quests, intense raids, and endless adventure across Azeroth and Draenor while wielding a premium headset with jet-black ear cushions, illuminated runes, and a lightweight over-the-head suspension style designed for hours of comfortable gameplay.
"Our partnership with Blizzard Entertainment to create unique gear for the World of Warcraft community has culminated in this bold new version of our premium and award-winning headset—a perfect complement to Blizzard's upcoming Warlords of Draenor expansion," said Tino Soelberg, SteelSeries CTO. "Players deserve the best quality audio to experience the music and sounds of Draenor; this exclusive edition of the Siberia Elite headset delivers epic audio quality in a beautiful World of Warcraft-themed design."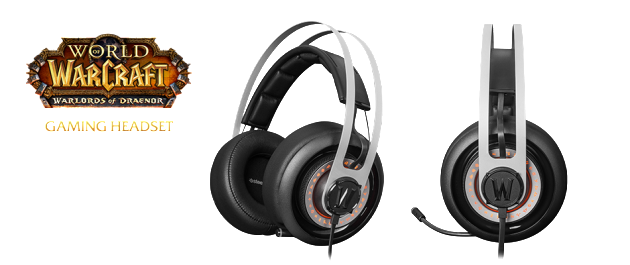 ILLUMINATE YOUR PATH TO VICTORY
The ring of runes is where gamers can see the power of the headset. Players can choose from millions of color options that can also be saved in an endless number of audio profiles. In addition to color, there are options for a pulsating glow, dynamic lighting based on your in-game actions, or no illumination at all—the choices are endless.
HEAR THE ROAR OF BATTLE
The headset is equipped with multiple Dolby® technologies and a closed-type earcup design that provides listeners with a virtual 7.1-channel surround sound experience. Players are able to create and save their own unique audio profiles through the SteelSeries Engine 3 software by tuning their own equalizer settings, microphone functionality and much more. Gamers can control their microphone mute as well as speaker volume from directly on the headset by turning the easy-to-find dials on each earcup, making quick adjustments simple and convenient.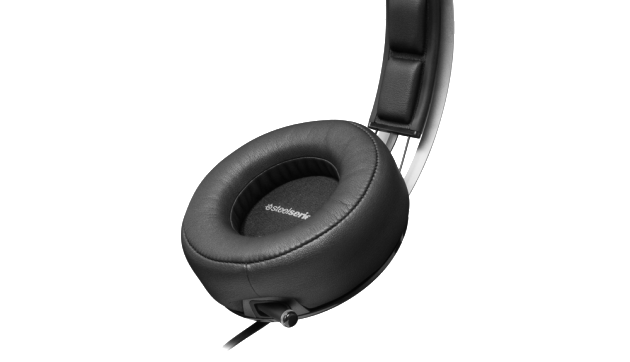 The SteelSeries Siberia Elite World of Warcraft Edition headset is available for pre-order now on the SteelSeries Web Shop for $219.99/€219,99 MSRP. For more information about the new headset and the rest of SteelSeries' official Blizzard Entertainment licensed products, please visit www.steelseries.com/worldofwarcraft.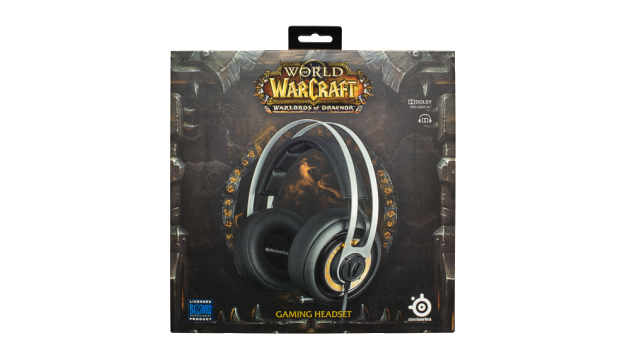 About Blizzard Entertainment, Inc.
Best known for blockbuster hits including World of Warcraft® and the Warcraft®, StarCraft®, and Diablo® series, Blizzard Entertainment, Inc. (www.blizzard.com), a division of Activision Blizzard (NASDAQ: ATVI), is a premier developer and publisher of entertainment software renowned for creating some of the industry's most critically acclaimed games. Blizzard Entertainment's track record includes seventeen #1-selling games and multiple Game of the Year awards. The company's online-gaming service, Battle.net®, is one of the largest in the world, with millions of active players.
About SteelSeries
SteelSeries is a leading manufacturer of top quality gaming peripherals from headsets, keyboards and mice to controllers, surfaces and software. For more than a decade, SteelSeries has been on the forefront of designing and creating gear for gamers. The company's continued innovation also comes in collaboration with the world's leading professional gaming teams and partners. SteelSeries is a global brand that continues to support the growth of competitive gaming tournaments and electronic sports leagues through professional team sponsorships, partnerships and community support. For more information, please visit www.steelseries.com/worldofwarcraft.