The World of Warcraft PTR 5.4 has shown a few changes in Orgrimmar City and Razor Hill.
Vol'jin and Baine Bloodhoof are no longer at the Razor Hill tower. They can be found at the center of Razor Hill between the Barracks and the Inn. They continuously play the same dialogue. Troll Darkspear Headhunters and Tauren Thunder Bluff Warriors are guarding the Razor Hill entrances. I found curious to see a Troll Worker carrying crates has a long mohawk, meaning the survivors of the Amani or Gurubashi empire are serving the Darkspear as workers. There are at least 3 Horde Demolishers at Razor Hill, and even Orc refugees with their families including children outside Razor Hill.
I found funny to see these orc refugees carrying their belongings in a bindle sack (a sack wrapped/tied to the end of a cane, with the cane positioned over a hobo's shoulder for counter-balance). On second thought, not funny. =(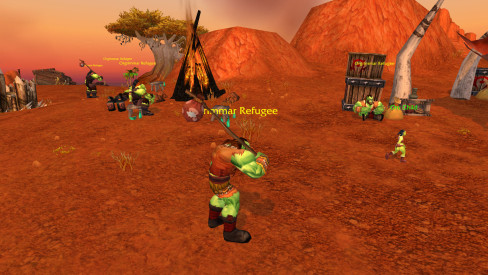 Doyo'da (troll) and Kozish (goblin) are surrounded outside the Orgrimmar Inn by Kor'kron Elite warriors. The city has a heavier presence of Kor'kron guards.
Gamon is no longer outside the Auction House (where currently in live realms he's surrounded by Kor'kron Elite). Gamon is part of the upcoming Patch 5.4 raid according to MMO-Champion.
Two new NPCs are standing in front of the Grommash Hold: Earthbreaker Harrom and Wavebinder Kadris. They don't have quests at the moment.
A Kor'kron Overseer is watching over Kor'Kron Elite warriors practicing combat with each other in front of the Warchief's Command Board at Grommash Hold.
Garrosh is missing in the Throne Room at Grommash Hold. He is now underground beneath Ragefire Chasm readying himself for the Patch 5.4 raid.
Three Kor'kron Dark Shamans are riding Kor'kron Direwolves patrolling around Grommash Hold and half way through The Drag. I haven't seen these heavily-armored Direwolf mounts before. Hopefully these are raid loot or obtained through an achievement.
In the Cleft of Shadows, the warlock trainers are surrounded by Kor'kron Grunts with shotguns. Ureda of the Black Flame is leading the grunts and asking the warlocks to cease their demonic pacts. Garrosh ordered to put them under custody as prisoners.
Razor Hill – Dialogue
Vol'jin: Almost all of da troops be here now.
Baine: I am uneasy, old friend.
Vol'jin: An me as well. We dun know what Garrosh been plannin this whole time. What he's got in store for us.
Baine: I fear for the safety of our people.
Vol'jin: Not everyone gonna come out of this alive.
Baine: And for what? What did the Horde gain from such actions? Garrosh is a fool, and a betrayer. I should have killed himn long ago, when he betrayed my father.
Vol'jin: You gonna get your chance mon. But first we gotta take da city.
Baine: Have you been communicating with the humans?
Vol'jin: Both da alliance and da horde got ships sailing for da harbor. We gonna split der forces an assault da front gate.
Baine: A bold plan. Let us hope we do not run into any surprises.
Vol'jin: I don't think we got a choice, mon.
Cleft of Shadows – Dialogue
Ureda of the Black Flame: Garrosh will not tolerate demon worship within the walls of Orgrimmar. You will submit and allow yourselves to be taken into custody or be destroyed.
Ureda of the Black Flame: These warlocks will suffer for their demonic pacts.