Blizzard Entertainment deployed a new comics written by senior writer Matt Burns and illustrated by Ludo Lullabi. Nightborne: Twilight of Suramar tells the story of Gul'dan's arrival to Suramar and the pact made by Elisande to safe her people.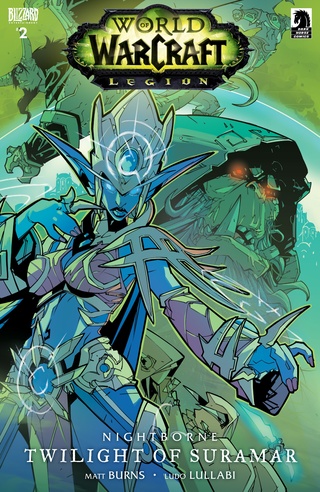 Deep within the night elven city of Suramar, home of the nightborne, the orc warlock Gul'dan issues a terrifying ultimatum: surrender the Nightwell, the source of their power, or see their homeland crushed beneath the heel of the Burning Legion. As evil descends, the grand magistrix must decide whether to trust her enemy or risk all to stand strong.
We invite you to read and download the free comic here or through Dark Horse Comics, Kindle, or ComiXology. You can also experience the action and sound of this tale through the Madefire motion book available on desktop, mobile, and Apple TV.
About
Written by Matt Burns and illustrated by Ludo Lullabi, "Nightborne: Twilight of Suramar" is the second in a series of comics leading up to the Burning Legion's invasion of Azeroth.
Matt Burns is a senior writer on Blizzard Entertainment's Creative Development team. He co-authored the New York Times bestselling illustrated history book World of Warcraft Chronicle: Volume I, among other Blizzard titles.
Ludo Lullabi has more than 20 published works to his name. He has collaborated with Blizzard Entertainment many times, contributing to projects such as the World of Warcraft comic adaptation. – source