Community manager Zeriyah is selling her Vanessa VanCleef cosplay due to unforeseen personal matters. Those willing to help out and take home a great cosplay should follow the link. The disguise costs $900.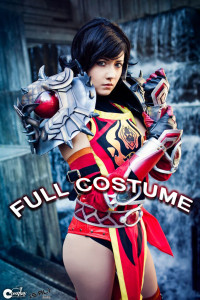 Due to some recently acquired medical bills, I've made the tough choice to part with a couple of costumes that I hold near and dear.
First up: My Vanessa VanCleef cosplay is now up for sale on my Storenvy store. You can find all of the details in the link here: http://zerinax.storenvy.com/products/5533780-full-costume-vanessa-vancleef-cosplay-costume
Please contact me here or through my store if you have any questions, and thank you for your continued support!
Description
Please read this description carefully!
This is for the sale of a complete AS-IS pre-worn Vanessa VanCleef costume, one size.
Costume includes the following pieces:
Styled wig from Arda Wigs
Craft foam shoulderpads (velcro attachment loops attach to corset)
Hand sewn tabard (adjustable laced grommets on sides)
Upper arm guards made of garment leather
Black leather gloves with decorative trim and resin gem (ladies small)
Leather armor bracers (adjustable buckles)
Tooled leather belt with molded foam buckle and resin gem (snaps in back)
Underbust steel boned faux leather corset
Garment leather upper leggings, zips in the back
Leather pirate boots with resin gems (size 8)
Tooled leather shin armor, worn over boots
This costume does NOT include:
Black high necked undershirt
Swimsuit bottoms
Dance tights
Bandana
As this costume was made for my personal use, please be sure you are close to the following measurements to ensure proper fit. Please note that the costume is made almost entirely of leather and will NOT stretch:
Boots: Size 8
Corset: 32″-34" Bust, 24″-26″ Waist, 34″-36″ Hip
Upper arm circumference: 9.25″ inches
Mid thigh circumference: 15.50″ inches
Costume has been worn and shipped to and from events and may show minor wear and tear, but is currently completely functional and ready to wear.
THERE ARE NO REFUNDS FOR COSTUME SALES. THIS IS AN AS-IS PURCHASE.
Thank you for looking! – source