Blizzard Entertainment plans to launch World of Warcraft: Legion this summer, shortly after the Warcraft movie by Legendary. Overwatch is planned to launch this Spring 2016. Lot of new content coming to various Blizzard games.
During the Q&A, Morhaime revealed there will be a new Hearthstone expansion launch this Spring — which seems to confirm we should take a close look at PAX East this April. I'll be there for coverage.
Read the transcript below: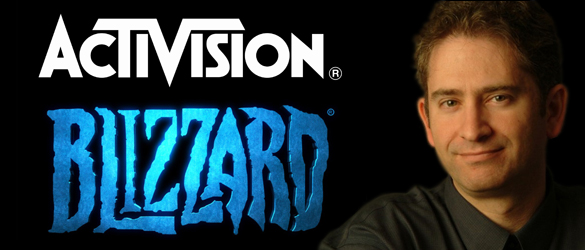 Morhaime: 2015 was another strong year for Blizzard. We achieved an all-time high in active players, and ended Q4 up nearly 25% in average MAUs year-over-year. On a constant currency basis we achieved even higher revenues in 2015 than 2014, which was a record year for us. These results reflect our careful and long held approach to growing our community and deepening their engagement with high-quality content.
In 2015 we expanded to new platforms and new regions, bringing our games to more players than ever before. In addition, we broke new ground with the first live telecast of a collegiate eSports tournament on ESPN.
BlizzCon 2015
And our ninth BlizzCon highlighted the amount of diversity and diversity of upcoming content in our pipeline. BlizzCon also showed the strong connection we have with our global community. More than 25,000 Blizzard gamers attended the show from all 50 states and nearly 60 countries. We had our highest live stream viewership ever with over 10 million people around the world tuning in, and we had record audience on pay-per-view as well. Our specific franchise highlights further demonstrate the value we see in delivering and supporting high-quality game experiences globally.
Hearthstone
Hearthstone had a great quarter and a great year. For those of you who might not be familiar with Hearthstone, it's our free-to-play collectable card game on PC, Mac, tablet and mobile. It has very strong global appeal, and it brought Blizzard to a new genre on new platforms with a new business model. Ahead of BlizzCon, Hearthstone surpassed 40 million registered players, and it closed out December with record global engagement in multiple categories including MAUs. The introduction of Hearthstone on mobile last year was a big contributor to that.
We announced our new adventure, The League of Explorers at BlizzCon, and launched it the following week. League of Explorers brings new cards, new game mechanics and a lot of personality. Despite the shorter window to launch, and no presales as we'd had with previous adventure League of Explorers, League of Explorers sold over 20% more units as of six weeks post-launch. We also expanded Hearthstone into a new region. In October, we released the Japanese version providing easier access for new and existing Japanese players.
World of Warcraft
Moving onto World of Warcraft, we saw quarter-over-quarter growth in Q4 as we kicked off presales at BlizzCon for our new expansion, Legion, which is coming out in the summer, and we released a new content patch. With Legion, we're taking care to build off the best aspects of Warlords of Draenor to create an experience that appeals to an even wider audience and which offers more opportunities for sustained engagement.
Legion adds a new hero class, customizable weapons, class order halls, which strengthen the social elements of the game and more. This will give players more compelling options for extending their experience. With this expansion we are again offering a character level boost immediately with pre-purchase. And for the first time, we're also offering early access to the new character class, which will be activated for everyone who pre-purchases the expansion once it's ready.
Before I move on, I want to thank our community for the generosity they showed with the World of Warcraft charity pet that we offered on behalf of Make-A-Wish. With our player support we achieved a new record for the donation we'll be making to Make-A-Wish: over $1.7 million. That reflects the passion and power of a very strong and very engaged community.
Overwatch
Next, Overwatch, our new IP, which will be a big step into a new genre for us as well as our first simultaneous release across multiple platforms. As with other Blizzard franchises, we have long-term plans to support this new IP with more content and also with external world-building efforts in a robust eSports program.
Overwatch made a lot of news in the quarter and continued to build momentum. We announced the remainder of the 21 hero launch lineup at BlizzCon and revealed the console versions of the game. We also began closed beta testing reaching top-viewed status on Twitch. In addition, we shared our plans to patch in more heroes after launch, which received a very positive response. We are excited about Overwatch's potential, and we look forward to sharing more details as we get closer to its spring release.
StarCraft II
One of our big highlights for the quarter was the launch of StarCraft II: Legacy of the Void. The new features and content make StarCraft II easier to get into than ever before, and we saw a lot of excitement with the launch.
As of its first 24 hours, Legacy of the Void had sold through more than a 1 million copies. In addition it received multiple awards for best strategy game of 2015.
At BlizzCon we announced a series of standalone digital mission packs featuring Nova — a popular character in StarCraft II and Heroes of the Storm. This content will give players exciting new options for continuing their StarCraft II experience, and it will be a great entry point for anyone new to StarCraft. We have been very pleased to see a very positive player response and look forward to releasing the first mission pack in the spring.
Heroes of the Storm
Q4 was also a busy one for Heroes of the Storm, our free-to-play team brawler that features iconic characters from across our bestselling franchises. With Heroes of the Storm, we've worked hard to push the boundaries of the genre, while keeping the game engaging and accessible for the widest possible audience.
For example, at BlizzCon we announced a new game mode: The Arena, which will mix up gameplay with fun parameters, smaller maps and shorter sessions when it's released later this year.
We also revealed our tenth Battleground and three new heroes at the show, including Cho'gall, a hero controlled by two players. Players around the world have responded with enthusiasm for unique heroes like Cho'gall, and with support for the experience that Heroes of the Storm delivers.
Heroes of the Storm had a great close to the year, taking home multiple awards, including Best Competitive Multiplayer and Best MOBA from Game Informer.
Diablo III
I also want to touch on the Diablo III, which has a strong and active community nearly 4 years after launch. The game performed very well throughout 2015, in part due to our launch in China, which broke sales records there.
Players and the media have been enthusiastic about the content we've added over time, and our recent patch in January is no exception. There are new zones, legendary weapons, set dungeons and more.
In addition we periodically restart seasons, refreshing the challenge for players. Diablo III continues to thrive in all regions and we appreciate all the support from players around the world.
eSports
We are also supporting community engagement and franchise growth outside of our games, particularly with world-class esports that represent the diversity of our portfolio and our audiences' interests.
At BlizzCon we had our strongest esports line-up to date and crowned champions in Hearthstone, World of Warcraft Arena, StarCraft II and Heroes of the Storm. Four very different but equally exciting esports experiences for attendees and spectators online.
Looking forward, 2016 will be our biggest Blizzard esports program ever. It will be Heroes of the Storm's first full year of global competition.
In addition, Heroes of the Dorm collegiate tournament is return and we've added another evening of prime time coverage this time. With the final matches – The Heroic Four – playing out over two nights on ESPN 2.
We also made changes to the StarCraft II World Championship Series and Hearthstone's Championship Tour to give local heroes even more opportunities to shine; and we're excited about our eSports plans for Overwatch and look forward to sharing more details about that in the future.
Conclusion
With strength across all franchises and broader reach than ever, we're very enthusiastic about 2016. We are especially excited about the spring launch of Overwatch and look forward to releasing World of Warcraft Legion in the summer on the heels of the June release of the Warcraft movie. With all the content and activities we have planned, we expect another year of solid growth of the Blizzard community and we're very excited about the future.
As Bobby mentioned, Monday was Blizzard's 25th anniversary. We've poured our hearts into making great games for 25 years. We're very proud of the worlds that we've created and the great moments we've shared with our players. We are extremely grateful for the support of our players, and we look forward to many more adventures in the next 25 years and beyond.
Q&A
Neil A. Doshi: Mike, can you maybe help us think about the units built into the guide for Overwatch? I know you guys don't really guide to units, but maybe help us think about other games in the past as a potential comp and how we should be thinking about Overwatch's contribution?
Morhaime: So you're right, we don't typically provide sales guidance. But what I can say is we're extremely excited about Overwatch. It's an important step for us into a new genre that we think has a ton of potential. We have seen a very positive response from players, over 8 million players have signed up for the beta test. Since beta we have been very happy with viewership interest on Twitch.
Overwatch is every bit a Blizzard game in terms of I think it exemplifies the design values that we have. It's a ton of fun, it's excellent gameplay, art style, interface. And so I think we're bringing a Blizzard take to an already very fun genre.
We're looking forward to launching on PC and consoles on a simultaneous launch this spring. And like other Blizzard franchises, we have long-term plans to support Overwatch through ongoing content, world-building efforts outside of the game to build the franchise, the IP and a robust esports program. So we have a lot of reasons to be very optimistic that Overwatch will be an important long-term addition to our collection of franchises.
Erik O. Handler: What do you think is going to be the planned cadence of releases for Hearthstone this year? And maybe how should we think about the key drivers of growth there in terms of users, specifically like what markets are showing the best growth, and is there still growth drivers among the digital platforms?
Morhaime: Regarding cadence, we definitely have plans for some great new content this year, but we're not quite ready to discuss the timing. I can confirm that our next expansion will be out in the spring.
As for growth drivers, we've consistently seen strong engagement pretty much universally globally, and we plan to continue supporting that with new content for the foreseeable future. Bringing Hearthstone to mobile last year drove a lot of growth, as did releasing a good amount of new content.
We also plan to support the community around social events for the game such as fireside gatherings and high-profile eSports experiences. This also drives engagement.
In addition, we will be looking at geographical expansion opportunities like we did last year with Japan. In general, spending does increase around new content, so we're focusing on providing great experiences with new content and making careful design decisions to make sure we protect the long-term health of the game.