Activision Blizzard held its financial conference call to reveal details of its business performance during the fourth quarter of 2016. The most striking highlight of the conference happened during the Q&A when it was revealed there are works to bring Overwatch linear media to expose Overwatch to new audiences.
This harkens back to the launch of Activision Blizzard Studios earlier last year which already launched Skylanders Academy Season 1 on Netflix. It is possible that Overwatch might debut in Netflix at some point in the future.
In October 2016, Stacey Sher revealed during an interview that Activision Blizzard Studios was considering to do something similar to Skylanders Academy (Netflix) for StarCraft and Overwatch.
Seems we are going to have an interesting BlizzCon announcement this year.
Audience Reach
Activision Blizzard had 447 million Monthly Active Users (MAUs)A in the quarter.

Blizzard had its highest annual MAUsA in 2016 at 36 million, up 37% from 2015 and up 87% since 2014. Additionally, Blizzard achieved record fourth-quarter MAUsA of 41 million. Overwatch became Blizzard's fastest game ever to reach over 25 million players globally. The title broke the previous launch year record for unit sales set by Diablo® III in 2012 and received 55 "Game of the Year" awards. World of Warcraft® MAUsA grew 10% in 2016 and over 20% year-over-year in the fourth quarter on the back of the successful third-quarter launch of the expansion, Legion™. Also, Hearthstone® had its highest annual MAUsA in 2016, growing more than 20%, in part due to the fourth-quarter expansion, Mean Streets of Gadgetzan™.

Activision had the biggest online player community in its history in 2016, with annual MAUsA of 50 million for the year, up 3% from 2015 and up 23% since 2014. Fourth-quarter MAUsA were 51 million. Call of Duty® was the number one console franchise globally in 2016, and in North America for the 8th year in a row.1 Life-to-date on current-generation consoles, the Call of Duty franchise had 3 of the top 10 games.

On October 28, 2016 , Activision Blizzard Studios , in partnership with Netflix, debuted Skylanders™ Academy, a new TV series celebrating the beloved kids franchise. The second season will be delivered in 2017, and a third season has been ordered by Netflix.
Deep Engagement
In 2016, consumers spent approximately 43 billion hours playing and watching Activision Blizzard content, on par with Netflix and over one-and-a-half times Snapchat.

Blizzard's fourth-quarter play time surpassed the previous record set in the third quarter. Overwatch had its second and third seasonal events, Halloween Terror and Winter Wonderland, each one driving new records for engagement with the game. World of Warcraft saw an increase in total play time for the quarter, surpassing the Q3 expansion launch quarter and all non-launch quarters in the last four years.

In 2016, Activision Blizzard's esports network, Major League Gaming , extended its viewer reach on social platforms like Facebook and Instagram by 50% year-over-year.

In November, Blizzard held its 10th BlizzCon® with over 25 thousand attendees, over 10 million people around the world tuning in to the event and a record number of pay-per-view tickets sold through DirecTV. Blizzard also announced the formation of the Overwatch League™ at BlizzCon.
Player Investment
Activision Blizzard revenues from in-game content reached a record $3.6 billion in 2016, more than double the $1.6 billion in 2015. Excluding King, revenues from in-game content grew 30% year-over-year.
Blizzard had record levels of quarterly and full-year in-game revenues, driven by World of Warcraft in-game content and continued strength of Overwatch customization items.
Transcript
Thomas Tippl: Due to our portfolio strength and digital momentum, we far exceeded our plans in 2016. We surpassed our initial revenue guidance by $0.5 billion, and our initial non-GAAP EPS guidance by more than $0.40; and we also outperformed expectations for the holiday quarter.
In driving our record-setting year, and as we look ahead, we remain focused on our three strategic pillars: first, expanding our audiences; second, deepening engagement; and third, providing opportunities for more player investment.
Let's start with audience reach, which was 447 million monthly active users this quarter. Blizzard had record Q4 MAUs of 41 million; and for the year, Blizzard had its highest annual MAUs ever, up 37% from 2015, and up 87% since 2014.
This is a remarkable achievement, demonstrating the strength of the Blizzard portfolio and capabilities. Overwatch (released in May) set the record for the strongest launch year financial performance of any game in Blizzard's 26-year history.
The game is critically acclaimed, receiving 55 Game of the Year Awards, and reached 25 million registered players faster than any franchise in Blizzard's history, beating Diablo III's launch year-unit-sales record set in 2012, which for a new IP is an extraordinary accomplishment.
In Q4, MAUs rose to a new franchise high, as existing players stayed engaged and new players joined the fun. Showcasing its continued global appeal, Overwatch has players all over the world, including great success in Korea and China. It is always difficult for Western companies to succeed there, and Overwatch's popularity is testament to Blizzard's unique ability to create globally appealing games.
World of Warcraft's Legion expansion, which launched in late August, continues to re-energize the community. For the year, MAUs were up 10%, and for the quarter, MAUs were up over 20% versus a year ago.
Hearthstone players enjoyed a tremendous amount of new content in 2016, with one adventure, and two expansions (including Mean Streets of Gadgetzan) in the fourth quarter. For the year, Hearthstone had record MAUs, up over 20% year-over-year, and for the quarter, MAUs were also up versus a year ago. Activision had Q4 MAUs of 51 million. On a full-year basis, Activision had its highest annual MAUs ever, up 3% from 2015, and up 23% since 2014.
Now turning to our second strategic pillar: deepening engagement. Our compelling games, deep gameplay, and consistent follow-on content drove not only large communities, but also strong engagement with over 10 billion hours of playtime in Q4. Our 43 billion hours of engagement in 2016 was on par with Netflix and 1.5 times Snapchat. And importantly, we own our content.
Blizzard's Q4 playtime sets a new record, breaking the previous record set in Q3. During the fourth quarter, Overwatch had its second and third seasonal events: Halloween Terror, and Winter Wonderland, showcasing the successful year round event-based approach to content. Each successive event drove new engagement records, including the most recent Lunar New Year event; and Overwatch has more exciting content coming.
Blizzard's increased investment in World of Warcraft development's resources is paying off through a more regular content cadence for players, with two patches released since Legion launched. This has resulted in higher engagement for the franchise, with an increase in total playtime for the quarter surpassing Legion's launch quarter; and all non-launch quarters in the last four years. More content is coming later this year, as the full Legion story unfolds.
eSports has become not only a catalyst for increased reach and engagement, but also a stand-alone opportunity. Our Major League Gaming division hit a number of milestones this year, including hosting tournaments for Call of Duty, Overwatch, and World of Warcraft, growing video viewers on social platforms like Facebook and Instagram by 50%, and increasing twice player engagement by over 60% year-over-year.
Last year, Blizzard held its tenth BlizzCon, and celebrated its 25th anniversary. BlizzCon again sold out in minutes and drew a large global audience with over 25,000 in-person attendees, and 10 million people from around the world tuning in. Blizzard also sold a record number of DIRECTV pay-per-view tickets to fans wanting the full BlizzCon virtual experience.
Blizzard announced the formation of the Overwatch League at BlizzCon. For fans, it will offer city-based teams around the world competing in annual seasons, with standardized schedules creating a consistent experience to build passion and allegiance. For team owners, guaranteed slots and clear rights will enable stability and transparency that they can invest in. For players, contracts, including benefits, and a combine for player-selection will open up the sort of career opportunities associated with traditional sports.
The Overwatch League is being designed to bring a new era to eSports with an epic entertainment experience for everyone involved. Blizzard feels it has the community passion in place, and the required structure established to commence the process of selling teams, and media rights for the Overwatch League later this year. We will have more exciting news to share in the months ahead.
In January, Blizzard kicked off its Heroes Global Championship, and announced its upcoming third annual collegiate eSports competition: Heroes of the Dorm, which will be streamed exclusively via Facebook Live, ensuring broader global accessibility to eSports audiences.
Turning next to the third pillar of our strategy, providing opportunities for more player investments. In-game purchases were yet again close to $1 billion in the quarter, and a record $3.8 billion for the year, more than double last year's $1.7 billion. Even without the benefit of the addition of King to our portfolio, the company's in-game purchases would have grown 33% this year. World of Warcraft content and continued strength in Overwatch seasonal events delivered Blizzard's record levels of in-game revenues in the quarter and for the full year.
Dennis Durkin: Blizzard had its strongest financial performance in history including record revenue up more than 50% versus last year, a record $1 billion in segment operating income for the year, up 81% versus last year; and record Q4 revenue up 46% versus last year. This historic performance underscores the significant progress Blizzard has made towards transforming into a multi-franchise, multi-platform, and multi-geography company.
In 2016, Blizzard had more than 60% of its revenues from non-World of Warcraft franchises, 20% of its revenues from non-PC platforms and more than 25% of its revenues in APAC.
Now, let's turn and look forward to our outlook for 2017. In 2017 as expected, we have a lighter slate of full-game releases. Given fewer major launches this year, we expect to build on our strong momentum on year-round engagement and in-game player investment across our portfolio.
A few other things to call out. While strategically important, emerging new revenue streams like team sales for the Overwatch league and the associated media rights are not embedded in our current guidance. In addition, as we have said previously, we expect advertising to begin to contribute in 2017 and have a more substantial impact in 2018 and beyond.
In terms of segments, we expect a more evenly-weighted contribution from Activision, Blizzard, and King in 2017 than in 2016. We expect Blizzard to have a lower 2017 performance given a lighter release slate. However, Blizzard has lots of exciting plans for live ops and additional in-game content for every franchise, including Overwatch, Hearthstone, and World of Warcraft.
So in summary, 2016's strong performance highlights the tremendous opportunity, and potential we have in front of us. The combination of leading owned IP, and franchises, a direct digital connection to our consumers, best-in-class content creation capabilities, and geographic platform, and business model diversity provides an incredibly powerful engine for sustained financial performance.
So while in 2017, as expected, we will have a lighter release slate. Our strong business platform, combined with promising emerging opportunities like eSports, advertising, and consumer products provides us with a compelling opportunity for growth in 2018 and beyond.
Q&A
So for Overwatch, would you be willing to provide any additional detail on plans for content in 2017 and beyond? You made reference to live ops, but any additional detail there? And as far as the Overwatch League, any additional color on what you have in store for that?
Mike Morhaime: First, we are very pleased with the launch of Overwatch, and the player response to the content. We have entered 2017 with strong momentum. The game passed the 25-million-player mark last month; and each seasonal event that we run has set a record for engagement.
Our plan is to continue evolving Overwatch with new hero and map content, new game modes, and additional events. We have seen very strong engagement in digital sales from these efforts last year. Looking into the future, we also see opportunities in areas like linear media, and consumer product. We think that this will help deepen connections with the franchise, and also expose Overwatch to new audiences.
In addition, we want to create new ways for players to engage with the franchise through the Overwatch League. eSports is growing, but the ecosystem isn't always easy to navigate for players, viewers, or teams. So with the Overwatch League, we are working very hard to address those challenges. Our focus is on creating stability, and participation for teams and owners, and accessibility of the content for fans.
We will have global city-based teams with a standardized annual schedule, creating professional, high-quality content, and guaranteed league slots for the teams. This is all built on a game that is easy to understand, with short matches, and great action. The core experience is very fun to watch, and there is already a sizable audience for it around the world. Based on this, we think that we will see significant new business and engagement opportunities. We are going to start identifying team owners soon. That is our next step, and we are looking forward to holding our first combine and kicking off the League later this year. So with all of that said, we are very excited about Overwatch's future.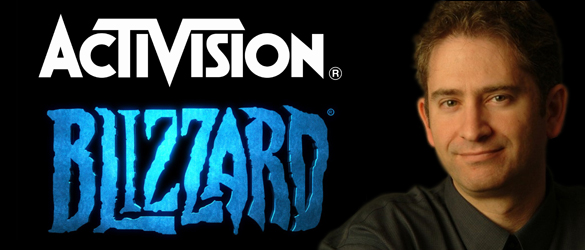 I was hoping you could tell us a little bit more about the Blizzard pipeline as well, both in terms of full new releases and online expansions. And then any sense for the linearity of release timing would be helpful as well.
Dennis Durkin: Last year was a really epic and important year for us. In addition to celebrating our 25th anniversary, we posted record results, and have more people playing Blizzard games than ever before. We are very grateful for the passion and support of our players, and our commitment to delivering awesome content to them has never been stronger. So with that in mind, we have put in a significant effort into being able to support the type of longer-term engagement that Blizzard games have always delivered; but doing so now across more games, on more platforms, and in more regions. So we have really had to scale up our organizational capabilities to do that.
This year, we will have compelling new content across all of our franchises, as well as continuing to expand beyond the games with things like comics, animated shorts, and more. In addition, we are always thinking about new game ideas, and we have several in the prototype phase; but not able to talk about those right now. As I mentioned before, the Overwatch League also represents new business and engagement opportunities for us this year and beyond, and that is going to be a big focus for us as well.