Activision Blizzard purchased 85% of shares from majority-shareholder Vivendi for $8.2 Billion. The company continues to be a public shareholder entity. No changes should affect Blizzard Entertainment.
This significant purchase makes Activision Blizzard full owner of itself. Vivendi now owns only 12% of Activision, Inc. according to TheWrap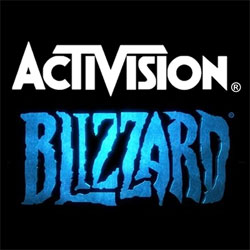 Activision Blizzard Announces Transformative Purchase of Shares from Vivendi and New Capital Structure Company to Buy Back Approximately 429 Million Shares from Vivendi for $5.83 Billion. Investor Group Led By CEO Bobby Kotick and Co-Chairman Brian Kelly to Separately Purchase Approximately 172 Million Activision Blizzard Shares from Vivendi for $2.34 Billion New Capital Structure Expected to Drive Meaningful Earnings-Per-Share Accretion.
Activision Blizzard Reports Preliminary Second Quarter Results
SANTA MONICA, Calif. –(BUSINESS WIRE)– Activision Blizzard, Inc. (Nasdaq: ATVI) (the "Company"), a global leader in interactive entertainment, announced today that it reached an agreement under which it will acquire from Vivendi ( Euronext Paris : VIV) approximately 429 million Company shares and certain tax attributes, in exchange for approximately $5.83 billion in cash, or $13.60 per share acquired before taking into account the future benefit from these tax attributes. In a simultaneous transaction, ASAC II LP , an investment vehicle led by Activision Blizzard CEO Bobby Kotick and Co-Chairman Brian Kelly , to which they have personally committed $100 million combined, separately will purchase approximately 172 million Company shares from Vivendi for approximately $2.34 billion in cash, or $13.60 per share.
Following the completion of the transaction, Activision Blizzard will be an independent company with the majority of its shares owned by the public. The Company will be led by Bobby Kotick as Chief Executive Officer and Brian Kelly as Chairman. Vivendi will no longer be the majority shareholder, but will retain a stake of 83 million shares or approximately 12%. ASAC II LP—the investor group which, in addition to Kotick and Kelly, includes Davis Advisors, Leonard Green & Partners, L.P. , Tencent, as well as one of the largest global institutional investors—will own a stake of approximately 24.9%.
Activision Blizzard expects that its new outstanding share count and capital structure (which will include approximately $1.4 billion of net debt) will result in expected pro forma 2013 earnings-per-share (EPS) accretion of between 18% and 29% on a GAAP basis and between 23% and 33% on a non-GAAP basis.
Bobby Kotick , CEO of Activision Blizzard , said, "These transactions together represent a tremendous opportunity for Activision Blizzard and all its shareholders, including Vivendi . We should emerge even stronger—an independent company with a best-in-class franchise portfolio and the focus and flexibility to drive long-term shareholder value and expand our leadership position as one of the world's most important entertainment companies. The transactions announced today will allow us to take advantage of attractive financing markets while still retaining more than $3 billion cash on hand to preserve financial stability."
Mr. Kotick continued, "Our successful combination with Blizzard Entertainment five years ago brought together some of the best creative and business talent in the industry and some of the most beloved entertainment franchises in the world, including Call of Duty® and World of Warcraft®. Since that time, we have generated over $5.4 billion in operating cash flow and returned more than $4 billion of that to shareholders via buybacks and dividends. We are grateful for Vivendi's partnership through this period, and we look forward to their continued support."
Activision Blizzard will fund the acquisition with the combination of approximately $1.2 billion of domestic cash on hand and approximately $4.6 billion of debt proceeds, net of fees and upfront interest, accessed through the capital markets and bank financing. The Company has received committed financing for the transaction from Bank of America Merrill Lynch and J.P. Morgan . The transaction is expected to close by the end of September 2013 , subject to customary closing conditions.
A special committee of independent directors was formed to represent the Company in negotiating and evaluating the transactions.
Please see the Company's Current Report on Form 8-K being filed with the Securities and Exchange Commission and the exhibits thereto for further information about the terms of the transactions.
Activision Blizzard's financial advisor on the transaction is J.P. Morgan Securities LLC and its legal counsel is Skadden, Arps, Slate, Meagher & Flom LLP . The Special Committee's financial advisor is Centerview Partners and its legal counsel is Wachtell, Lipton, Rosen & Katz . ASAC II LP's financial advisor is Allen & Company LLC and its legal counsel is Sullivan & Cromwell LLP .
Preliminary Second Quarter Results and Full-Year Outlook
For the second quarter, Activision Blizzard expects to report GAAP net revenue of approximately $1.05 billion and Non-GAAP net revenue of approximately $608 million , with GAAP earnings per diluted share of $0.28 and Non-GAAP earnings per diluted share of approximately $0.08 . In addition, the Company will announce full second quarter results on August 1, 2013 and hold its regularly scheduled conference call for analysts and investors at that time.
For the quarter, Activision Blizzard was the #1 independent publisher in North America and Europe combined, including accessory packs and figures, with the #1 and #2 best-selling titles year-to-date— Skylanders Giants™ and Call of Duty: Black Ops II.¹ Additionally, Blizzard Entertainment's World of Warcraft® remained the world's #1 subscription-based MMORPG, ending the quarter with approximately 7.7 million subscribers.²
The Company raised its full-year 2013 GAAP net revenue outlook to $4.31 billion and its earnings per diluted share outlook to $0.77 , up from its prior net revenue outlook of $4.22 billion and earnings per diluted share outlook of $0.73 . Additionally, the Company affirmed its full-year 2013 Non-GAAP net revenue outlook of $4.25 billion and earnings per diluted share outlook of $0.82 . These full-year outlook numbers do not yet account for any benefit of earnings per share accretion from the announced transaction.
Conference Call and Webcast Information
Activision Blizzard will host a conference call and live webcast on Friday, July 26, 2013 at 8:30 a.m. ET , 2:30 p.m. Paris time, 1:30 p.m. London time to discuss this announcement. The company welcomes listeners to the call live by dialing (866) 953-6860 in the U.S. or (617) 399-3484 outside the U.S. using the passcode 14828517. The live webcast of the call can be accessed at www.activisionblizzard.com.
For those unable to listen to the live conference call, an audio replay of the call will be available through August 9, 2013 and can be accessed by calling (888) 286-8010 in the U.S. or (617) 801-6888 outside the U.S. and using the passcode: 30609761. In addition, a webcast replay also will be archived on the Investor Relations section of Activision Blizzard's website.