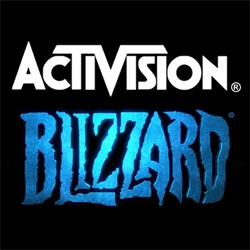 The first quarter of 2014 ended with 7.6 million World of Warcraft subscribers (200 thousand below the previous quarter). However, Warlords of Draenor pre-orders have surpassed 1 million sales even without an official release date. The number will continue to increase. The Warlords of Draenor Collector's Edition isn't yet on sale at retailers, which means pre-order sales will continue to increase.
The conference call still didn't provide an official release date simply generalizing that Warlords of Draenor is slated for the second half of 2014. However, mentions Alpha testing will begin soon. It is a trend now with Heroes of the Storm, and now with Warlords of Draenor that opt-in players will get invited in waves into the Warlords of Draenor Alpha testing.
Hearthstone is now played by 10 million players worldwide, more content in development and new platforms coming in 2014. This in reference to Hearthstone on Android devices, announced at PAX East 2014.
Diablo III will see content updates and new console versions. Check out below the audio and transcript.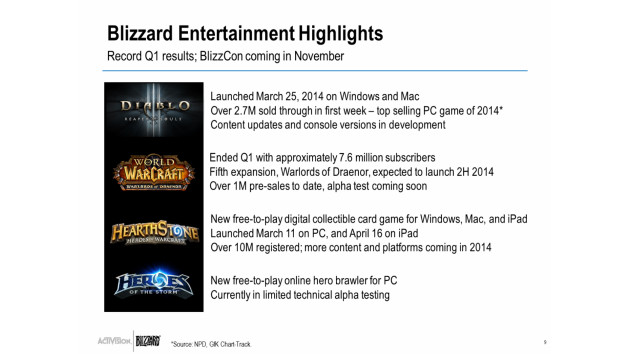 Transcript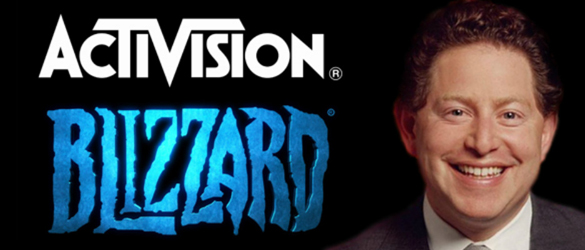 Kotick: Blizzard also has the most ambitious product plan in its history. World of Warcraft continues to be the world's largest subscription-based MMORPG and ended the quarter with approximately 7.6 million subscribers.
We've expanded the game's development team to accelerate content delivery, including expansions, while continuing to raise the bar on quality. As of today, I'm pleased to announce that pre-purchases for the next expansion, Warlords of Draenor, which we plan to launch later this year, have already exceeded 1 million purchases to date. This speaks to the enthusiasm from the World of Warcraft community for the exciting release that we have planned later for this year.
During the quarter, Blizzard also launched 2 new titles, Diablo III: Reaper of Souls and Hearthstone: Heroes of Warcraft. In its first week, the Diablo III: Reaper of Souls expansion sold through more than 2.7 million copies worldwide and during the quarter, was the #1 PC game in both North America and Europe. Blizzard intends to release Diablo for PS4 later this year.
Additionally, on March 11, Blizzard launched its new free-to-play game Hearthstone: Heroes of Warcraft. And with the early success, it is on-track to become Blizzard's first new franchise since World of Warcraft. Hearthstone already has registered over 10 million PC players across all regions with strong engagement and monetization. The game launched on iPad in April and quickly occupied the top spot for iPad downloads and also became a Top 10 grossing iPad game in numerous countries around the world, including the United States. Blizzard plans to release versions for iPhone and Android phones later this year.
Lastly during the quarter, Blizzard generated strong revenues through Battle.net with the launch of Hearthstone in iPad, Blizzard had now expanded Battle.net beyond PCs to the fast-growing tablet community, which represents a tremendous future opportunity for Blizzard.
Blizzard is also developing Heroes of the Storm, which taps into a blooming genre with free-to-play online team brawler with characters from StarCraft, Diablo and the Warcraft universes.
Dennis Durkin: Blizzard Entertainment produced record results, including strong sales of the Diablo III: Reaper of Souls expansion, better-than-expected Hearthstone card sales and World of Warcraft subscriptions. Additionally in Q1, we recognized revenues from portion of the price paid for the pre-purchase of World of Warcraft: Warlords of Draenor expansion, which included a character boost that is immediately playable upon purchase. During the quarter, we also recognized revenues for standalone character boost, which were sold separately.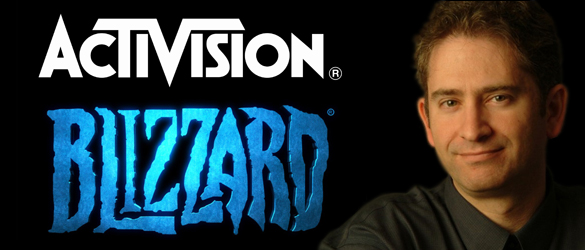 Morhaime: Blizzard Entertainment kicked off 2014, with a busy and record-setting quarter. We closed out March with record revenues and operating income for any Q1 in Blizzard history. Our success was fueled by the launch of Diablo III: Reaper of Souls, pre-sales from World of Warcraft: Warlords of Draenor, and the official launch of Hearthstone: Heroes of Warcraft on Windows and Mac.
In addition, we also kicked off initial alpha testing for Heroes of the Storm, our upcoming free-to-play Hero products. The Reaper of Souls launch was the definite highlight of Q1. The game sold through 2.7 million copies as of the first week alone making it the top-selling PC game of 2014 so far, based on the internal estimates and reports from key distribution partners.
The press reaction has been extremely positive and players are really enjoying the new contents and features, such as Adventure Mode, that enhances replayability. We attribute a lot of the game's access to a focused effort, by listening to player feedback and making improvements to the game based on that feedback. The result was a smooth global launch, as well as strong sales and ongoing engagement.
Looking ahead, we're already working on a content update that will add new features, like (???), where players can unlock increasingly more difficult dungeons for greater rewards. We also expect to launch the Diablo III: Ultimate Evil Edition, which will bring the Reaper of Souls content to console later this year.
On the World of Warcraft front, we ended Q1 at approximately 7.6 million subscribers, slightly below the prior quarter. We also began taking pre-sales for the next expansion, Warlords of Draenor. We have seen strong interest in the pre-sale offer with more than 1 million sold so far, and believe that the included character boost played a role in motivating players to make an early commitment to Warlords of Draenor.
Players who participated in the pre-sale were granted immediate access to a character boost to level 90, which is part of the Warlords of Draenor package. Character boosts are also available under separate service. The boost make it easier for players to return to the game and rejoin their friends or to just try out a new class. We believe that Warlords of Draenor offers a compelling package for players.
The story takes Warcraft back to the setting of some of the original games, and reintroduces classic heroes and villains. Warlords of Draenor also includes the innovative new garrisons feature, which allows players to further customize their experience in the game. Each player's garrison acts as a home base, that allows players to leave a personal footprint in the world, tailored to their taste and gameplay preferences. Overall, we're pleased with the ongoing stability in the player base, but look ahead cautiously given the seasonality and a late-expansion cycle dynamics. We expect to launch Warlords of Draenor in the back half of the year.
Moving on to Hearthstone. The game officially launched on Windows and Mac on March 11 and it's currently one of the top-rated iPad and PC games of 2014 on Metacritic.
At the time we launched on PC, more than 10 million players had already tried Hearthstone. More have joined since we launched the iPad version a few weeks later, and the game quickly climbed to the top of the free app chart in dozens of countries. While it is still too early to talk specifics about the impact of the iPad release, we are very pleased with the response we received and are excited to expand Blizzard's reach to the iPad.
We were also proud of the fact that Hearthstone offers a seamless cross-platform experience. Your progress, collection and friend list remain the same across all platforms, allowing players to enjoy the game easily on both PC and iPad. Hearthstone's pace and design make it ideally suited for the tablet format. Matches are quick, generally around 10 minutes, and the concepts are easy to grasp for newcomers, while maintaining enough depth for long-term competitive play.
Looking ahead for Hearthstone, we plan to release a new single-player adventure called The Curse of Naxxramas this summer. This content is based on a popular raid dungeon in World of Warcraft. Players will be able to face off against card versions of classic boxes from the dungeon and unlock new cards. The Naxxramas content will be released over several weeks. To celebrate the launch, the first set of content will be free for a limited time, while the subsequent ones will be unlockable through in-game gold or real money. We're thrilled to bring the first new piece of new content out for Hearthstone this summer and look forward to creating more content for this growing community.
Rounding out a busy quarter for us, we began a technical alpha test for our upcoming team brawler, Heroes of the Storm. Heroes will be our second free-to-play game, giving our spin on a very popular game genre. Players can choose from dozens of iconic Blizzard characters, team up with friends and take on other teams in competitive online matches. The technical alpha currently includes U.S. players and select global press and community influencers.
Early feedback has been very positive, with many media talking about Heroes' unique gameplay design, which is tailored to be more welcoming for newcomers to the genre. That fresh take on gameplay, combined with the appeal of Blizzard's popular characters has generated a lot of interest in the game.
At a recent showing at PAX East, players waited up to 2 hours to try the game and came away with very good impressions. We are steadily adding more content and features over the course of testing, and we look forward to expanding the test audience globally in the coming months.
In addition, our partners at NetEase and Asiasoft have announced that they are working with us to bring the game to China and Southeast Asia, respectively.
Summing up, we had a great start to 2014 with major achievements across a range of different franchises. Now that Hearthstone is officially released, we have active communities across 4 different games, including World of Warcraft, Diablo III and StarCraft II.
Heroes of the Storm is in testing and will become Blizzard's 5th active game, all tied together on Battle.net, and we just recently updated the Battle.net app with chat functionality making it easier than ever for Blizzard gamers to stay in touch no matter which game they are playing. We're working very hard to carry the momentum from Q1 throughout the year, and cap off with our biggest BlizzCon yet in November. Tickets go on sale tomorrow and this Saturday, so don't miss out. We're working on more games and game contents than ever before, and the future is really bright for all Blizzard gamers.
Q&A
Christopher Merwin (Barclays): So it looks like you have had a lot of early success with Hearthstone. I think you reported about 10 million users. And now that that game has been launched on iPad, can you quantify at all for us what type of uptick you have seen in users so far; and how those iPad users have been converting any better than the desktop ones? And then lastly, just in terms of monetization for the game, is it possible to share what type of payer rates you are seeing for Hearthstone as compared to the typical mid-core mobile game?
Morhaime: We'll we're not ready to discuss specific impact on the total player base or specifics around monetization yet. I can say that it's monetizing very well compared to other free-to-play games, at least from what I've seen. One thing to point out, since it is a cross-platform game and we have users that joined us on multiple platforms, you are seeing players that joined on the PC purchasing both on the PC and the iPad and vice versa. And so the way that we look at the eco-system there is as really one-player base that has the ability to play on multiple platforms. And we think that judging by the rapid rise of the download popularity on the iPad charts, and the positive reviews that we've been getting, we're very pleased.
Morhaime: The sort of the sizing the Hearthstone opportunity — market size opportunity for Hearthstone. I think it's very difficult to project something like that. Certainly giving the accessibility and depth of the game. We certainly believe that there's a lot of potential. When you consider that we still have the Android platforms and the iPhone to expand to, we see that as a big opportunity, as well. We're continuing to build on the game experience, listening to player feedback and adding new content. So we are really excited about the upcoming release of Curse of Naxxramas.
Michael Hickey (The Benchmark Company): Mike, just give us some details on Heroes of the Storm. I know it's early days here, I'm not sure how much more you can share, but I was hoping you could just, if possible, kind of size the market opportunity as it relates to the game category, or maybe the Blizzard audience. I mean, you've got 10 million PC players almost immediately for Hearthstone. Is that kind of an initial reasonable range you think for Heroes of the Storm, or is it unique that maybe it doesn't appeal to the same playerbase? And then maybe this is way too early, but maybe monetization of the game and also as it relates or I guess compares to what you saw from Hearthstone?
Morhaime: Currently, we are in a very limited technical alpha testing to test the infrastructure around the game and all the technical issues surrounding the game. It's also giving us the opportunity to test some of the game design innovations that we have been creating, and the response has been very positive.
The game is already very fun. We are getting really good feedback from the people that are currently helping us test it. We are looking forward to expanding the size of our test audience in the future. In terms of the opportunity, it is a proven genre. I mean, you can see that some of the existing games in the genre have achieved a very high level of success.
We think that there is an opportunity to make the genre even more approachable for new players. I think that it can skew very hardcore, and there is definitely room for improvement in that area while still maintaining the depth and replayability that exist there. In terms of monetization, we are still experimenting with monetization, but it will be free-to-play. We will have micro-transactions and we will have more information about the offerings that we will provide in the future.