The Activision Blizzard Q2 2014 Financial Results Conference Call revealed WoW subscriptions have decreased down to 6.8 million active subscribers. In comparison, last conference call, for the first quarter of 2014, Blizzard reported 7.6 million subscribers. A loss of 800,000+ subs. However, Blizzard expects to recover a large portion of the playerbase with Warlords of Draenor.
Blizzard will announce the official release date on August 14 during the world-premiere of Warlords of Draenor. Blizzard Entertainment invited Blizzplanet to the world-premiere in Los Angeles, and Blizzplanet staff member @dperschonok will be there to bring us coverage.
Highlights
Over the next few months, Blizzard expects to release some of the very best games in the company's history. Blizzard Entertainment plans to launch World of Warcraft: Warlords of Draenor™, the newest expansion in the epic franchise, which more than 1.5 million Western subscribers have already pre-purchased.

As of June 30, 2014, Blizzard Entertainment's Diablo III: Reaper of Souls remained the #1 PC game in dollars in both North America and Europe and, including its expansion and digital sales, Diablo III has sold more than 20 million copies worldwide across all platforms since its release in 2012.

As of June 30, 2014 , Blizzard Entertainment's World of Warcraft remains the #1 subscription-based MMORPG, with approximately 6.8 million subscribers. There was a decline in subscribers quarter over quarter, which was disproportionately concentrated in the East and was similar to the seasonal decline experienced during the second quarter of 2012, prior to the launch of the most recent expansion later that year.

Warlords of Draenor pre-orders exceed 1.5 million sales.

On March 10, 2014, Blizzard began accepting pre-purchases for World of Warcraft: Warlords of Draenor TM , which includes a character level 90 boost and value-added services, both of which are available immediately upon purchase.

At June 30, 2014, the global subscriber* base for World of Warcraft was approximately 6.8 million, compared to approximately 7.6 million at March 31, 2014, and approximately 7.7 million subscribers at June 30, 2013. The subscriber decline was disproportionately concentrated in the East (where the "East" includes China, Taiwan, and South Korea, and the "West" includes North America, Europe, Australia, and Latin America) and was similar to the seasonal decline experienced during the second quarter of 2012, prior to the launch of the most recent expansion later that year. In general, the average revenue per subscriber is lower in the East than in the West. Looking forward, Blizzard expects to continue to deliver new game content in all regions that is intended to further appeal to the gaming community.

Blizzard commercially released Hearthstone: Heroes of Warcraft on the PC on March 11, 2014, and released it on the iPad in April 2014.

On March 25, 2014, Blizzard released Diablo III: Reaper of Souls , the first expansion pack to Blizzard's action role-playing game Diablo III.

In the third quarter of 2014, Blizzard released Curse of Naxxramas™: A Hearthstone Adventure , for the PC, Mac and iPad. On August 19, 2014, Blizzard expects to release Diablo III: Ultimate Evil Edition™ for the PS4, PS3, Xbox One and Xbox 360.

On July 15, 2014, Blizzard Entertainment and NetEase, Inc. jointly announced an agreement to license Blizzard Entertainment's award-winning action role-playing game, Diablo III, to a NetEase, Inc. affiliate in mainland China.
Transcript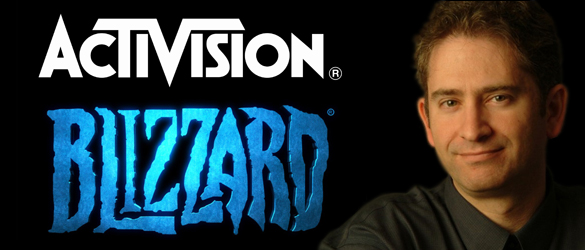 Mike Morhaime: Blizzard had a busy second quarter, reaching milestones on a number of projects. This includes the start of beta testing on World of Warcraft: Warlords of Draenor, the release of Hearthstone on iPad, and ongoing testing of new content for Diablo III, and our unreleased team brawler: Heroes of the Storm.
Starting off with World of Warcraft. The franchise remains healthy with revenues up year-over-year. This is due in part to ongoing interest in Warlords of Draenor pre-sales, which now exceed 1.5 million; and the character boost, which suggests strong support for the expansion by the community.
As we mentioned on the previous call, we anticipated fluctuation in subscribership due to seasonality and the fact that the current game content is at the end of its life cycle. And as expected, we did see a decline in subscribers, which mostly came out of the East. This pattern is right in line, percentage-wise, with the drops that we saw at Cataclysm's cycle in Q2 2012.
That drop in 2012 was followed by an uptick in subscribers just ahead of Mists of Pandaria's launch. So we're hoping to see players return once we draw closer to the release of Warlords of Draenor — later this year. On the development side for World of Warcraft, we did begin beta testing for Warlords of Draenor in Q2.
Q2 was also a big quarter for Hearthstone with the iPad version of the game launching in April. That version has been popular, bringing millions of new players into the Battle.net ecosystem, and building on momentum from Q1's PC launch. Hearthstone has also been growing in popularity on the e-sports side, with a number of big tournament events taking place around the globe. We also announced our year-long Hearthstone competition, which will collect competitors from around the world to compete at a year-end tournament at BlizzCon for a $250,000 prize pool.
A few weeks ago, we launched Curse of Naxxramas, our first adventure mode content for Hearthstone; and it's now available around the world on Windows, Mac and iPad. The content is split into 5 parts released over 5-week period, and it includes single player challenges, as well as cards that players can use in head-to-head competition. Players can purchase the weekly content á la carte for in-game gold or real money or as a bundle for real money. The community has responded with enthusiasm to Curse of Naxxramas, fueling Hearthstone's biggest week ever in terms of both engagement and revenue. We are pleased with the results and we look forward to continuing our support for Hearthstone going forward.
Moving on to Diablo III. We are pleased to show that the game has reached more than 20 million in unit sales, including digital. This figure includes the base Diablo III game on PC and console, and the Reaper of Souls PC expansion pack. We're looking forward to delivering the expansion content to players on next and current-gen consoles with the release of the Diablo III Ultimate Evil Edition, which we expect to ship on August 19. In addition to the Reaper of Souls content, the Ultimate Evil Edition includes all of the updates that we made to the core Diablo III experience on PC, as well as some console-exclusive features that make it even easier and more rewarding for friends to play together.
And lastly, we just announced plans with NetEase to bring Diablo III to Mainland China.
Rounding out our game update for this call is Heroes of the Storm, our upcoming hero brawler. Alpha testing continued in Q2 and was expanded to include players from other regions around the world.
We're incredibly excited about the prospects for Heroes of the Storm. As we head back into the back half of 2014, we are looking to close out the year strong with BlizzCon and the release of Warlords of Draenor, in addition to the ongoing content that we are in the process of adding to Hearthstone, Diablo III and Heroes of the Storm.
We're proud to be offering more gaming options that appeal to a wide range of players across more platforms than ever before.