High Exarch Turalyon: I'm afraid it's only a matter of time before our presence is known.
We must begin our preparations at once.
Objectives
Walk with High Exarch Turalyon.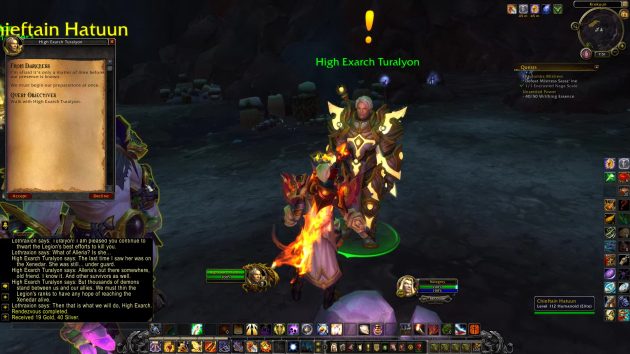 Progression
High Exarch Turalyon: When you are ready. We have much to discuss.
(I am ready, High Exarch)
High Exarch Turalyon: For millennia, the Army of the Light has waged war upon the Burning Legion. Battles. Skirmishes. Sabotage. We were committed to our cause. Either we would end the Legion's crusade… or they would end ours. When at last our final assault on Argus began, we knew we might not survive it. And when the Xenedar was hit, it seemed all hope was lost. But the Light never abandoned us. It called you here and gave us another chance at victory. What we do with that chance… that's up to us.
Completion
High Exarch Turalyon: So it begins.
From Darkness
Argus Zones