High Exarch Turalyon: There is much to be done before this nightmare can end, but we need to regroup before we draw more attention from the Legion.
I managed to retain a signal crystal during the crash used to call transport beacons from the Xenedar.
With luck, we should be able to use it to establish a link between here and your forces as well.
Objectives
Use the Signal Crystal to call down a Lightforged Beacon from the Vindicaar.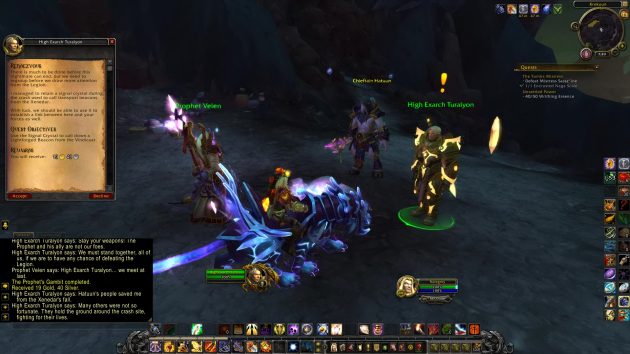 Progress
Click the Signal Crystal.
NOTE: A Lightforged Beacon materializes. Lothraxion teleports in.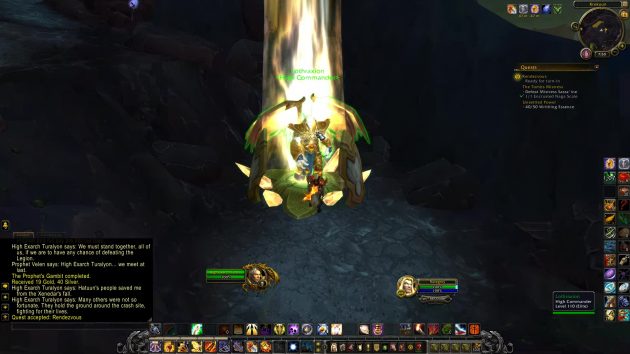 Lothraxion: Turalyon! I am pleased you continue to thwart the Legion's best efforts to kill you. What of Alleria? Is she…
High Exarch Turalyon: The last time I saw her was on the Xenedar. She was still… under guard. Alleria's out there somewhere, old friend. I know it. And other survivors as well. But thousands of demons stand between us and our allies. We must thin the Legion's ranks to have any hope of reaching the Xenedar alive.
Lothraxion: Then that is what we will do, High Exarch.
Completion
High Exarch Turalyon: Lothraxion is an old friend, and a noble warrior. We are fortunate to have him among us.
Rendezvous
Argus Zones