YouTube Geek Week's "Beyond the Trailer" host Grace Randolph interviewed Blizzard Entertainment Lead Publishing Micky Neilson.
Grace Randolph discussed with Micky Neilson that some people usually watch a movie and then wants to read the book.
This in reference to the recent announcement of the Warcraft film by director Duncan Jones at the San Diego Comic Con.
Micky Neilson explains that the story right now in World of Warcraft: Mists of Pandaria is getting really exciting with Garrosh Hellscream trying to dominate all of Azeroth.
The curious thing is that it seems we will hear about Garrosh Hellscream in the next expansion — though it could be open to interpretation.
"Now with World of Warcraft, the game itself is in a very exciting state right now. You got the continent of Pandaria which has been discovered in the latest expansion: Mists of Pandaria.
Players are exploring that new continent and this latest expansion really shines a spotlight on the primary conflict between two major factions: the Horde and the Alliance.
So you got the Alliance led by humans, and you got the Horde led by orcs — specifically by Garrosh Hellscream who is a complete hothead and he's trying to dominate everything and everybody and he doesn't care what he has to do in order to accomplish that.
For the game, it's going to be very exciting — especially over the course of this expansion and the next expansion to see what happens."
Micky also talks a bit about the upcoming DK Publishing World of Warcraft: Ultimate Visual Guide
.
For decades, the war between the Horde and the Alliance has raged on in the fantasy world of Azeroth. Millions of players have chosen a faction and fought alongside one another in Blizzard Entertainment's critically acclaimed massively multiplayer online role-playing game, World of Warcraft® — and since its release in 2004, the game has grown to become the most popular subscription-based MMORPG on the planet.
Created in close collaboration with Blizzard, World of Warcraft®: The Ultimate Visual Guide explores the major characters, key locations, and epic history of this battle-scarred realm, and will capture any adventurer's imagination with its breadth of detail. Players will find a treasure trove of game knowledge, as the book delves deep into the series' lore and even goes be yond the game, giving readers a peek at the behind-the-scenes development of Blizzard's vivid fantasy world. This detailed guide is the perfect companion for any adventurer, Alliance or Horde.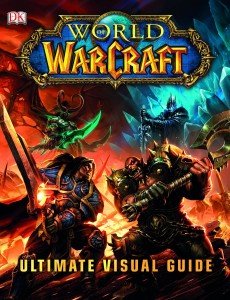 Source: Twitter