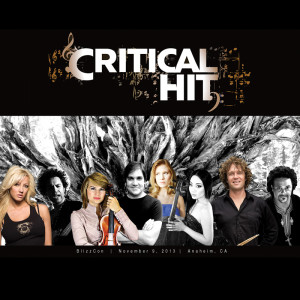 Those who didn't know, Jason Hayes returned to Blizzard Entertainment some time ago (June 2012) as an in-house World of Warcraft Senior Composer. A couple days ago, Jason Hayes and Michael Gluck co-founded and launched CRITICAL HIT and partnered with a Top group of professional musicians to create a CD Album that's currently under pre-order for $14.99 and will ship on October 31. All items pre-ordered by October 31 will be signed by Jason Hayes!
The great news is that CRITICAL HIT will be performing live at BlizzCon 2013 on Saturday, November 9th at 10am – 11am. Critical Hit will perform music from Blizzard titles during the Sound Panel. Fans can watch this live performance through the BlizzCon 2013 livestream or DirecTV.
Among these musicians are:
Nita Strauss – Guitar
Taylor Davis – Violin
Tina Guo – Cello
Salome Scheidegger – Piano
Doug Belote – Drums
Joel Taylor – Drums
Pedro Eustache – World Winds
David Frank Paich – Piano
Chet Stevens – Guitar
Sara Andon – Flute
Carlitos del Puerto – Bass
Adam Gubman – Arranger
Laurence Juber – Guitar
Shannon Canchola – Flute
Kevin Dooley – Drums
The CRITICAL HIT Music CD contains a remastering of the World of Warcraft main theme soundtrack under the title: "Legends of Azeroth". A short clip of the soundtrack # 3: Legends of Azeroth can be listened here.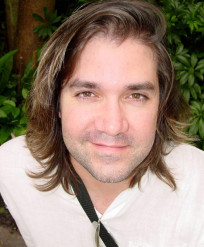 Critical Hit – About
Critical Hit is a videogame music tribute band performing original arrangements and electrifying live concerts of music from the most celebrated videogames of all time. Featuring Jason Hayes, lead composer of Blizzard's hit MMO World of Warcraft, the band's unique sound blends a variety of musical styles from rock to classical and beyond.
Embark on a rediscovery journey of timeless pieces from World of Warcraft, Final Fantasy, Mario, Kingdom Hearts, Metal Gear Solid, Call of Duty, Halo, Skyrim, Pump It Up, Angry Birds, Mega Man, Sonic the Hedgehog, Pokemon, and more!
Press Release
Renowned videogame composer Jason Hayes performs gaming's greatest hits with debut album now available for pre-order.
Today marks the announcement of Critical Hit, an all-star band headed by composer Jason Hayes – best known for his work on the acclaimed World of Warcraft soundtrack – and featuring award-winning performers and recording artists with a staggering list of videogame, film, and live performance credits, including The Annual Primetime Emmy's, Cirque Du Soleil, American Idol, and more. Critical Hit is pleased to announce their debut album, Critical Hit: Volume One, and release their debut music video, featuring the main theme of Angry Birds.
Critical Hit: Volume One will ship on October 31, featuring 12 electrifying arrangements of gaming's greatest hits. Tracks from World of Warcraft, Super Mario World, The Legend of Zelda, The Elder Scrolls V: Skyrim, Halo, Final Fantasy, Call of Duty, Metal Gear Solid, and more are presented in a wide variety of musical styles from rock to classical and beyond.
Musicians Hall of Fame inductee David Frank Paich, pianist of the legendary band Toto and co-writer on hit titles Africa, Rosanna, and Hold the Line, is featured on the album.
Critical Hit: Volume One and branded merchandise are now available for purchase. Those who pre-order prior to October 31, 2013 will receive their items personally signed by Jason Hayes.
"Playing in bands was a big part of my life before I became a full-time composer," comments Critical Hit founder Jason Hayes, "so it's awesome to be able to return to live performance, while exploring my favorite videogame themes with such amazing and accomplished musician friends. The best part is connecting with people who are as passionate about videogame music as I am."
Product Description
Critical Hit's debut album features 12 electrifying arrangements of gaming's greatest hits!
01. Tetris "Main Theme"
02. Angry Birds: "Main Theme"
03. World of Warcraft: "Legends of Azeroth"
04. The Legend of Zelda: Ocarina of Time: "Zelda's Lullaby"
05. Halo 2: "Main Theme"
06. Pokemon: "Main Theme"
07. Super Mario World: "Bowser's Castle"
08. Final Fantasy X: "To Zanarkand"
09. Kingdom Hearts: "Hikari"
10. Call of Duty: Modern Warfare 3: "Battle for New York"
11. The Elder Scrolls V: Skyrim: "Streets of Whiterun"
12. Metal Gear Solid 2: "Main Theme"