Yotnar's Head: Upon the highest point of the plateau above, you will find the archive device for the Trial of Will. Seek it out to learn what awaits you in Thorim's Peak. Be on your guard, outsider. The one called Skovald has left behind many of his army, and they will no doubt be unfriendly.
Quest Objectives
Power up the archive device and view the holographic record for the Trial of Will.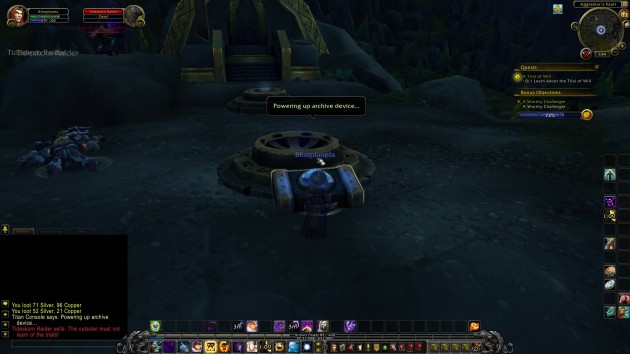 Intermission
Titan Console: Powering up archive device…
Tideskorn Raider: The outsider must not learn of the trials!
Titan Console: Archive device power at 50 percent…
NOTE: Three Tideskorn Warmongers spawn. The auto-aggro anyone within the area.
Titan Console: Archive device activated. The record is now accessible. The Thorignir are the oldest and wisest dragons in Stormheim. To fly with them is to sail amongst the gods themselves. Seek their blessing to pass the Trial of Will.
Completion
Yotnar's Head: The knowledge you've gained is a powerful tool to use against your foes. Do not forget this.
A Trial of Will