Dread-Rider Cullen: When I was scouting this place out, I noticed the vrykul here are no strangers to the treacherous mountain path we're trying to get to. They've got some specialized equipment they're using, and if I were you I'd try to get my hands on some. You'll want to find some climbing treads to keep your grip and an oiled cloak to keep you dry. They've also got these stones they carry to keep the lightning at bay, so you'll want to pick one of those up as well.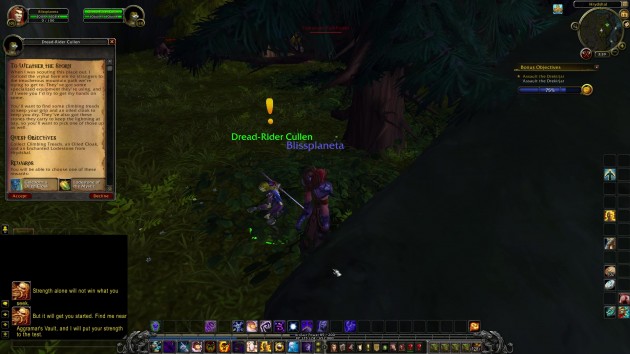 Quest Objectives
Collect Climbing Treads, an Oiled Cloak, and an Enchanted Lodestone from Hrydshal.
Intermission
NOTE: Stormbreaker Reykir (inside a building) drops the Enchanted Lodestone. The Oiled Cloak is by a tent next to a storm dragon. The Climbing Treads is in a tent located uphill by the edge of the mountain.
Completion
Dread-Rider Cullen: Were you able to get all the gear you needed? Well, the sizing might be a bit big, but I think you can make them work. That path doesn't look pleasant, so it'll help to be prepared.
To Weather the Storm