Apothecary Withers: The Black Rose was a seafaring laboratory for the Royal Apothecary Society. Naturally, we had some volatile… "byproducts" onboard. Regrettably, one such substance was released during our skirmish with the Alliance gunship. As you can see, it is taking quite a toll on the coast. The R.A.S. must remedy this situation before we press further inland. Please take a containment unit and fill it with waste – for us to dispose of properly at a later time, of course.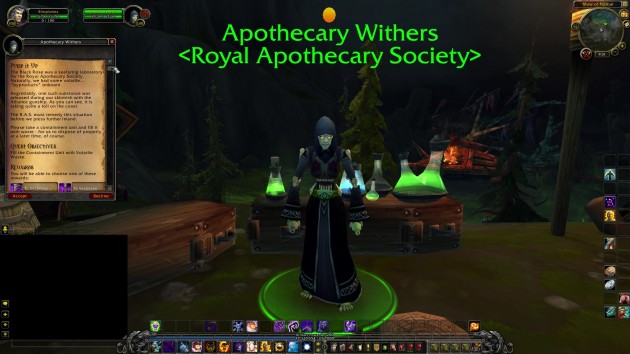 NOTE: The Volatile Sailors often spawn a blob. The blob corpse can be clicked to loot Volatile Waste for the Containment Unit.
Quest Objectives
Fill the Containment Unit with Volatile Waste.
Completion
Black Rose Apothecary: Wonderful, just put that down anywhere. careful not to spill it!
Pump it Up