Vethir: Thanks to your help, Thrymjaris was able to escape the clutches of that vile demon. She bid me wait for you, so that I could take you to her once you had finished dispatching your foes. She has gathered our brood at the top of Thorim's Peak to prepare for a counterattack. Would you join us?
Quest Objectives
Speak to Vethir to fly to the top of Thorim's Peak.
Rewards: Drekirjar Lifeblood or Crystallized Tideskorn Cruelty (Artifact Relics)
Intermission
Vethir: When you have finished your business here, speak to me and I will fly you to the summit. Once we leave, we may not return.
(Fly me to the summit, Vethir.)
Vethir: The Drekirjar have upset our ancient pact. It is time they face the consequences.
Fly to the top of Thorim's Peak: 1/1
Objectives update: Speak to Thrymjaris: 0/1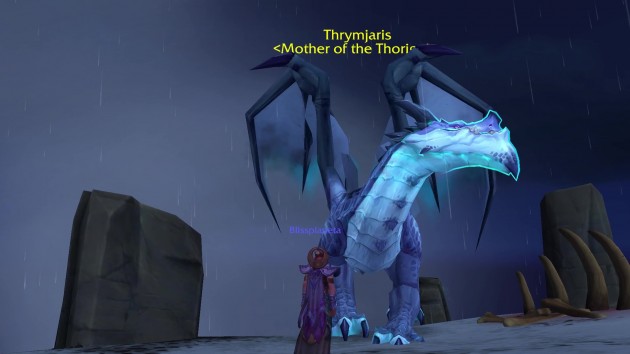 Thrymjaris: Before we proceed, I would like to bestow upon you a gift of the Thorignir. Raise your artifact, outsider, and brace yourself. This may prove uncomfortable for your kind.
(I am prepared to receive your gift.)

Thrymjaris: Even as someone not of this land, you chose to save us from a wretched fate. You have passed the Trial of Will, and you have also gained an ally. Hold aloft your weapon, outsider. Accept the power of storm and thunder as a gift for your selfless acts.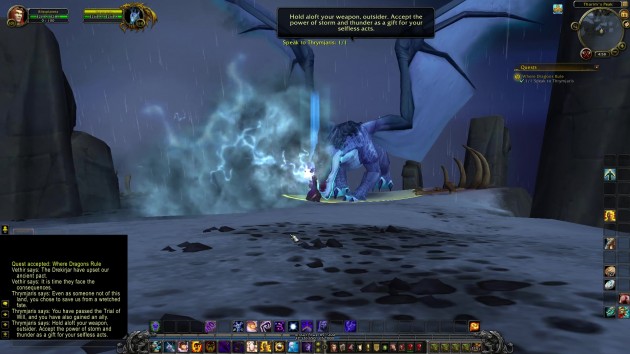 Speak to Thrymjaris: 1/1
Completion
Thrymjaris: You are truly a hero to my brood. You have gained a powerful ally today, outsider. The god-king has reason to fear you.
Where Dragons Rule