Medievaldragon: As you may have read in our BlizzCon 2015 World of Warcraft – World & Content panel transcript, Ion Hazzikostas said you can choose where to start your questing experience in the Broken Isles: whether Stormheim, or Suramar, or Azsuna, or Highmountain, or Val'sharah. Mobs in each zone scale with you and level up with you.
In this case, I started with Stormheim. Thus, the series of quest videos you will see in the next few days will be the Stormheim questing experience. After your last quest during the Class Artifact Questline, you pick from the map your first quest leading you to that zone. This is the first quest for Stormheim (Horde).
The Warchief Beckons
Nathanos Blightcaller: Greetings, (name). I am here on behalf of Lady Sylvanas Windrunner. I should hope you recognize the name.
(Nathanos thrusts a sealed envelope into your hand.)
Read it and follow me. You can read, can't you?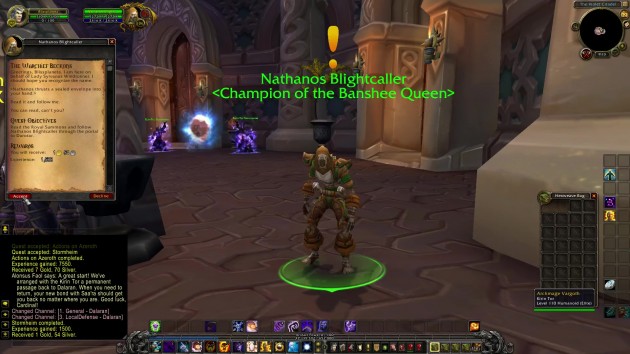 Quest Objectives
Read the Royal Summons and follow Nathanos Brightcaller through the portal to Durotar.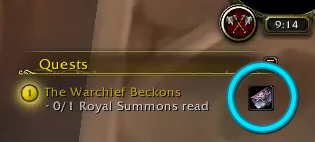 Intermission
Location: Violet Citadel (Dalaran)
Sylvanas Windrunner: Champion: As your new Warchief, I share with you the burden of securing our future. To that end, my fleet is preparing to sail for the Broken Isles. When you set foot in Stormheim, you shall have the full power of the Forsaken at your back. Make the journey with us. Together, we will ensure that no one can oppose the might of the Horde!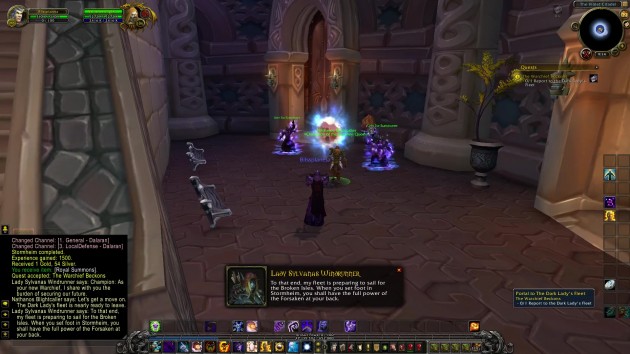 Nathanos Blightcaller: Let's get a move on. The Dark Lady's fleet is nearly ready to leave.
NOTE: Follow Nathanos and take the portal to start the scenario. Make sure to have repaired and have food/water before heading in.
Completion
Location: Bladefist Bay (Durotar)
Nathanos Blightcaller: Satisfied?
NOTE: Nathanos is a d-head. Glad I whacked him in vanilla. err, after he whacked me 20 times. lol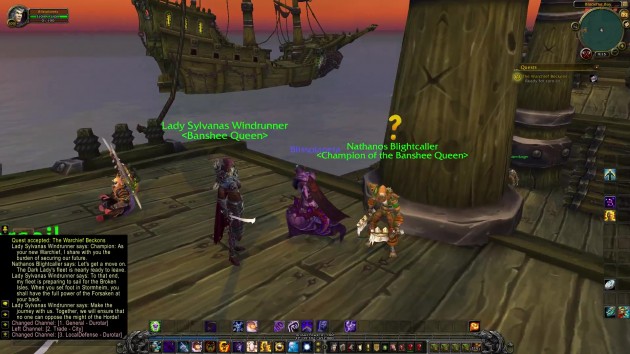 The Warchief Beckons