Vethir: You… You are not like the others.
Vethir: Through brute force and corruption, the god-king has taken the power you seek, but there may be hope for you and the Thorignir, (class). With the aid of fel powers such as I've never seen, the Drekirjar are corrupting our young and seeking to enslave the Thorignir. Their leader, a demon of great power, has captured our mother and seeks to bend her to the god-king's will. Find her and free her from the demon's grasp – only then might the Thorignir regain our power and grant you aid.
Quest Objectives
Find and rescue the mother of the Thorignir brood.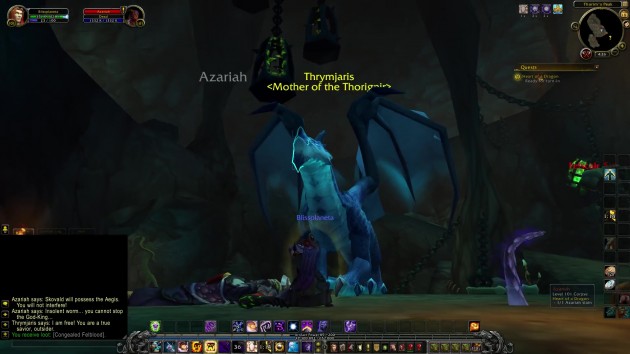 Intermission
Location: Thorim's Peak
Find the Thorignir Mother: 1/1
Felscale Subduer: The Thorignir are broken. You're next!
Azariah: Skovald will possess the Aegis. You will not interfere!
Azariah slain: 1/1
Azariah: Insolent worm… you cannot stop the god-king…
Thrymjaris: I am free! You are a true savior, outsider. Speak to Vethir, he will take you to the summit!
Completion
Vethir: I am relieved to hear that our mother is safe. I am sure she will wish to thank you herself.
Heart of a Dragon