Blizzard Entertainment published a new job opening for a Senior FX Artist to work with the Unannounced Game team. The page doesn't display a date, but after running a few search tests it appears the job opening was published 21 hours ago.
The job opening is under the Unannounced Project category. This category might mean it is a new IP. How can one tell?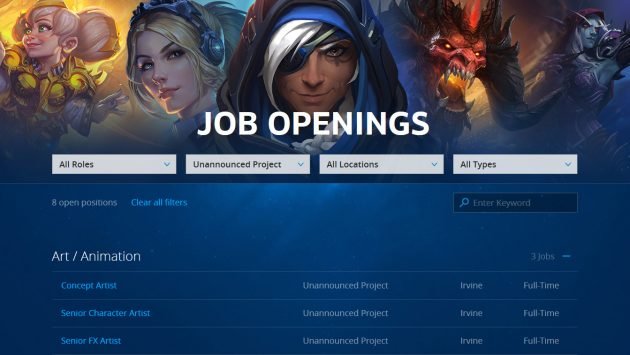 Well, if it was a Blizzard Classic Remastered title, it would be under the Classic Games category.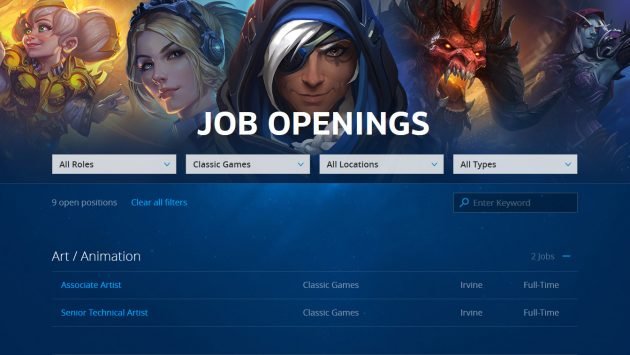 If it was a Diablo unannounced game (for example) it would be under the Diablo category with the text: "job title name, Unannounced Project" but still under the Diablo category instead of in the "Unannounced Project" category.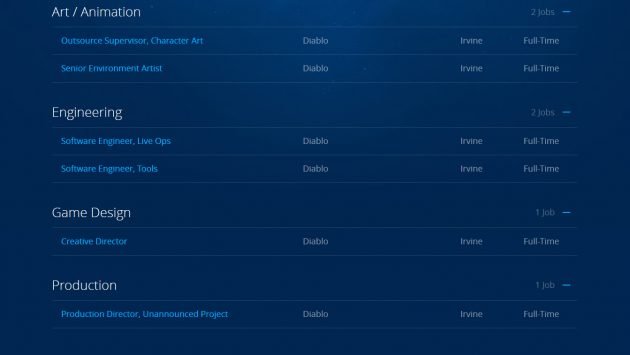 This makes one think that the Unannounced Project category is in fact a new IP. However, that doesn't mean it is not themed after one of the other IPs. Heroes of the Storm is based on the StarCraft II engine, and contains heroes from all Blizzard IPs, but Heroes of the Storm is still considered its own IP. Hearthstone is based on Warcraft characters, but it is considered its own IP and genre. Then there is Overwatch, which isn't themed after any of the other Blizzard games. That's a pure new IP. Its own universe.
We do not know yet what this Unannounced Game is about. We don't know its genre either. What I do know is that whatever it is, it is not the only unannounced game in the works. Here is why: there is another separate category named Incubation.
Now that is a very peculiar and unusual name for a job opening category within the Blizzard Careers directory. It has never been used in the past (to my knowledge, and memory; and I have posted Blizzard news since 2003).
Peculiar, because it is the same exact word used by Mike Morhaime a few months ago during the Activision Blizzard Q2 2017 Financial Report conference call (transcript available).
Could you talk at a high level how Blizzard is allocating its time and resources right now? What percent of man-hours are spent on new IP versus existing IP? And I guess I'd be curious to hear you talk about how you think about Blizzard's new IP pipeline the next three to five years.
Morhaime: First and foremost, I'd just say that the bulk of our focus continues to be supporting our existing players and releasing high-quality content for our existing games. This quarter is a great example of that approach. We delivered a consistent flow of updates, and new content across all of our games; and that has driven record engagement even without a new game launch. We are also really excited about the future.
In addition to supporting all of our live games, we are committed to incubating new initiatives, and we are also thinking about different platforms, especially mobile.
In terms of new IP, our pipeline is in a better position than ever before in our history. Last year, Allen Adham (who co-founded Blizzard with me and Frank Pearce) returned to the company to take on the task of coordinating our efforts in this regard; and this includes some great ideas that we had already started to explore. So we now have multiple dedicated incubation teams that are being led by some of our most experienced game designers at Blizzard.
I should say that creating new Blizzard-quality games on any platform will take time; and as we have shown in the past, we are not going to release any games that we don't feel live up to our expectations, or those of our players.
When we do bring new experiences to current or new platforms for new and existing IPs, there are going to be ideas that our teams are passionate about, and that we think there is a large audience for.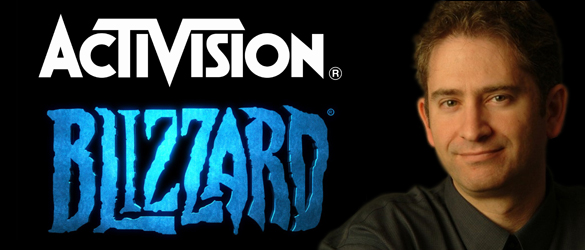 That, however, was not the first time I ever heard the word "Incubation" from Blizzard Entertainment. I can tell because Blizzplanet has BlizzCon panel transcripts (every year) since 2011.
The first time I recall hearing the word "Incubation" was from the lips of Blizzard co-founder Allen Adham (who returned to Blizzard) who said the following during the BlizzCon 2016 Blizzard 25th Anniversary Panel (Link to our panel transcript).
Allen: So my name is Allen Adham, as Sean mentioned. I am recently returned. I have the best job at Blizzard. I am the senior VP and executive producer in charge of incubation and new products. So thank you Mike and Frank for that. In the early days, I did a bit of programming in design and games like Lost Vikings, and Rock'N Roll Racing; and then as the company got a little larger, it shifted more to designing production, executive producer in games like Warcraft and StarCraft; and my last project before going on an extended 10 year sabbatical, I was lead designer on World of Warcraft. So I am happy to be back.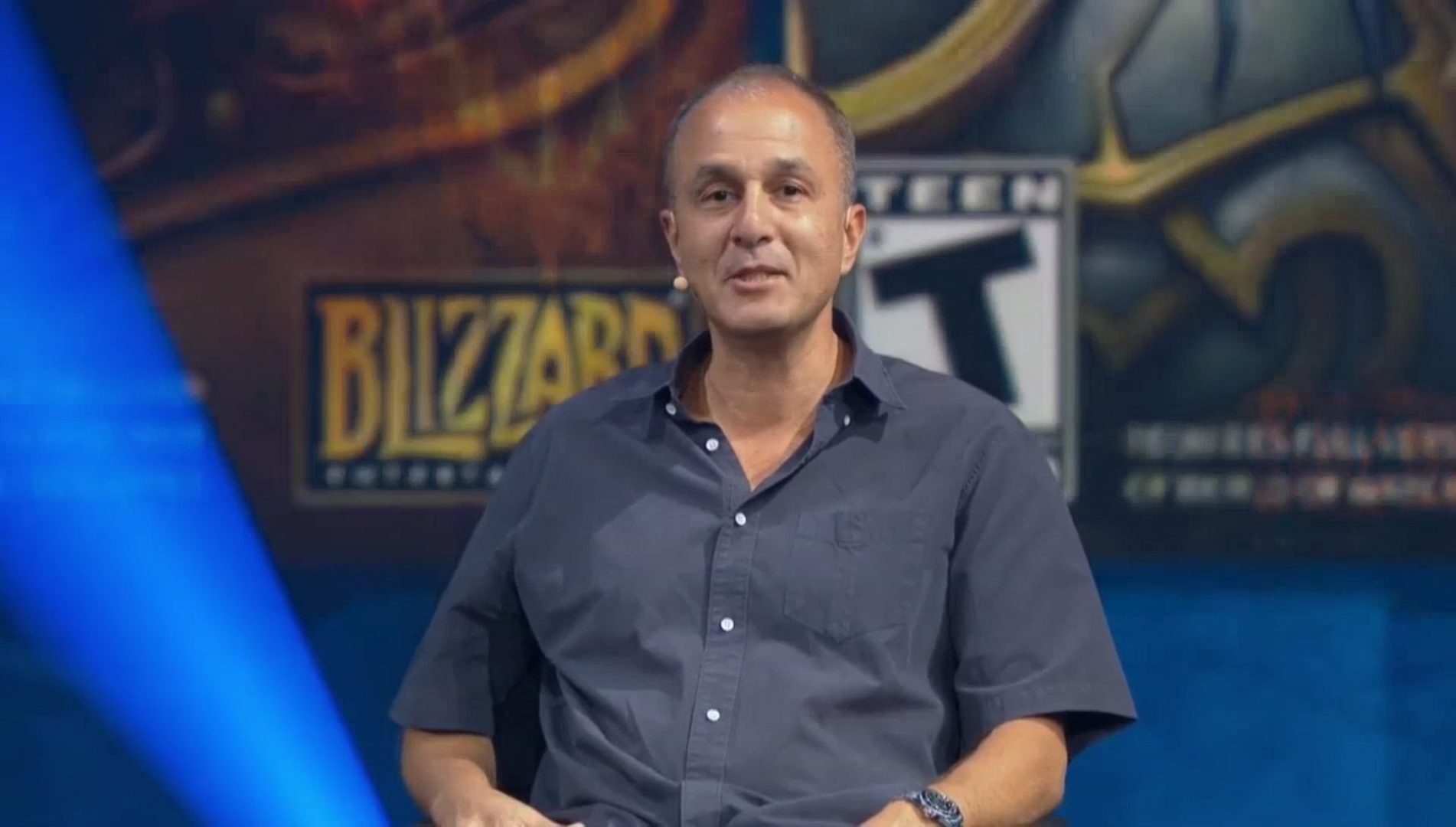 Currently, Allen Adham is working on a mobile game within Blizzard Entertainment. There are actually job openings for that team as well: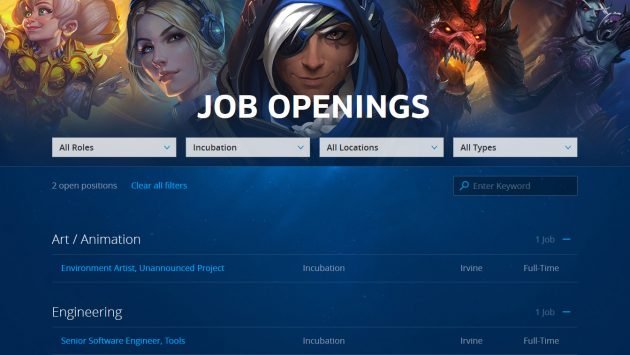 So there are two unannounced games that we all know exist: One is a mobile game (by Allen Adham) and the second is a first-person unannounced game — which so far has Dustin Browder, Tom Chilton, and Brian Holinka onboard.
Here I leave you with the most recent FX Artist job opening for the Unannounced Game:
FX Artist, Unannounced Game
We pride ourselves in forging amazing worlds and experiences for our players to dive into here at Blizzard. To accomplish these epic goals, we need smart, passionate, and creative people with kickass talents. We are looking for an exceptionally skilled Senior FX artist to join our team on an unannounced project. The ideal candidate has extensive experience working with 3D packages and real-time FX systems, and will help drive and develop the project's art style. You'll need to create a wide range of VFX, including explosions and ability, weapon, weather, and energy effects. A strong understanding of the communication between action and visual impact is required. You will be expected to have a highly developed technical skillset to assist in expanding the VFX tools pipeline.
We value a tightknit team that celebrates artistic passion and pushing the creative bounds. If you have the desire to push your talents to help us create the next awesome Blizzard experience, then join us!
Responsibilities
Self-motivation, good communication skills, and a great team-player attitude
A minimum of 5 years' experience in creating real-time VFX for games
Have shipped AAA PC or console titles as a senior VFX artist
Solid knowledge of rendering engines and experience designing VFX shaders
Thorough understanding of the interplay between VFX / PostFX integration and performance
Game play oriented with a design focused mindset
Able to paint VFX textures from scratch and match an established style
Able to help set and maintain project-wide style consistency
Capable of mentoring junior artists
Able to carry an idea from the conceptual phase to the finished effect
A passion for video games
Pluses
Previous experience working on a first-person or other action-oriented game
Leadership experience
Experience developing a new VFX tools pipeline
Working knowledge of software packages such as Houdini, Fume FX, etc.
Scripting experience in Lua, Python, etc
2D or 3D animation experience
Required Application Materials
Resume and cover letter
Portfolio or demo reel demonstrating relevant artistic skills and the ability to use light, shadow, and color to create a variety of tones and moods
An art test may be required if the work presented doesn't adequately demonstrate an ability to match our desired style for the game