Ion Hazzikostas opened PAX West 2018 with his Storytime Session keynote on Fri, August 31 at 10:30am PDT. This keynote was not about World of Warcraft: Battle for Azeroth, or its upcoming content. Instead, his keynote explored the early days of Ion as a kid, and embarks the listener into a journey of his life as he grew older and the myriad of experiences that lead him to become a Blizzard Entertainment developer.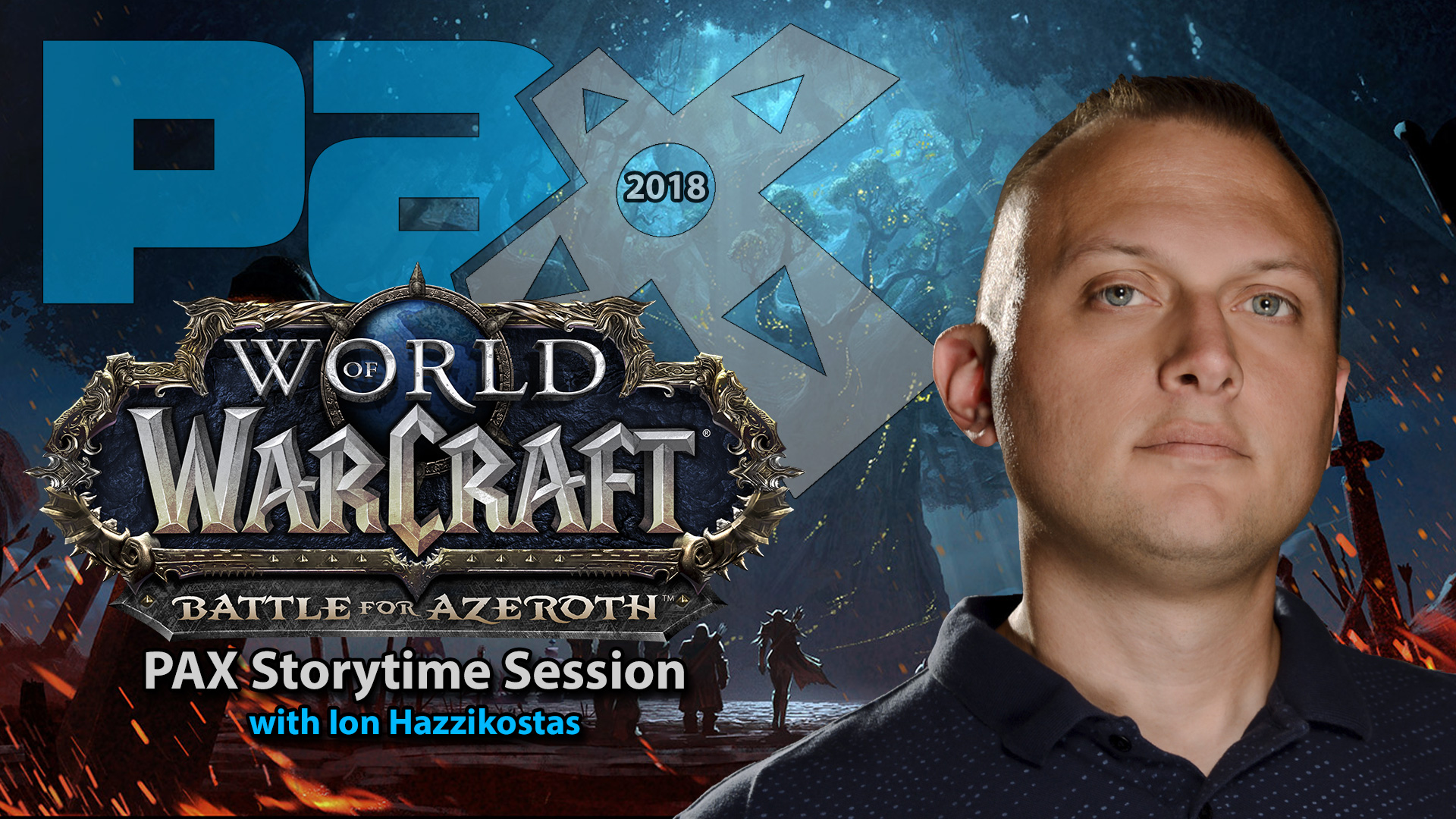 At face value, the keynote might not be of interest to you for lack of a dive into the new World of Warcraft expansion. However, those who have been soul searching whether to send a job application and a resume to Blizzard Entertainment, and feel insecure about their experience or education might find something quite inspirational in listening to his life tale. Even if not seeking a job at Blizzard, just a normal player, it might at least allow you to learn more about Ion as a person.
Ion did never take any game design classes. As a matter of fact, he graduated to become a Lawyer. This could be you. Maybe you studied psychology, or auto mechanic, engineering, or something else that has absolutely nothing to do with game design. Using his life tale as a mold for yourself, you now might actually consider to apply for a job at Blizzard Entertainment.
As a kid his imagination was expanded when his greek father told him stories about mythology before going to sleep. Through his mother being a teacher with access to discounts for computers and software, he started playing MAC computer games in the early 1990s, number crunched Baseball card's players stats, he was a natural puzzle solver, and he was a math geek at High School. He studied Latin, and theater acting as well.
In college, Ion studied Law and all the problem solving knowledge of putting pieces of a puzzle together for a court case as a lawyer.
Later on, as he worked at a law firm, he played World of Warcraft in 2004 in the evenings. He enjoyed the game, and as his guild played in Molten Core for the first time, he observed how the Core Hounds spawned at a specific interval of time, and without planning for it, he was calling the shots and guiding his guild how to bypass the dangers of Molten Core, becoming a de facto raid leader.
All those life experiences, plus the help of a friend who joined Blizzard as a programmer, led him to rethink his Lawyer career and goals. He knew he had no experience in game design, but he submited a job application, a resume, and a cover letter. He got called and traveled from the East Coast to be interviewed in Irvine, California. A month later, he was offered a job at Blizzard Entertainment in August 2008… three months before the launch of Wrath of the Lich King.
Very insightful keynote for those who need that extra inspiration to seek a job opportunity at Blizzard without any game design education or experience.
Our correspondent, Ben Lehman, attended PAX West and recorded the keynote. Watch the PAX West 2018 Storytime Session Keynote with Ion Hazzikostas.
PAX West 2018 Storytime Session Keynote