Richard A. Knaak will sign copies of World of Warcraft: Dawn of the Aspects
and the WarCraft: War of the Ancients
ombnibus at Barnes & Noble (Rogers, AR) on November 22.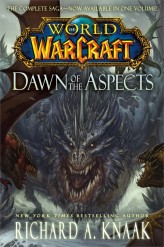 SIGNING AT BARNES & NOBLE – ROGERS, ARKANSAS | NOVEMBER 22ND 6PM – 9PM!
I will be part of a multi-author event on Friday, 11/22! We'll have copies of DAWN OF THE ASPECTS, WAR OF THE ANCIENTS omnibus, and most of the DRAGONREALM SERIES!
DAWN OF THE ASPECTS TRADE DUE OUT NOVEMBER 19TH!
Yes, at long last, the trade version will be available! Find it at your local BN, order from Amazon, or, if you are interested in a personalized copy, it's $18 for US readers, while other countries should email first!
CHAPTER 1 OF LEGENDS OF THE DRAGONREALM: THE GRYPHON MAGE NOW OUT TO SUBSCRIBERS!
The sequel to DRAGON MASTERS has begun! The Turning War continues…
US subscribers – $25 for serialized story, full PDF and personalized trade after! Other countries $12.99 for serial and full PDF! If desiring a trade paperback afterward, email first!
AND BE SURE TO TELL YOUR FRIENDS AND LOCAL LIBRARIES TO PICK UP LEGENDS OF THE DRAGONREALM VOL. IV IF THEY HAVE NOT!
Thank you!
Richard A. Knaak