Sideshow Collectibles featured a special video sneak peek preview of the upcoming Sideshow Collectibles Deathwing Statue. Too fast for your eyes to catch? No wearries, mon! I took the liberty to take a screenshot of the video. Some of the quick views shows the Stormwind tower, which suggests Deathwing is on top of the tower like in the original World of Warcraft: Cataclysm cinematic intro.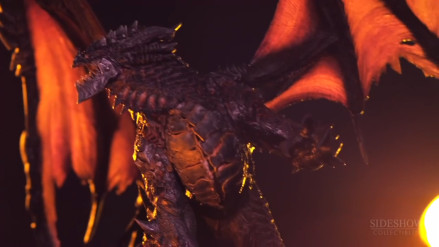 There is no release date for this product, but my personal opinion — it might be out early 2015, based on past products sneak peeks and their actual release date. Usually a year after announced.
The previous statue was based on Wrath of the Ling … the World of Warcraft Arthas Polystone Statue (still in stock). Going by that trend, speculation-mode on … will we see a Garrosh statue sneak peek in 2015, release date: 2016? Nom, nom, nom.