I am a fan of cosplay. It all started a few years ago with the BlizzCon costume contests, and viewing photos of a cool cosplayer by the name Christina Sims, who we all know nowadays as Hearthstone community manager Zeriyah.
Recently, a Blizzplanet visitor: Stephanie, emailed me about her upcoming Kickstarter plan. I felt more than obliged passing on her press release for those of you who share the same passion.
A group of likeminded women joined forces to launch a non-profit makerspace exclusively for Cosplayers in Washington D.C. They have plans to expand to other cities in the United States, but this can only be possible with the support of the community over time. Now just imagine you plan to go to BlizzCon, San Diego Comic Con, PAX East, GenCon or your favorite national event — and out of the blue one of these makerspaces open up in your area.
Wouldn't it be nice to be able to create your first cosplay costume, or enhance your skills with top-of-the-line tools and materials; and to be able to talk and have fun with likeminded cosplayers while building your next project?
Well, their Kickstarter will begin on February 13, so get on the boat and start rowing away to get this idea rolling.
Nonprofit Breaks New Ground with Cosplay Makerspace
Studio Cosplay says: "Our Kickstarter campaign titled "Studio Cosplay: A Makerspace by Cosplayers for Cosplayers" is set to kick off Friday 2/13/15 at 4:30PM! Early pledges help our project to gain visibility so we'll need as many backers as possible to jump on this straight out of the gates! Watch our website and social media pages for a direct link on Friday. We greatly appreciate the support we've received so far on this journey and we're honored to have so many people excited to see our workshop become a reality! We can do it"!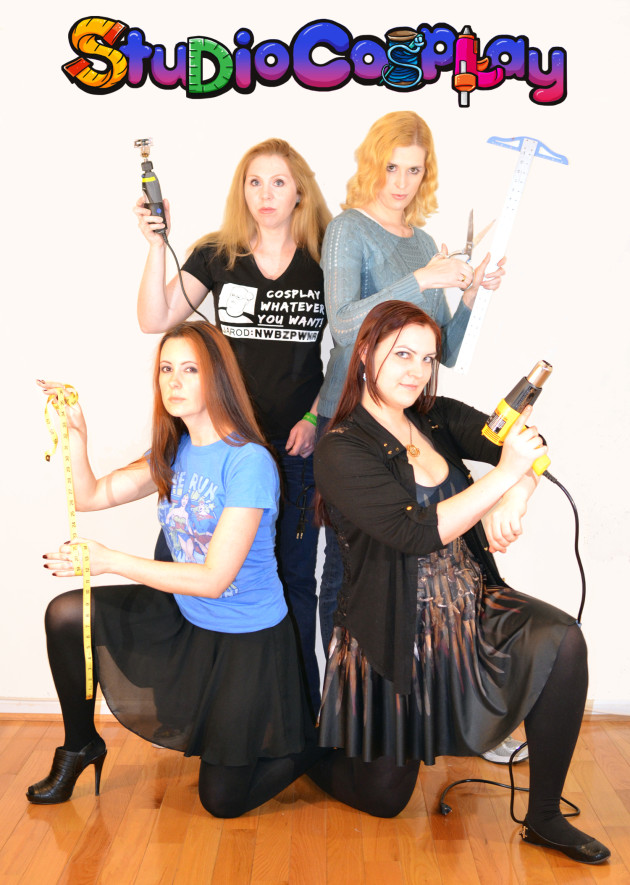 Fairfax, VA — Studio Cosplay, a Washington DC area-based non-profit, is changing the world of cosplay and makerspaces. In 2015 it plans to offer the best of both worlds by opening the first community workshop by cosplayers for cosplayers.
With multiple stations catering to making and displaying costumes, armor, and props, the types of equipment provided will include sewing, painting, fabricating, wig styling, 3D printing and more. Photographers will also have the use of a green screen.
The studio will offer hands-on classes for cosplayers across all skill levels, ranging from sewing to photo shoots to working with thermoplastics.
"Cosplay has not only allowed my artistic expression to flourish but the people I have met through cosplaying are more than just friends; they are family," says Liz Gmaz, a founding member of the organization. "Studio Cosplay is going to be a home for cosplayers. In a way, to me, cosplay means Ohana."
The group also plans to provide emergency repair support at fandom conventions nationwide where members can glue up, stitch up, finish up, and rest up before diving back into the crowd.
To meet the needs of interested cosplayers and to fund subsequent years of operation the organization will offer multiple "cosmakerspace" membership tiers.
Studio Cosplay's mission is to promote community through the art of costuming by providing workspace, opportunity, and education. The organization's founders, Liz Gmaz, Stefanie Hackenberg, "Katilist" and Daria Medved, are themselves cosplayers who saw a need in the cosplay community for a place where cosplayers can go to work on their projects, meet other cosplayers, learn how to make costumes and props, and expand their artistic expression. Their crowdfunding campaign to cover the workshop's first year of expenses launches in February 2015.
For more information or to schedule an interview, contact Studio Cosplay at:
Website: www.studiocosplay.org
Facebook: www.facebook.com/studiocosplay
Twitter: www.twitter.com/Studio_Cosplay
contactus@studiocosplay.org
405-227-8202