The UDON World of Warcraft Tribute
is now on sale at local bookstores and online. This product was first unveiled to be in development at the New York Comic Con 2012. I took video of the UDON panel if you wish to learn more.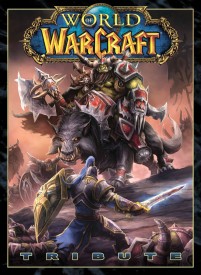 Celebrating the phenomenon that is World of Warcraft! Featuring hundreds of artists from around the globe, World of Warcraft Tribute showcases professionals and fan artists alike, each paying homage to the most popular MMORPG of all time. Every denizen of Azeroth deserves to have this gorgeous artwork collection in their personal library.
Paperback: 224 pages
Publisher: Udon Entertainment (October 15, 2013)
Language: English
ISBN-10: 1926778871
ISBN-13: 978-1926778877
Product Dimensions: 11.2 x 8.3 x 0.8 inches
Shipping Weight: 2.5 pounds