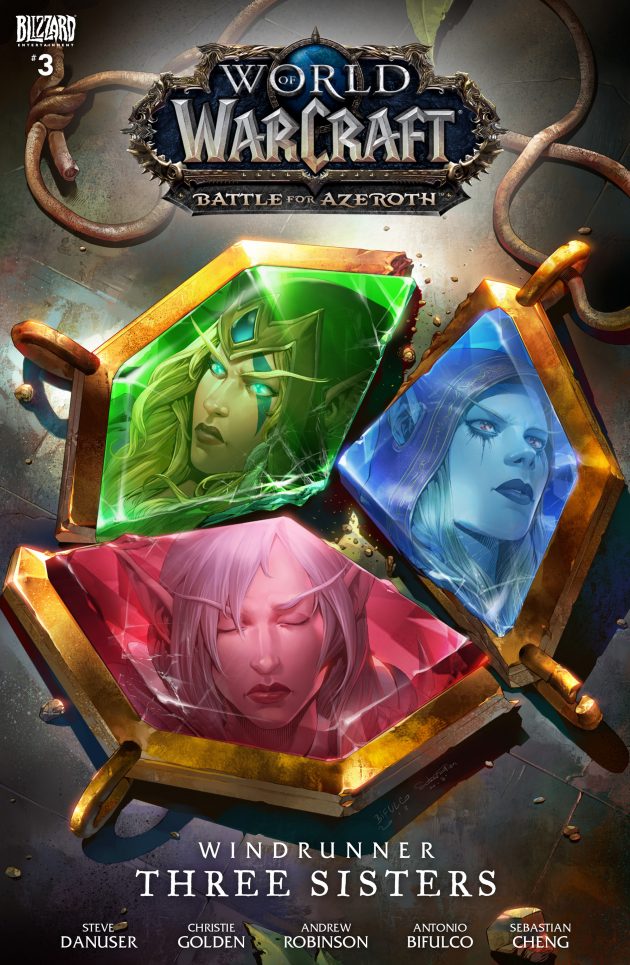 Blizzard Entertainment has published the third Battle for Azeroth digital comic "Three Sisters," featuring the Windrunner sisters: Alleria, Sylvanas and Vereesa. Turalyon and Alleria arrive to Stormwind, and Alleria informs her husband that she must visit her homeland to secure the Windrunner Spire from the undead. She wishes to meet her sisters as well.
In the comics, we get a glimpse at Vereesa's twin sons.
Alleria and Vereesa discuss the scene in the "WAR CRIMES" novel, where Vereesa and Sylvanas unite to assassinate Garrosh Hellscream with poison. At the time, Vereesa sorrowed Rhonin's death.
The artwork in this comics does justice to World of Warcraft. Many props to artist Antonio Bifulco and colorist Sebastian Cheng. I wish future ones are as terrific good as Three Sisters.
Christie Golden and Andrew Robinson added a lot of continuity nods, and deliver the problematic drama about three sisters who each have followed a different path, each have a regret and an anger toward each other. However, they are bound together by love for each other. Bound by past memories. Maybe even bound by hope? Or maybe not.
At the end, we are left with a cliffhanger of sorts, about what the future might hold. That depends on the fate of one of them at the end of the Battle for Azeroth's finale.
Personally, I would like to see more digital comics come out more often. One for the Horde readers, and one for the Alliance readers. Preferrably each chapter in the Battle for Azeroth story (Patch 8.1, 8.2, 8.3).
Download the THREE SISTERS digital comic.
Give @ChristieGolden and @Ardrous1 good vibes and feedback.