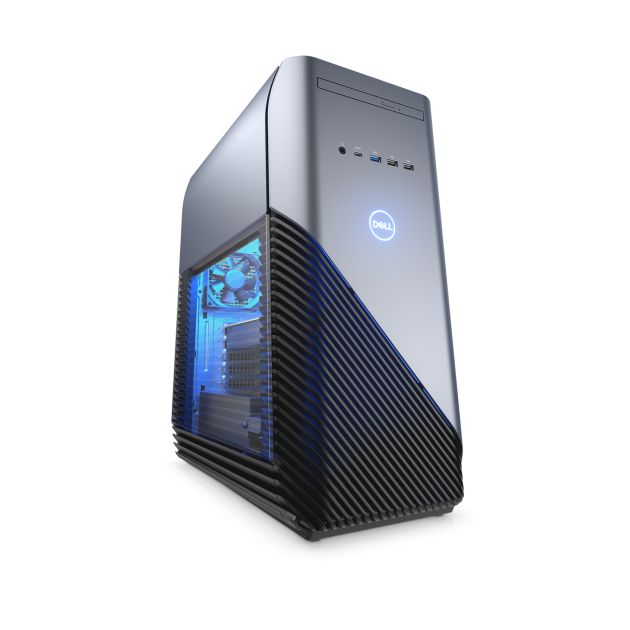 I was invited by Dell-Alienware to watch their press E3 webcast presentation where they unveiled their new product: Dell Inspiron Gaming Desktop 5676.
As you know, Blizzard Entertainment is going to discontinue support for 32-bit clients. Those who haven't upgraded their computer systems for a long time will be affected, and need to find a gaming desktop solution.
Personally, I have built my last three computers by choosing which parts I need, assembled it, and installed the OS. Not everyone knows how. If you don't know how to build a computer from scratch, then you need a pre-built solution.
The Dell Inspiron Gaming Desktop 5676 starts at $849.99 and goes on sale on June 12, 2018.
Dell didn't mention the CPU name, but from the webcast media I can confirm it is a 8 cores/16 threads 2nd Gen AMD Ryzen CPU. Their current flagship only has 4 cores/8 threads.
Here are some of the specs for the 2nd Generation AMD Ryzen™ processors with split-second responsiveness and powerful multitasking capabilities for exceptional gaming experiences.
Select configurations are available with Radeon graphics that are ready for VR with options up to RX580 allow faster, smoother gameplay, and are designed to help you dominate DirectX 12 gaming and virtual reality landscapes. And with dual graphics support, you can double down on power and speed for the ultimate gaming performance, and any other graphic-heavy tasks.

With up to 32GB DDR4 RAM, this gaming desktop is loaded with memory to ensure overall super-powered performance and intensive multitasking.

Dual-drive storage options include a high-capacity hard drive with up to 2TB HDD, and a responsive solid-state drive with up to 256GB for faster boot and load times so you can get into the game quicker.

With its unique, finned chassis and air-cooled technology, the Inspiron Gaming Desktop is purposefully designed for optimal airflow and temperatures for uncompromised, uninterrupted gaming performance. Choose the interior LED lighting option for an even more gripping gaming experience.

Transfer files, and connect and power devices with blazing-fast speed thanks to a USB 3.1 Type-C connector that supports newer, next-gen devices and up to six easily accessible USB 3.0 ports.

Five storage bays offer plenty of room for expansion, including up to three hard-disk drives, up to two solid-state drives and up to two PCIe x16 slots for graphics upgrades.
Their recently released 2018 Newest Flagship was the Dell Inspiron 5675 Premium Gaming VR Ready Desktop Computer, which you can compare:
AMD Ryzen 5 1400 3.2 GHz (4C/8T, 10MB Cache, 3.4 GHz Precision Boost)
8GB DDR4 2400MHz Memory, 128GB Solid State Drive (Boot) + 1TB 7200RPM Hard Drive (Storage)
VR Ready AMD Radeon RX 570 with 4GB GDDR5 Graphics (3x Display Port, 1x HDMI), DVD Burner
Dell MS116 Wired Mouse Black, Dell KB216 Wired Keyboard English Black, Dell Wireless 802.11ac (2×2) + Bluetooth 4.1
Windows 10 | 1-Year UpgradePro Limited Warranty*
Operating System:
• Microsoft® Windows 10 Home 64 Bit
Optical Drive:
• DVD-RW Drive (Reads and writes to DVD/CD)
Wireless:
• 802.11ac (2×2) + Bluetooth 4.1
Ports and slots:
• Universal Audio Jack (UAJ)
• Type-C USB 3.1 Gen 1
• SuperSpeed USB 3.1 Gen 1 Type-A (2)
• USB 2.0 (2)
• Card Reader
• PS2 (2)
• SuperSpeed USB 3.1 Gen 1 Type-A (4)
• RJ45 + USB 2.0 (2)
• Audio Output
Dimensions and weight:
• Height: 18.07″ (458.86mm)
• Depth: 17.23″ (437.53mm)
• Width: 8.5″ (216mm)
• Weight: 30.27lbs (13.742kg)
Additional information:
• Dell MS116 Wired Mouse and keyboard Black
• No speakers (Speakers are required to hear audio from your system)
• Operating System Recovery Media Not Included
• No Monitor Included
To read the full press release open the following accordion.
Alienware and Dell Gaming Celebrate Commitment to Gamers with Introduction of New Hardware, Esport Partnerships and Community Programs
LOS ANGELES, June 6, 2018 /PRNewswire/ -- E3 --  
News summary
Dell PC gaming ecosystem extended with brand-new Alienware Wireless Gaming Headset, next-gen Alienware Elite Gaming Mouse and new Inspiron Gaming Desktop with 2nd Gen

AMD Ryzen™

processors
Alienware Academy online training platform with Tobii and Team Liquid features skill-based video lessons, custom training challenges and performance feedback for players to take their game to the next level
Alienware named exclusive hardware provider of Detroit Renegades esports team, owned by Utah Jazz player,

Jonas Jerebko

Alienware and Dell Gaming invites PC gaming community to earn Arena Rewards Points and Dell Advantage Rewards by signing up for Alienware Arena App
As the gaming industry and community are descending upon Los Angeles, Alienware and Dell Gaming will be showing up at E3 in a big way with exciting gaming hardware and partnership news and immersive experiences. Among its new products to complete the PC, gaming ecosystem is the blissful sounding new Alienware Wireless Gaming Headset, a 2nd generation, fast responsive Alienware Elite Gaming Mouse and the blazing-hot, high performance Windows 10 Inspiron Gaming Desktop with AMD processors and graphics cards.
Dell and Alienware are committed to giving esports players a competitive advantage with the best hardware. The Detroit Renegades, the esports team owned and operated by Utah Jazz player Jonas Jerebko, is the latest team to select Alienware as their exclusive technology partner. Alienware, in partnership with Tobii and Team Liquid, is also helping gamers take their skills to the next level with Alienware Academy, an esport skill-building online platform. Fans of Alienware Arena can now access the community from their phone with a new Alienware Arena app with access to play-to-win opportunities and rewards.
Giving casual and hardcore gamers what they want and expect in PC gaming solutions, Dell continues to be a leader in PC gaming worldwide. "As pioneers in PC gaming, it's our responsibility to continuously innovate to deliver the best gaming solutions possible for our community," said Frank Azor, vice-president and general manager of Alienware, Gaming and XPS for Dell. "This E3 is no exception. This year we are enhancing the ultimate gaming experience with a new online training platform, brand new peripherals and some awesome esports partnerships, helping all players take their game to the next level."
Introducing the new Alienware Wireless Gaming Headset
The range of Alienware gaming accessories extends with the launch of the company's first wireless headset in its line of gaming hardware accessories. The Alienware Wireless Gaming Headset is for diehards demanding game-dominating audiophile detail. Enhance game performance with clear natural and spatial sound, acoustic signature presets and customizable sound profiles, augmented by high-fidelity 40mm Neodymium drivers to deliver deep rich bass and an expansive soundscape. Designed for clear natural voice quality, in solo and multiplayer situations, the headset lets players position the mic nearer their mouth to reduce background noise, with a Game/Chat volume mixer and built-in voice notifications for battery life and wireless connectivity.
Durable yet lightweight, the headset is distinguished by a wide flexible headband engineered for snug fit and extreme comfort, with all controls within the reach of one finger. Rotatable, sports-fabric earcups keep players cool and focused, especially for marathon gaming. Alienware fans will appreciate the iconic design elements, including animated two zone LED lighting and click-and-play customizable AlienFX™ per-game light settings. The headset will be available in the U.S. beginning June 11, starting at $229.
Introducing all new Sound Center utility in the Alienware Command Center
The next generation of Alienware Command Center now includes an intelligent audio utility called Sound Center, designed to help users create and manage preset and user defined audio profiles. Linking directly to connected playback and/or recording devices, the tool allows gamers to dial in and finetune the perfect sound for their environment. Comprised of four core components for managing audio, Sound Center's user-friendly features include Audio Effects, Multi-band EQ, Microphone Control and Audio Recon directional overlay, which indicates the direction of various sounds during gameplay (such as nearby combat and footsteps). The Sound Center is available now worldwide and is enabled on newly launched 2018 models of Alienware Area 51, as well as Alienware 15 and 17 laptops.
Alienware launches new Elite Gaming Mouse
Alienware knows even something as small as a mouse can have a huge impact on gameplay. Its new iconic Alienware design with premium materials puts more control in gamers' hands to play longer with advanced ergonomic engineering with two redesigned interchangeable side wings (with two or four buttons for FPS/MMORPG) and three-position palm rest for virtually any grip. With four configurable 5-gram weight adjustments, gamers have ultimate control over cursor precision and movement speed, enhanced by five configurable levels for on-the-fly DPI switching based on the need for speed or precision. Better efficiency also comes from nine to 11 programmable buttons with 512k onboard memory for in-game customization. Further personalize the immersive experience with AlienFX™ lighting, which supports more than 130 games with unique themes and a dynamic look to reflect the gamers' style. The Elite Gaming Mouse will be available on dell.com in the U.S. July 31, starting at $89.99.
Inspiron Gaming Desktop with 2nd Gen AMD Ryzen™ processor
With an emphasis on strong performance and future-proof expandability at an accessible price, the new Inspiron Gaming Desktop (5676) handles the latest gaming titles with ease. Plenty of muscle and split-second responsiveness derive from the latest 2nd Gen AMD Ryzen™ desktop processors (up to 8-core, 16-thread), some of the highest multiprocessing, multitasking performance gamers can get on a mainstream desktop PC, with intelligent thermal design for optimal airflow to cool the system, whether for PC gaming, virtual reality or content creation. Other features include a USB Type-C 3.1 port, up to six USB 3.0 ports, optional dual-drive, high-capacity hard drive, responsive SSD option and up to five bays for future storage upgrades. Polar Blue LED lighting and a striking chassis design infuses the Inspiron Gaming Desktop with visual excitement. The Inspiron Gaming Desktop will be available initially in U.S., Canada, Australia, New Zealand, China and South Korea in June, concurrent with E3, with a starting-at-price-point of US $849.
New Alienware Academy online training portal delivers lessons and feedback to gamers
Dell's recent State of Gaming Report revealed that gamers globally most value being part of the gaming community for the "tips and tricks" (43%) they can access. This year the all new Alienware Academy, in partnership with Tobii and Team Liquid, delivers a unique online training platform to help amateur athletes develop the skills and strategies to game like an esports pro, complete with distinct lessons and a feedback loop on progress gained. The Alienware Academy platform will launch as a closed beta this month with video lessons centered on CS:GO and expanding course curriculum into other popular competitive games in the coming future. Guided by Team Liquid with tools enabled by Tobii eye-tracking such as gaze overlay, heatmaps, statistics and pro player comparison will help players train and gain insights from their game play. Players will have to pass objectives designed to test their understanding after each lesson to unlock subsequent lessons.
Aspiring athletes can practice and improve their skills, strive toward defined goals, gain post-lesson insights and measure their performance against the community, ultimately helping every participant advance to the next level and reach their full potential.
The Detroit Renegades partner with Alienware for competitive edge
Continuing its legacy of providing professional players with the most competitive edge from a hardware perspective, Alienware announces a new partnership with the Detroit Renegades. Owned by Utah Jazz basketball star Jonas Jerebko, the Detroit Renegades sought out Alienware to enable their players to train and compete on the latest Alienware hardware including desktops, laptops and monitors to ensure a world-class experience.
Alienware Arena official app
For eight years Alienware has offered a generous Arena Rewards program, and at E3, these benefits will expand with the launch of the Alienware Arena App. Allowing gamers to stay connected to the Alienware gaming community and rewards, the official Android app was built from the ground up for gamers to create and access their accounts on the go and interact with features of the site such as Arena Awards. While most reward programs require a purchase in order to earn points, here they can be earned through games and community engagement. Daily and weekly quests, access to game code giveaways, gaming news and much more give users the chance to win Arena Rewards Points and Dell Advantage Rewards. Arena Rewards Points help level up (noob, casual, enthusiast, veteran, hard core, elite) and win gear, prizes or Dell Advantage Rewards, which offer discounts on products. To be eligible, sign up for both Arena and Dell Advantage. The app will be available on Google Play beginning June 12.
Dell State of Gaming Report debunks gaming stereotypes
Who's that player you're competing with across the digital transom? It's not necessarily the stereotypical teen loner playing in his parents' basement. The gaming industry has changed at such an exponential rate in recent years, that the face of gaming has transformed before our eyes, both literally and figuratively. An extensive survey of 5,763 video game players in 11 countries, commissioned by Dell, revealed that today's gamers are quite diverse; from a coworker with two kids, to the woman next to you at the gym, or, most commonly, a spouse, sibling or friend.
Through online platforms and social media, and fueled by the popularity of esports, the gaming community is ever-expanding while also growing in diversity and inclusiveness.
Gone are the days that being called a "gamer" is derogatory. According to those surveyed, fewer than one in 10 feel either "judged," "childish" or "embarrassed" being called a "gamer" (8-9% each). Instead, they consider "gamer" a positive label and feel "fun" (35%), "cool" (29%), or "excited" (26%) as a result. While some gamers are willing to self-sacrifice to continue gaming, the majority are well-rounded with interests in music, sports, traveling and socializing. The gaming community has also become less of a "boy's club," with only 14% of gamers globally concerned about the gender of their rivals. In general, gamers are welcoming to whomever is behind the computer. When it comes to being matched with rival gamers, culture/ethnicity (8%), political views (7%), and sexual orientation (6%) are for the most part inconsequential to a player. What matters most is the other gamer's skill level (40%).
Join Alienware and Dell Gaming at E3
Drop by the Dell/Alienware booth (#647 in the South Exhibit Hall) for great demos including Echo Combat, the highly anticipated multiplayer VR game from Ready At Dawn, creators of Echo Arena and Lone Echo. Be sure to stick around after to test your mind with the Intel Memory Game and other interactive experiences. Sign up for the Alienware Academy and register for Alienware Arena Rewards. Try the new Alienware  Gaming Headset with demos in partnership with Final Fantasy to showcase bass responsiveness and in-game audible experiences of the headset. As always, the Alienware.TV studio team will be providing a "live" platform for competitive gameplay, industry interviews and product showcases. Alongside this will be a stage with daily programming including daily Alienware TV broadcasting and a community hub complemented by the Alienware Arena, which reaches more than six million members through multiple social platforms.