The World of Warcraft: Ultimate Visual Guide
by DK Publishing is now shipping to those who pre-ordered, and ready to be picked by those who didn't. Learn more about this book from the Blizzard Creative Team — Blizzplanet recorded video of the SDCC 2013 Blizzard Publishing Panel (discussed in Part 3).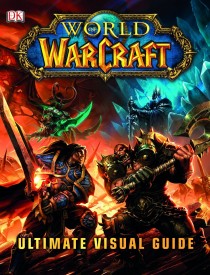 World of Warcraft: Ultimate Visual Guide
For decades, the war between the Horde and the Alliance has raged on in the fantasy world of Azeroth. Millions of players have chosen a faction and fought alongside one another in Blizzard Entertainment's critically acclaimed massively multiplayer online role-playing game, World of Warcraft® — and since its release in 2004, the game has grown to become the most popular subscription-based MMORPG on the planet.
Created in close collaboration with Blizzard, World of Warcraft®: The Ultimate Visual Guide explores the major characters, key locations, and epic history of this battle-scarred realm, and will capture any adventurer's imagination with its breadth of detail. Players will find a treasure trove of game knowledge, as the book delves deep into the series' lore and even goes be yond the game, giving readers a peek at the behind-the-scenes development of Blizzard's vivid fantasy world. This detailed guide is the perfect companion for any adventurer, Alliance or Horde.
Hardcover: 200 pages
Publisher: DK ADULT (September 30, 2013)
Language: English
ISBN-10: 1465414444
ISBN-13: 978-1465414441