The most dramatic part of the recent conference call is that Activision Blizzard plans to layoff 8% of its employees, which confirms the recent Kotaku leak.
However, that percent can be misleading in terms of the amount of employees to be laid off per studio. Activision Blizzard is composed of Activision (with a big umbrella of IPs and studios), King (Candy Crush), and Blizzard Entertainment.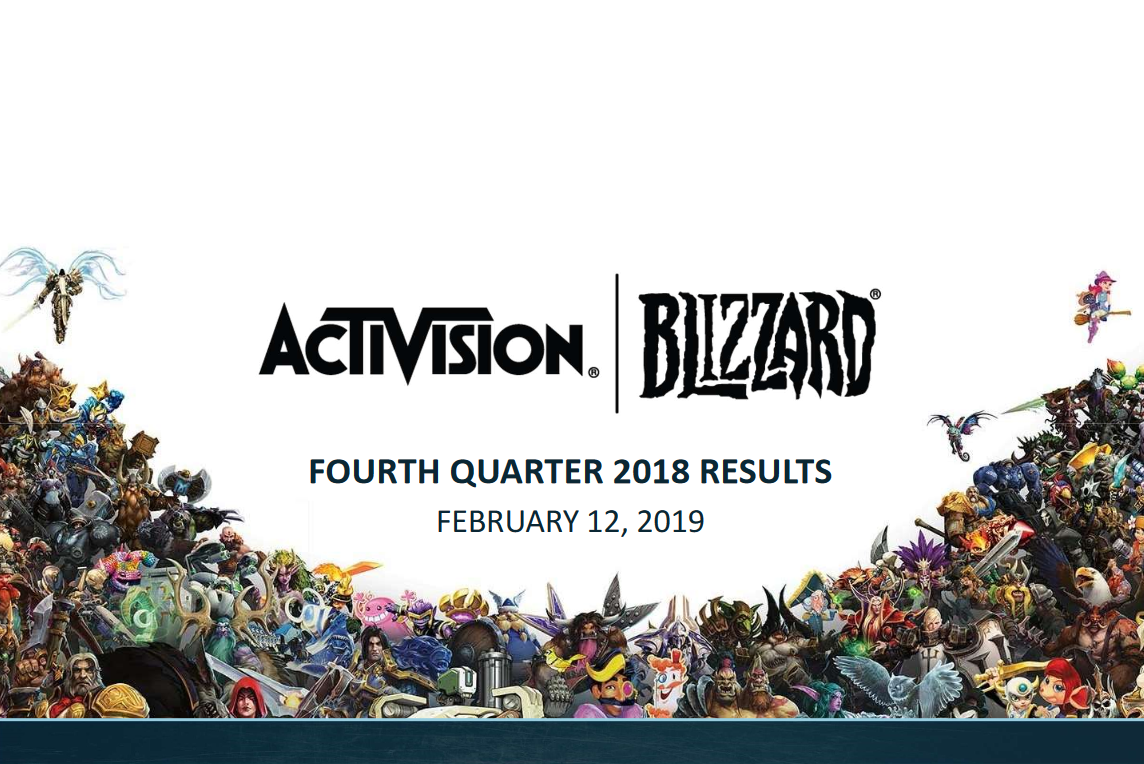 Kotaku estimates Activision Blizzard had 9600 employees across those 3 branches. An 8% of 9600 is 768.
Difficult at this juncture to pinpoint how Blizzard Entertainment might be affected by the layoff wave, but Blizzard Entertainment is not the entire 8% (that percent includes Activision and King too).
Today, J. Allen Brack also sent a message to the community that indicates layoffs will affect non-developer jobs. That could mean anything, like: customer service, public relations, social media, eSports, global insights, information technology, product/licensing, marketing/sales, publishing, and other departments.
The conference recording can be listened at here.
###Update: I'm unsure how some of these are non-developer jobs, but a QA Manager, community managers, artist, and a Writer were among the layoffs.###
To Blizzard employees: It breaks my heart to hear you were layoff. Some of you follow @Blizzplanetcom or visit the site. Others I have met in person at PAX East or NY Comic Con. At the bottom of this page, I added a list of video game company careers links. Hope that helps in your search.
This transcript has been heavily edited to exclude non-Blizzard Entertainment topics and some of the financial yadda-yadda.
Bob Kotick: We once again achieved record results in 2018. We delivered record GAAP revenue and GAAP and non-GAAP EPS for both fourth quarter and the year. For 2018, we generated record GAAP revenues across all three platforms and both Activision and King achieved record segment financial results. While we had record performance in 2018, it didn't quite live up to our expectations. We didn't execute as well as we hoped to in 2018 and our current outlook for 2019 falls below what is possible in an industry filled with growth opportunities.
We measure our success by growth in reach, engagement and player investment and while we had record financial results in 2018, we didn't achieve the reach engagement and player investment goals we set for ourselves.
2019 will require significant change to enable us to achieve our long-term goals and objectives. We're making changes to enable our development teams to create better content for our biggest franchises more quickly.
Across our key franchises, we're adding development talent to ensure our teams can deliver exactly what our fans have come to expect from our games, a consistent flow of compelling content.
We'll also increase our focus on adjacent opportunities with demonstrated potential like esports for Overwatch League and Call of Duty.
We're stepping up production on our incubation efforts faster and increasing our investment in live services, in our tools, in our Battle.net platform and in new areas like our fast-growing esports and advertising efforts, but all with an intense focus on excellence, so we never disappoint our players.
Our pipeline is excellent and our development talent the very best in the world. But we need to refocus our efforts so that our development and production resources are better aligned with our priorities. We're reducing or eliminating investment in games and initiatives that weren't living up to player expectations, where our leadership teams have determined may not live up to player expectations in the future. To drive improved execution and to fund development investment, we will in certain parts of the business reduce complexity and duplication in our back office functions, consolidate certain commercial operations, and revamp our consumer marketing capabilities to reflect our continued migration to a largely digital network.
While this isn't a shift in our strategy, achieving better execution requires change, change that requires new leadership and organizational commitment to change. We operate in an industry with proven growth and real potential and we haven't grown at the rates that reflect the opportunities our industry affords. We have new business unit leadership committed to serving our players, our employees and our shareholders. And I'm also very pleased to have Dennis Durkin back as CFO and overseeing our emerging businesses. His steady responsible stewardship of our capital and his strong relationships with his colleagues served us well during his five-year prior tenure as CFO.
As always, I want to thank our customers, our players and our partners, but especially today our employees and our shareholders for their commitment and their support.

Coddy Johnson: Activision delivered meaningful year-over-year growth for segment revenue and for operating income. And with the changes we are implementing in 2019, we expect to drive even stronger performance in the years to come.
Blizzard was a more nuanced story in Q4. On the one hand, we grew Q4 segment revenues to $686 million and operating income to $241 million. Blizzard had 35 million monthly active users in the quarter, as Overwatch and Hearthstone saw sequential stability; and World of Warcraft saw expected declines post the expansion release this summer.
On the other hand, the relatively consistent monthly active user trends for Blizzard's communities were not matched by in-game net bookings, which continue to soften. In particular, Overwatch and Hearthstone, both experienced sequential declines in net bookings from players making in-game purchases.
Lastly, Blizzard results benefited from the continued success of our business in China, and the extension of our partnership with NetEase. Building on our 11-year joint venture, the expanded agreement runs until January 2023, and reflects the substantial value and opportunity for Blizzard's content in China.
While the majority of the economics from our renewed arrangement will be recognized over the next four years, Q4 did benefit from the agreement, which was contemplated in our outlook.
Now I'll go into more detail in a minute, but increasing the flow and the frequency of compelling in-game content and upfront releases to serve the needs of our players is the number one goal set by the new Blizzard leadership team going forward.
Now taking a step back and looking at our full year results for 2018. We delivered record GAAP revenue, GAAP and non-GAAP EPS and net bookings.
We continue to make encouraging progress in mobile, advertising and eSports. However, in-game execution was inadequate for some of our franchises and we saw weaker than anticipated retail demand.
As you will hear from Dennis, our 2019 outlook assumes that we will not improve in-game monetization as quickly as we would like, and that it is a transition year where we have less new major content to release than we should.
So we have worked with our new business unit leaders to undertake a comprehensive examination of our business to determine the changes we need to make to improve execution and capitalize on the substantial long-term growth opportunities for our company.
We've determined that we need to refocus our best resources on our biggest opportunities and to remove an unnecessary level of complexity and duplication that is built up in certain parts of the business.
We have, therefore, developed a clear plan for this year to refocus and reinforce the foundation for growth. This refocus includes initiatives developed by our new business unit leaders each of whom has demonstrated the ability to combine creative excellence with the commercial focus on profitable growth.
First, we are investing more in development for our biggest internally owned franchises across upfront releases, in-game content, mobile and geographic expansion.
Second, we are deprioritizing initiatives that are not meeting our expectations and reducing certain non-development and administrative-related costs across our business.
Third, we are integrating our global and regional sales and go-to-market partnerships and sponsorships capabilities across the business, enabling us to better leverage talent, expertise and scale on behalf of our business units.
Our restructuring plan sheds investment and less productive non-strategic areas of our business and will result in a net headcount reduction of approximately 8% while also driving a significant increase in investment, focus and capabilities around our biggest franchises. We're confident that over time this plan will enable our teams to accelerate the delivery of high-quality content to our communities.
Specifically as we reallocate resources and hire new talent, we are planning for the number of developers working on Call of Duty, Candy, Overwatch, Warcraft, Hearthstone, and Diablo to increase in aggregate by approximately 20% over the course of the coming year.
The Overwatch team is also growing, as it focuses on delivering a significant content pipeline in the coming years and the Overwatch League remains a key strategic focus where we will grow the number of resources involved to drive an expanded product and year-on-year revenue growth.
World of Warcraft is an example of a franchise, where Blizzard has already established a regular cadence of major content and in-game operations. Additionally, Blizzard is investing in other Warcraft games working on more ways for the community to engage, with this enduring and beloved franchise.
For Hearthstone, additional development resources will help to release content that is both broader and deeper, and to optimize the game to deliver an even better mobile experience for its global audience; and Diablo's development headcount will grow substantially, as the teams work on several projects underway for the franchise as well as the global launch of Diablo Immortal.
Overall, Blizzard's management is reinforcing its pipeline with more resources than ever before to support planned mobile titles, several PC and console releases and WoW's continued cadence of content.
Finally, as a company, we will continue to invest in breakthrough new ideas and incubation, with focused resources and some of our best creative talent. With 2019 set to be a quieter year for upfront launches now is the right time to implement this plan. Work is already underway across the company as we speak.
We expect to have completed North American components of our plan by the end of Q1, with implementation of the international components by end of year. And we have already started to increase developer resources on our biggest franchises, and we'll be aggressively hiring talent in the coming quarters.
As we look forward to the coming years, we plan for all of our major franchises to be operating at scale and capitalizing on opportunities that include, robust ongoing live operations and regular content launches both large and small, strong mobile experiences available for all of the communities to enjoy, new engagement and monetization models including where appropriate esports and advertising. And underpinning all our franchises will be our deep relationships with growing and vibrant communities which are increasingly direct and digital. In short, we are refocusing the entire company to return to the franchise focus that has fueled our long-term success and to better leverage the scale of our business for future growth.
Dennis Durkin: We expect materially lower financial performance this year. 2018 benefited from the release of World of Warcraft: Battle for Azeroth, whereas we are not planning a major frontline release for Blizzard in 2019; and Blizzard exited 2018 with softness for its in-game revenues that will take time to stabilize and return to growth.
While these factors will weigh on Blizzard's financials this year, looking further ahead, Blizzard's pipeline of PC, console and mobile content is richer than ever; and we expect a significant addition of development resources to accelerate the pace of delivery over time.
Bringing all this together to the total company level, our outlook incorporates net bookings declining 13% year-over-year. The Blizzard segment represents the majorityof the year-over-year change given its 2019 release slate and in-game performance.
Brian Nowak: What is the new management team doing just to make sure that Blizzard is back on track to executing as one of the top studios as it should be.
J. Allen Brack: I think one of the things that I feel like it's important for us to talk about is we're bit of a new leadership team; and as we've come together, it's clear that we believe a lot in our future and that we have a lot to prove from both the game and kind of a content delivery standpoint. I think we have a huge amount of opportunity.
We have fantastic IPs. We have lots of games that we want to create and we have a very passionate community that is hungry for all of the things that we can produce. So we have two big goals going forward. The first one is, of course, make excellent videogames.
The second is, to find ways to deliver more content to our player communities. To meet these goals, we need to work to increase the amount of content that we're delivering.
Right now we have the largest lineup of PC, console and mobile games that we've ever had, and we're working to meaningfully increase the development capacity and the development headcount.
That investment in development talent has really required us to make some difficult trade-offs. We're going to -- as Coddy mentioned, reduce our non-development positions in our offices around the world, specifically looking at our SG&A and non-core business units.
This was a very, very difficult decision, I'd say it's a top five career difficult moment for me personally, but we're committed to doing everything that we can to help get us into a good position going forward.
We really want to serve our players and we want to serve our communities in the best possible way and be a great creative organization. As difficult as kind of all this is, I think we're happy about the things that we're working on.
We're working very hard to live up to our mission and we really look forward to the community. And you're all seeing the results of this increased development work over time.
Bob Kotick: It's really terrific for the company to have J's leadership. He's humble about his experiences. When you think about World of Warcraft and Hearthstone and the Warcraft franchise, it's been one of the most successfully led franchises in all of video games and we couldn't be happier to have J in the role that he's in.
Alexia Quadrani: My question is given one of your competitors' decision to launch a free-to-play Battle Royale game, are you rethinking the monetization model for any of your game maybe including Overwatch?
Cody Johnson: I guess, maybe a couple of key points. First, stepping back, one of the things that sometimes gets lost in the discussion on economic models is the player and game experience itself.
Our North Star is to deliver a compelling and engaging gameplay full stop. Without that there are no economics. The second point is that the economic model has to work with the franchise and the community and the gameplay.
They need to work to reinforce each other and we feel like we're in a pretty unique position, honestly across the industry and that we have multiple business models running at scale across our franchises today.
We have free-to-play games, micro transaction-based games, games with an upfront charge or with a subscription. We also now have advertising, which is growing as well; and we think that provides a range of options for our product and development teams to look across and pair the best economic model with the best gameplay experience.
One thing we know though is that we need to be able to move more quickly and we need to be able to rapidly evolve with the demands of our players in the market; and that's why as I mentioned, we are investing significant development resources in our core franchises to be able to move more quickly on behalf of our players and to be able to take advantage of new business models.
On the free-to-play part of your question in particular, obviously the most proven platform is mobile. So as we increasingly bring Activision and Blizzard IP to the mobile space, you will see us deploy more free-to-play models.
Embedded in your question that was also the fact that we see competitors now on PC and console going free-to-play and I just emphasized again that we believe our investment and resources coupled with our strong IP leaves us in a really good position to take advantage of evolving business models in our industry.
The last thing, I'd say and it's just worth mentioning is that the success we see with titles like Call of Duty or even recent competitive launches shows that a really well-built well-polished AAA experience for players can come still with an upfront charge and it can be a great player experience and a great business model.
So looking ahead, we'll continue to evaluate all our games across our franchises and use the models that we think best both for the player experience and for our business.
Tim O'shea: So with Overwatch League season two launching soon, I just thought it made sense for an update on that franchise. It's been over two years since the game launched and we've talked on prior calls and again on this call about the lower revenue levels. So I'm wondering, what the strategy to address this issue? And does Blizzard have the development capacity to deliver sufficient levels of new content into this franchise?
J. Allen Brack: I think it's important to mention the job the team has done with Overwatch. We feel really strong about the overall IP, the universe, the characters and the story potential, along with the global appeal for the game and we really built Overwatch League around that with early good results.
Delivery of more content in Overwatch is something that's really important and something that we're focused on. The team is delivering new heroes and new maps and new experiences; and as you mentioned, the game revenue has declined recently. I think the community engagement with the game remains strong.
There are a lot of new ideas for the Overwatch franchise. We feel like, the Overwatch that you know is just a small part of what we can imagine for the overall franchise and the team has a very clear plan. In order to deliver on that, we're going to increase the size of the Overwatch team meaningfully.
But keep in mind that that's going to – we need to balance the existing live content with new products and different kind of support for Overwatch League. I'm really confident that the community will be very excited when we kind of release the things that we're working on.
Regarding Overwatch League specifically, we saw a great community response and lots of early success. That took a lot out of focus. But overall, we think it's the right decision. It's been the right decision for the game and the franchise.
We're about to kick off the second season and that's going to start on February 14. That will introduce eight new city teams. It will introduce home and away matches for some teams for the very first time. And the first match that's actually going to kick off is going to be a repeat of the grand finals between London and Philadelphia. So overwatchleague.com is where you can see that.
Matthew Thornton: Maybe if you could just update us on just timing around some of the mobile initiatives at both Blizzard and Activision, including China as well as rest of world. Any update or color there will be helpful.
Cody Johnson: As you heard in our prepared remarks, mobile is a top priority for us and we think it's one of our largest opportunities particularly with our global IP, which we think is really well-positioned to bring to the mobile platform. We see this every day with King where you have a franchise at scale globally, but we also see it with other great franchise like Hearthstone where bringing that game to mobile brought in tens of millions of new players that are engaging in an ongoing and deep way with us.
The thing to note is mobile game team is a lot smaller than PC or console. They still require time to prototype and to test and particularly for us and our franchises where we have high community expectations when we bring them to market we want to do it right.
That said, part of the announcements today and the work that we're doing and that we highlighted is to make sure that we're adding the right resources and enough resources to accelerate our mobile pipeline.
Given the size of our opportunities it's not just internal. We are working with external partners. We have multiple projects underway across the portfolio in various stages of development; and as you know, we've announced Call of Duty mobile and also Diablo Immortal.
And you asked about both in status. They're both hard at work. We have no additional announcements to make at this time, but in both cases, we're looking to make sure that the IP is really well represented. For Diablo, it's an authentic and immersive deep experience that we think getting it there has large global potential; and so, it matters to get it right; and we'll share more about our titles and release dates as that comes to fruition.
This is a short list of confirmed employees who have been laid off. For years, I have followed 512 Blizzard Entertainment employees on Twitter. My Blizzard developers Twitter feed has revealed some of those affected by the layoffs. The next tab provides links they shared of companies currently looking to fill job positions.
This list compiles career page links from video games companies currently searching to fill job positions. These links were gathered from Blizzard developers and non-developer employees who are still employed -- who shared the links to support their departing friends. I gathered this list from my Blizzard employees Twitter feed list.