Panel Q&A
Day9: I love the way that you guys are sporting these esports, right now. I don't know if you guys have seen the stages, they are insane. The rafters are built into the Overwatch logo. You didn't need to do that. It is awesome, and so since we only have a few minutes left, I understand that– is that a line forming? I think there are questions from somewhere, but honestly it is very bright on the stage. What I am hoping is that I will just hear someone's voice come in soon.
Hello, my name is Stephanie, I would like to thank you guys for all these games, first especially for me it's amazing. This is my first BlizzCon and I have been a fan of you guys since I was five years old. I am 27, so I would like to ask you guys especially for Allen, and for all of you. How does it feel to first create Warcraft (back ten years ago) and have that baby, and then now come back ten years later, and see it grow up? So you feel accomplished? Do you feel proud? how do you feel?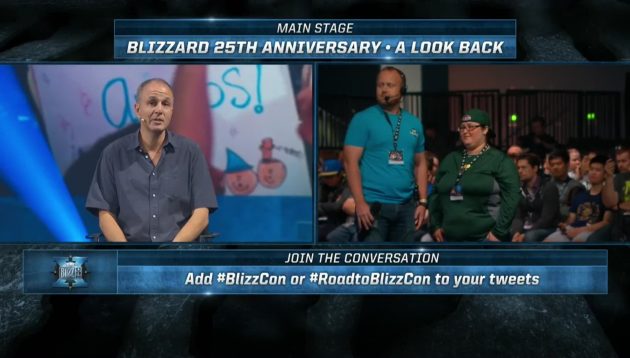 Allen: So I have been asked generally how it feels coming back now and the way I would describe it is overwhelmingly awesome. So when I left, we had World of Warcraft, and StarCraft II, and now coming back we have six mainline teams, and the company is quite large; and it is a lot to wrap your head around.
Of course, during the intervening ten years I have continued to play all of the Blizzard games, and been a huge fan, and remain a great friend with all the senior guys at Blizzard. So I have been away from the public eye, but still very engaged with Blizzard's products; and I'll tell a story real quick, I bet the World of Warcraft team just by way of giving an example of how much I'd continue to play, I stood in front of them, and I bet the entire team that I had more achievement points than anybody on the team, which is one of those things like as the words were coming out of my mouth I realized it was just too late to stop it. It was going to be horribly stupid, but I said it anyway; and I'd bet the room that I'd buy everybody in the room a drink if any single person in the room had more points than me.
Tell you what, I am not going to make that bet, but I am curious. So I told the room. Anybody who has more, and the number of points I have is 20.400. I said, stand up and only one guy on the team stood up and said. That guy won the entire team drinks, I am curious here. Anybody have over 20,400 Achievement Points, and well stand up. Outstanding, and so I have kind of behind-the-scenes continued to stay engaged. I am super excited to be back, and in some ways never really left.
My name is Jeremy and more than ten years ago I met my wife in Feralas, and we celebrated our second anniversary by coming to BlizzCon in 2008, and we had a kid a year later. We named her Jaina, and she is seven now; and we are here on the tenth BlizzCon celebrating our 10th Anniversary, and the 25th year of your company, and I wanted to thank you all, and do you guys have any statistics on how often this kind of thing happens?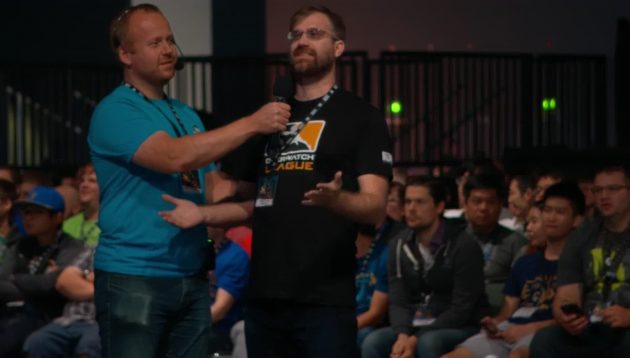 Mike: I have met people that have met in the games, I have met people that have met at BlizzCon, there is actually a couple that met while talking to me at the BlizzCon charity dinner, and they come back every year, and sort of like their anniversary as well. It is just amazing, we have had proposals at BlizzCon. It is pretty crazy. I don't have any statistics on it, though.
Bob: Have we had an actual wedding here before? Somebody should do a wedding next time.
My name is Jack, this is my fourth BlizzCon in a row and I just wanted to say thank you for the 25 years of games, and supporting our addictions. Any chance you guys could make a remastered version of Warcraft I and II?
Frank: We are all fortunate enough to have all of the original source code and assets to everything that we have done in the past, but it is actually, it turns out it is really hard to access that stuff, unlock it, and figure out how it works. Because we are old, we have forgotten; but we had some dedicated folks that were passionate about the idea dig up Warcraft: Orcs and Humans assets and code, and they got it working, and they got it running in a window. And I played it, and Warcraft: Orcs and Humans was awesome for its time and I promise you, in today's world by today's standards, It is just not that fun anymore; and so like we have limited resources with everything that we choose to do, we would much rather work on amazing content for World of Warcraft for you guys, or for Overwatch, or evaluating what future product pipeline might be, and devote our time to that, rather than going back in and digging up those fossils at this time, but I totally appreciate your enthusiasm for those old games. We love them too.
Thank you for your 25 years of amazing epic content, and your games have literally saved my life. So thank you for that. Now my question is kind of for each of you individually. You have revolutionize game genres like RTS, FPS, all that. What is it that each of you would love to work on that you haven't gotten a chance to do yet?
Day9: Since we are a little low on time, I will direct this to one person, or if any of you want to take this question in that case. And I choose Bob.
Bob: I have worked on every game that I would want to work on for Blizzard. Hearthstone is my favorite by far, by far, by far, and I got to be the technical director for that, so I am already happy.
Allen: I guess I haven't directly worked on anything for a while. I am super excited about mobile these days. Something in Mobile.
Hi, I know you guys used to like Judas Priest back in the day. What other kind of music motivated you guys?
Frank: I have always been a huge fan of the Police and Sting… like I can't even tell you how many times I have seen Sting in concert. I think there is something like music art artistic expression. There is something very unique in the opportunity to elicit an emotional response from the viewer, the listener, or whatever; and so personally like the music I hear from Sting elicits emotional response for me, and I think when we have really powerful moments in our games that it was an emotional response from you guys, I think that's really special. I think art is this Journey, it is a great example of where we were able to find something that people will very emotionally invest in.
Mike: Probably my two favorite bands are Rush and The Beatles.
Day9: So we unfortunately don't have any more time for any additional questions, but we are going to do a quick close out, and Allen I want to direct this to you. You have had the opportunity to step away, and to see Blizzard from the outside, and then to come back; and I am curious what you have seen, and what you are really excited for for Blizzard in the future.
Allen:There are so many amazing things happening at the company. I have been warned that I have a big mouth and should not talk too much about what those things are. I can't wait to show you some of them at next BlizzCon I hope, but there are a ton of really great things happening at the company; and we have insanely ambitious plans going forward. You have seen some of it here at BlizzCon, and it is pretty spectacular. There is a lot more cool stuff we are working on that we can't wait to share with you in the not too distant future.
Day9: Allen, thank you so much, and I of course want to say thank you all so much for coming out today and for these five gentlemen who have been with Blizzard since the beginning. Thank you so much for 25 years of Blizzard. I have spent my entire life playing Blizzard games, I have met my dear friends through Blizzard games, I have a career thanks to Blizzard games, and really the best part about it is getting the opportunity to meet such amazing people. So I hope you have a wonderful rest of your BlizzCon, and that you go make a friend. Cheers!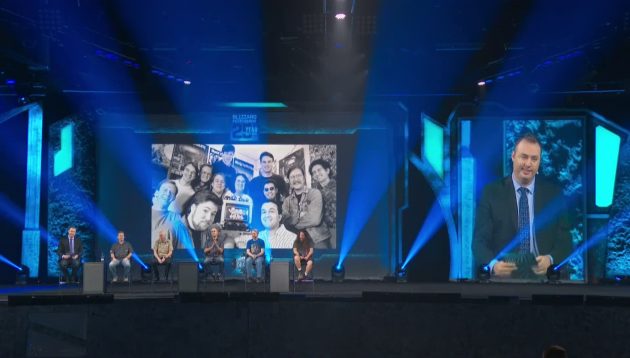 Transcriber: Iluv2proofread
Editor: Medievaldragon