King Rastakhan: Zul knows dat we cannot let da first king rise from his grave. Dazar would be more than a figure head for Zul's dream troll empire, he would be a force dat could rival da very loa. But I cannot just let Zul get away. I and mine will follow Zul, but I want you and yours to enter Atal'Dazar. Yazma be tryin' to buy time and keep da tombs sealed away. Ya gonna need to fight ya way through to her and ya gonna need some allies to do so. Slay her.
QUEST OBJECTIVES
Defeat Yazma in Atal'Dazar.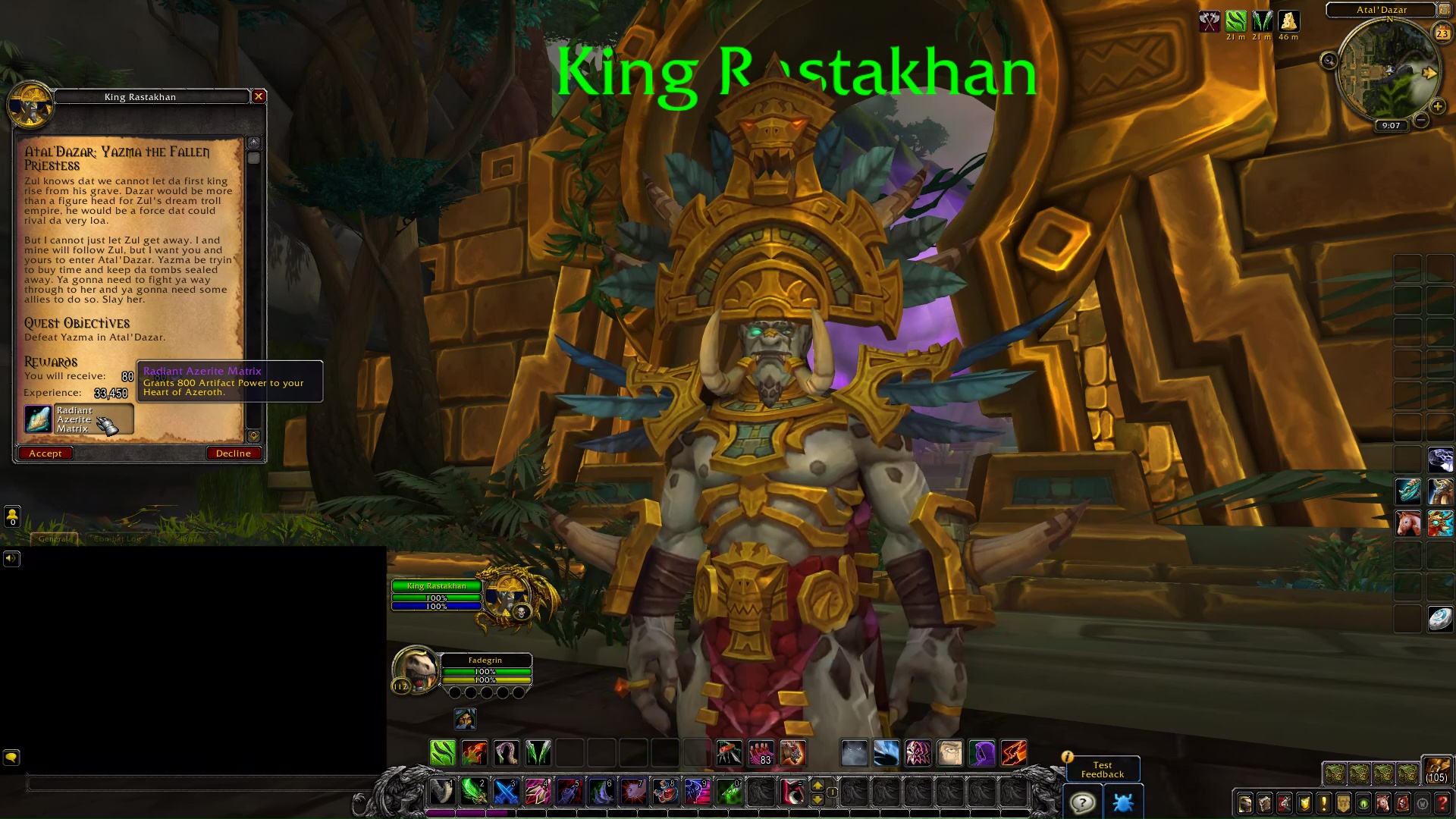 PROGRESS
TIP: Queue to Atal'dazar, in the Looking-for-Group Dungeon. Yazma is the last boss.
Yazma: You be too late, outsiders! De temple belongs to my master now. Soon Zul will awaken Dazar, then de troll empire will be rising again!
Dazar'ai Juggernaut: Protect de priestess! Let no one make it through!
Priestess Alun'za: Servants of Yazma are not welcome here!
(Priestess Alun'za gilds her hands with gold.)
Priestess Alun'za: Atal'Dazar's power flows through me!
Priestess Alun'za: Corruption be purified!
Priestess Alun'za: My claws will find your heart.
Priestess Alun'za: The Pools… must be… cleansed.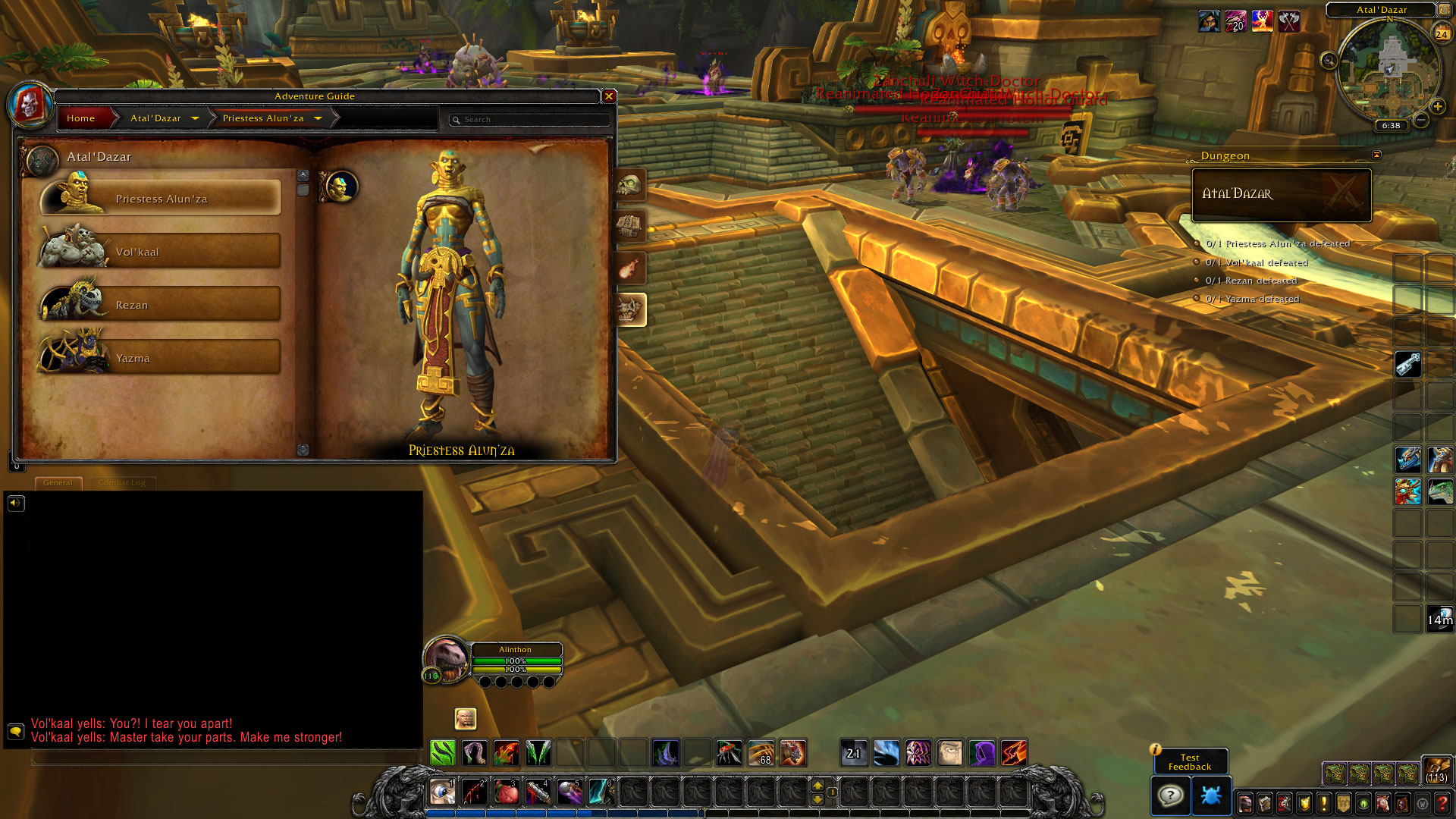 Yazma: My thanks for killing de priestess. You've only succeeded in strengthening my hold on de temple.
Yazma: Rezan was a powerful loa. Perhaps you be a worthy sacrifice for Zul.
Vol'kaal: You?! I tear you apart!
Vol'kaal: You die with me!
Vol'kaal: Master gonna build me again…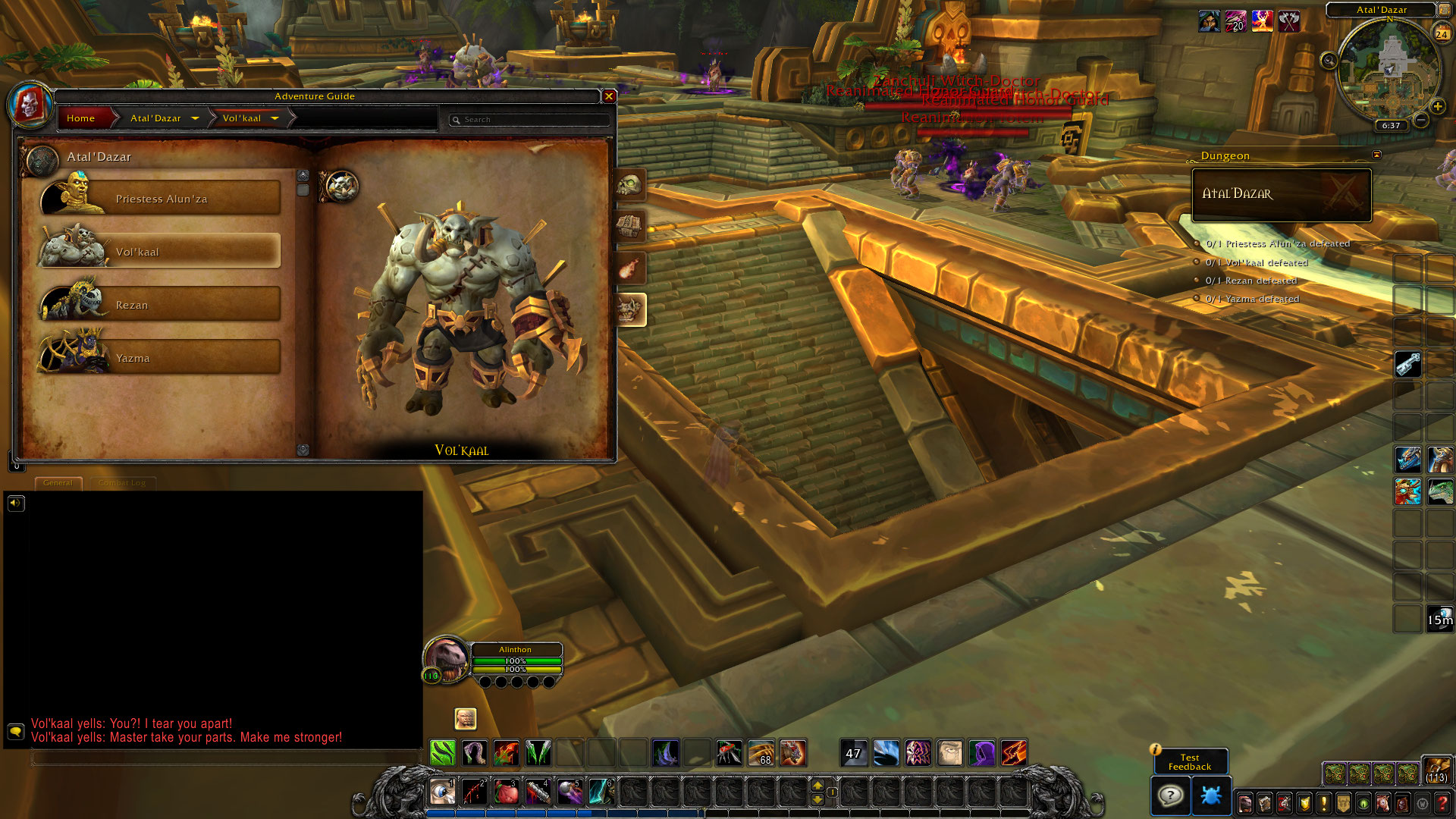 Yazma: Vo'kaal be in pieces again? No matter… I can rebuild him. But when you die, there be no coming back!
Yazma: You made it farther than I thought… but I'll still be drinking your blood.
Yazma: Dazar be awakening soon, but you won't live to see it!
Yazma: You make a fine sacrifice!
Yazma: Your soul be shattered!
Yazma: I be tearing your soul apart!
Yazma: Your blood be mine.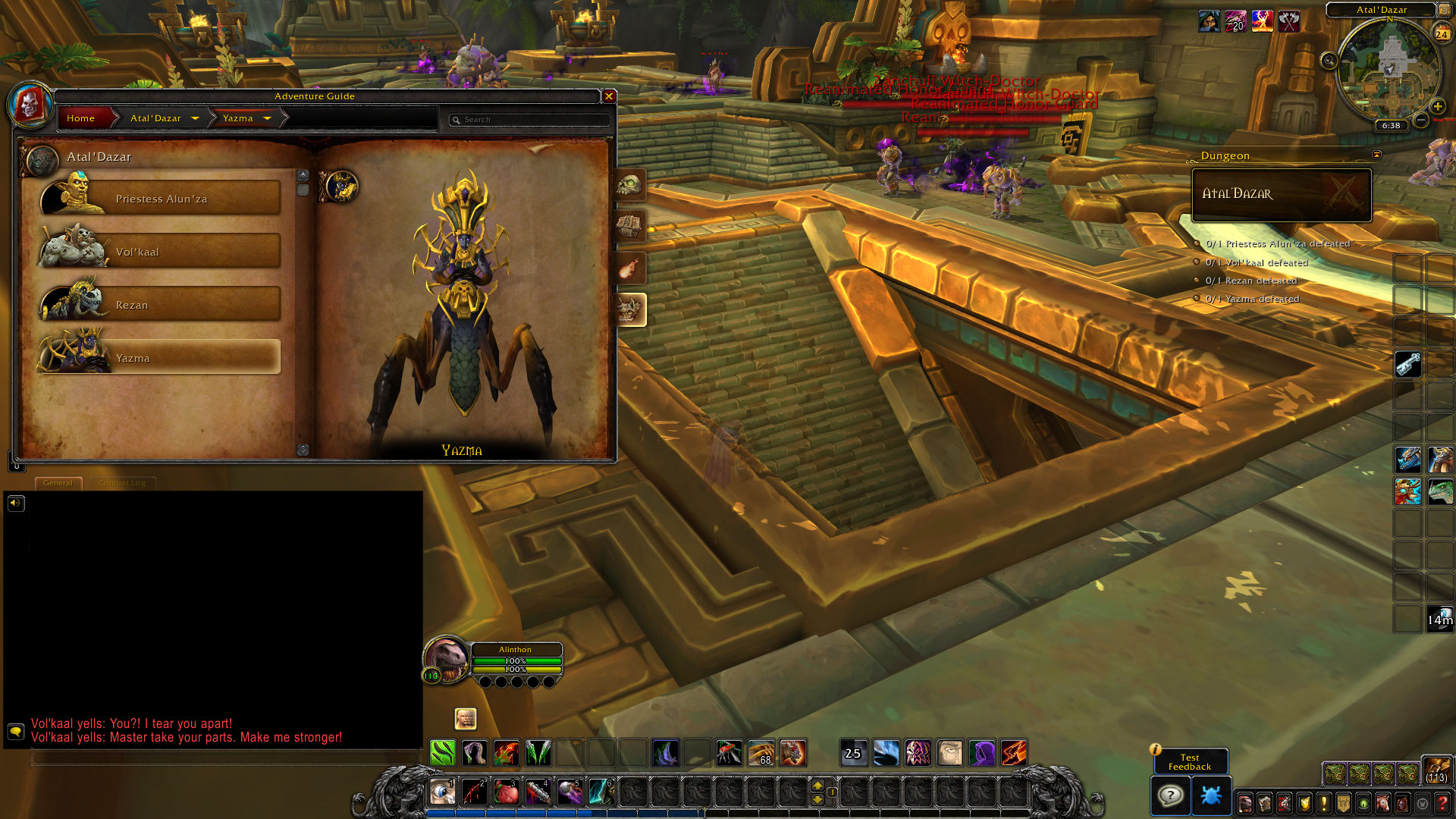 COMPLETION
Princess Talanji: Yazma's betrayal was vile beyond words. It may take us some time to find our way deeper into Atal'dazar. In the meantime, we have more work to do.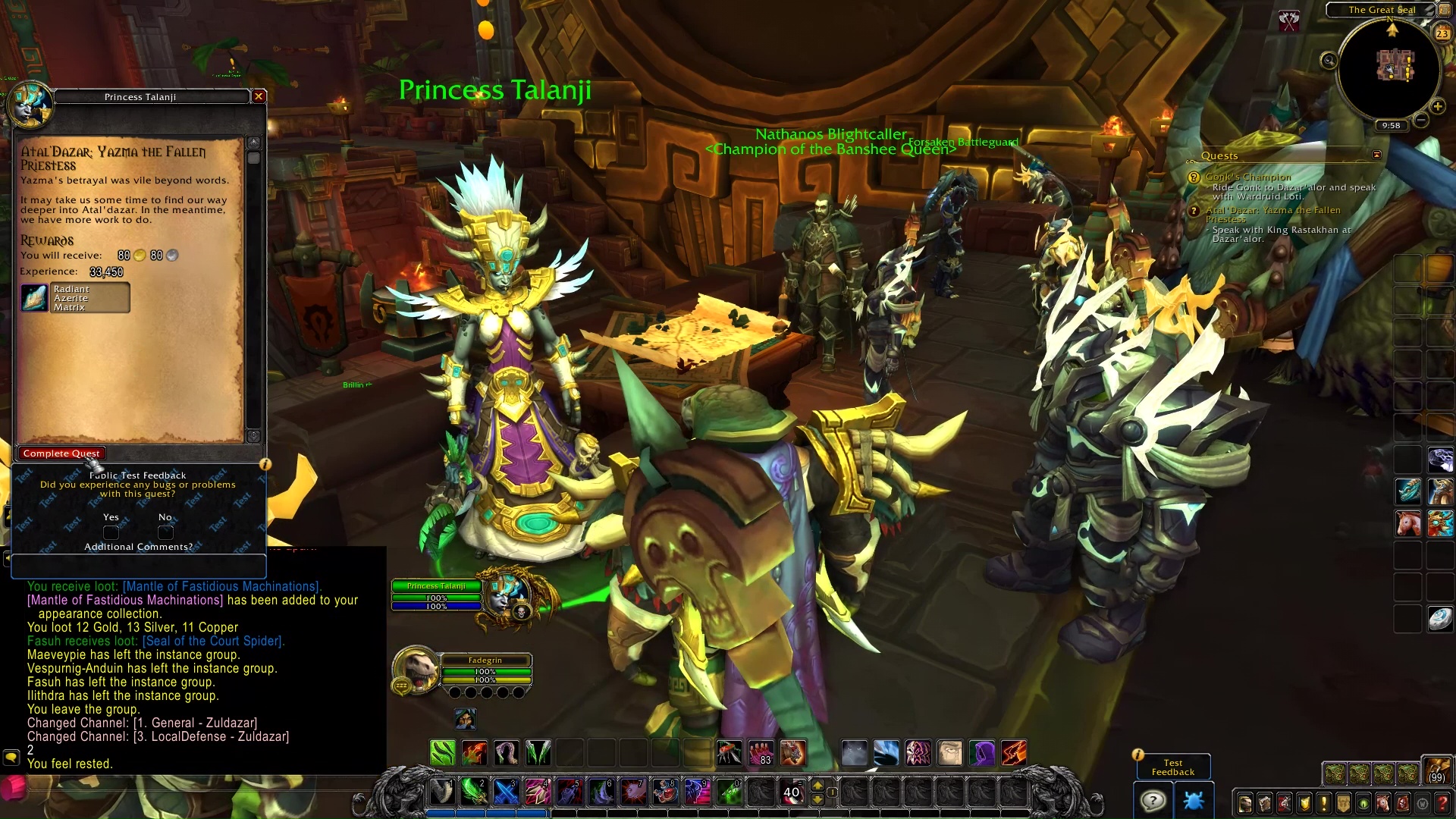 Atal'Dazar: Yazma the Fallen Priestess