Rezan: Atal'Dazar is the tomb of kings. MY kings. My greatest followers. I will taste Zul's flesh before this day is done. Come, (Name), keep up. Our prey has neither the strength nor the numbers to block this entrance. Let us crush this heretic.
QUEST OBJECTIVES
Join Rezan and Rastakhan in their siege of Atal'Dazar.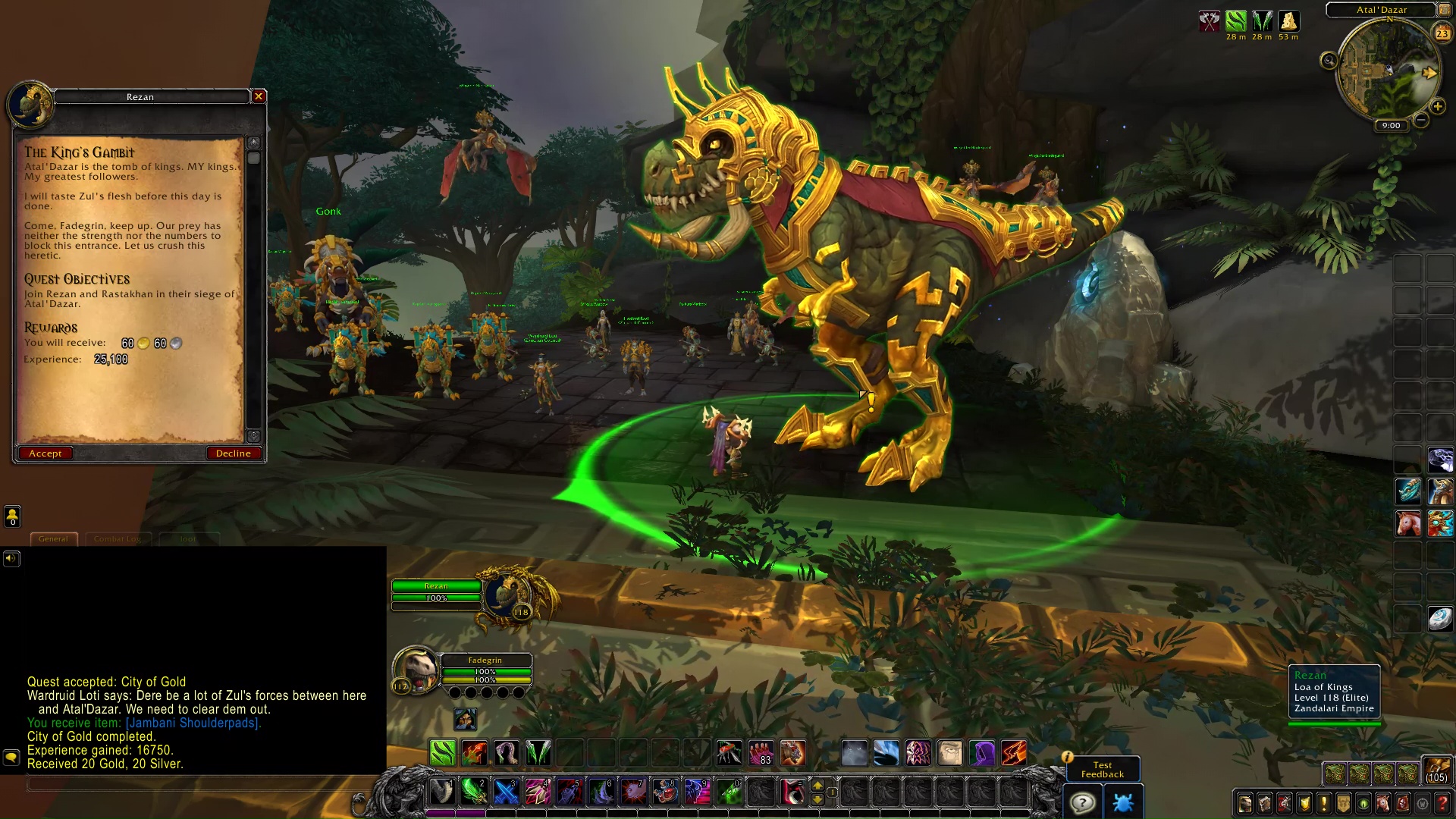 PROGRESS
Rastakhan: Rezan has too much of a head start. We will not be able to reach him before he reaches Zul.
Note: The gates rise up and shut access to the bridge.
(What now?)
(CUTSCENE PLAYS)
Yazma: Your visions had best be right about dis.
Rezan: Heretic! You trespass upon sacred ground.
Zul the Prophet: Ah, he arrives. De loa of… Hmm… What do we call you now?
Rezan: Mind your tongue, traitor.
Zul the Prophet: Rezan, Rezan… Do you not understand? I am not your subject. And you have no place among kings.
(Kezan roars and charges toward Zul)
(He falls into a trap that desintegrates him into a paste of blood)
Zul the Prophet: De time of de loa… is done. De hour of blood approaches.
(CUTSCENE PLACEHOLDER IN ALPHA)
WE INTERRUPT THIS FINALE ALREADY IN PROGRESS.
ZUL IS WAITING FOR REZAN, AND MURDERS THE GIANT DINO LOA.
REZAN'S BLOOD FLOWS INTO CHANNELS OF POWER
AND ZUL, LAUGHING, LEAVES, PUTTING HIS MINIONS IN CHARGE
OF PREVENTING THE PLAYER FROM ENTERING THE INTERIOR
WHERE THE FIRST KING OF ZULDAZAR IS BEING RESURRECTED.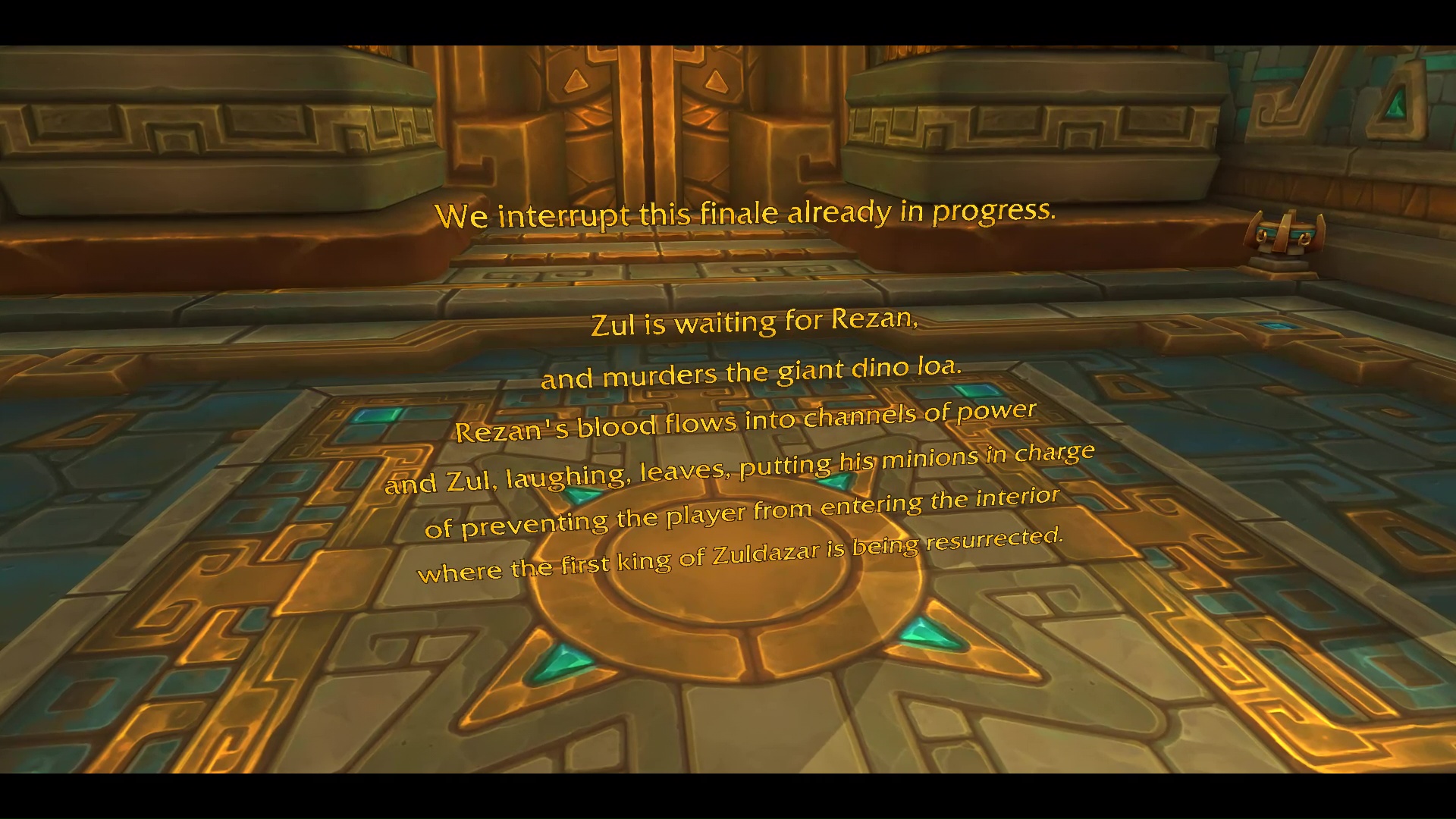 COMPLETION
King Rastakhan: Rezan… he… he's gone. Dat… thing is not a loa. I feel like someone has ripped de very soul from my body.
(Time to leave!)
King Rastakhan: Retreat! Live to fight another day.
Gonk: Charge, brothers and sisters! Stop for nothing!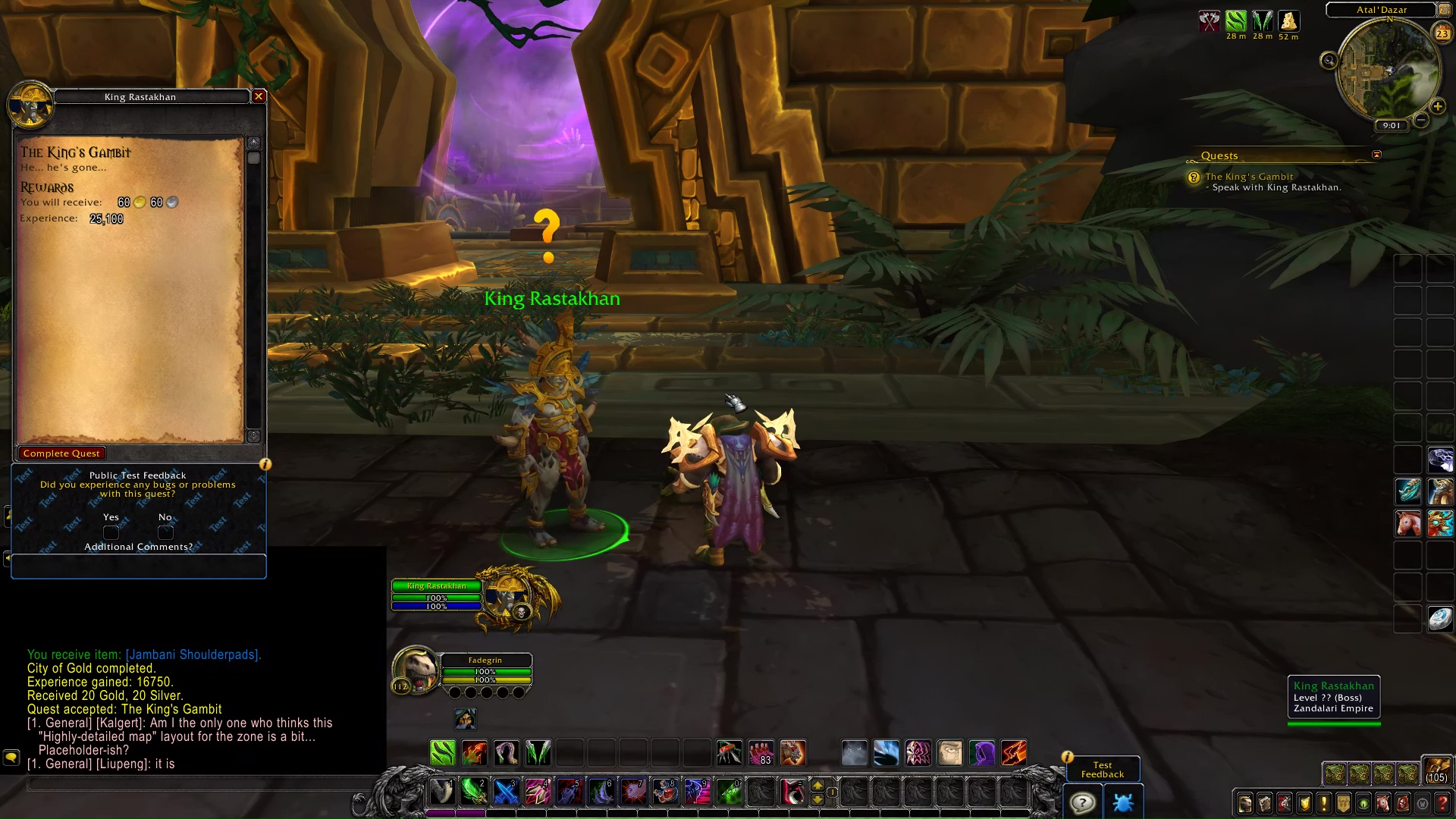 Completion
King Rastakhan: He… he's gone…
The King's Gambit