Witch Doctor Jangalar: Cala and I have both failed. Voodoo and science did not work. I am at a loss.
I hope dat you can help us find a better path forward. Da brutosaurs deserve a chance!
Please spend a little time with both of us and we can hope dat you can find the way that we cannot.
QUEST OBJECTIVES
Strategize with Cala Cruzpot and Witch Doctor Jangalar on how to use voodoo and science to get the endangered brutosaurs to mate.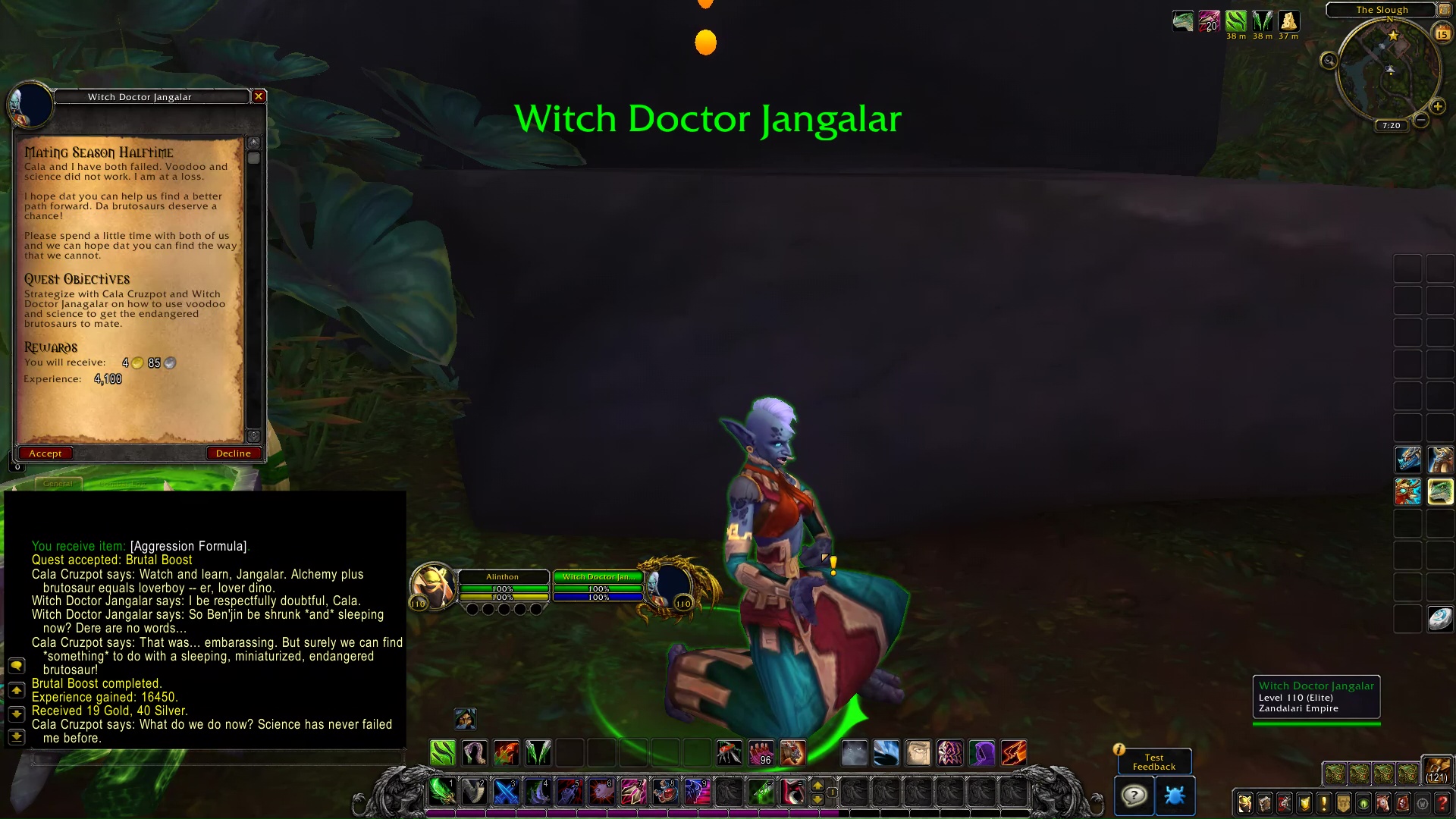 PROGRESS
TIP: Speak to Cala Cruzpot.
Cala Cruzpot: I don't understand why my science didn't work. My cousin Alexxi is an expert in this type of formula and I only changed maybe 70% of the recipe.
(Can you work with Jangalar to solve this problem?)
Cala Cruzpot: Well, I suppose she could do a little voodoo on my formula if it might get a more favorable response from Gentle Ben'jin.
(I will let Jangalar know.)
TIP: Click Witch Doctor Jangalar.
Witch Doctor Jangalar: If my voodoo can't make a love potion dat works, den I've lost my edge. Perhaps brutosaurs don't work like we do.
(Can Cala's science help?)
Witch Doctor Jangalar: Cala's science doesn't work because it doesn't understand da feelings of da creatures. I cannot change her mind and she does not listen.
(Her alchemy does affect the dinosaurs. Can your voodoo make it work correctly?)
Witch Doctor Jangalar: Very well, (Name). I shall try to make da voodoo and Cala's science work together. I thank you for your help.
(Let's try again.)
COMPLETION
Witch Doctor Jangalar: Thank you, (Name), for your help. Dis is da best of two worlds and may da brutosaurs benefit.
Witch Doctor Jangalar: Let us do da science first. Cala, may I help you with your formula?
Cala Cruzpot: Thank you, Jangalar. I think Ben'jin will respond better with some voodoo in the mix.
Mating Season Halftime